Oh, who was born and raised in Canada to Korean immigrant parents, has been outspoken on the paucity of roles for Asian performers in Hollywood, part of the entertainment industry's long struggle with inclusion and representation on and off the screen.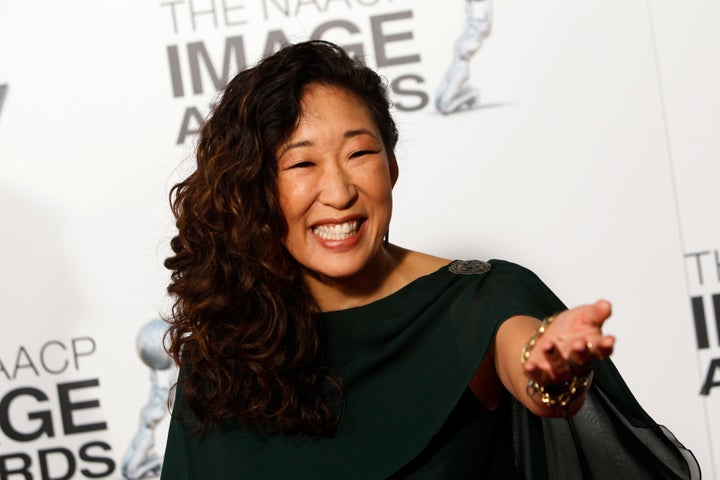 In response to the milestone, Oh told The Hollywood Reporter that she hopes her nomination means that "my community can feel like they have representation, as well."
"It cannot rest. I don't want to rest on the fact that a handful of us have had the opportunity and that it stops there," she said Thursday. "I want the movement to keep on going. I want the ripple to turn into a wave."
Oh later tweeted a humorous photo of her learning about her nomination.
The "Grey's Anatomy" star has said that she assumed she would not be considered for major roles, given Hollywood's history of sidelining Asians and other people of color. Therefore, as she revealed in an April interview with Vulture, she was shocked to learn that the creators of the BBC America series wanted her for the titular role, Eve Polastri, an MI5 officer tracking a female assassin named Villanelle (Jodie Comer).
"I didn't even assume when being offered something that I would be one of the central storytellers. Why?" she told Vulture. "After being told to see things a certain way for decades, you realize, 'Oh my God! They brainwashed me!' I was brainwashed!"
The fact that she automatically concluded she wasn't playing the lead role made her realize how much she had "internalized" Hollywood's lack of opportunities for Asians, she recalled.
"In that moment, I did not assume the offer was for Eve. I think about that moment a lot," she said. "Of just going, how deep have I internalized this? [So] many years of being seen [a certain way], it deeply, deeply, deeply affects us. It's like, how does racism define your work?"
Despite Oh's success on "Grey's Anatomy," a long-running hit series for which she won numerous awards, she did not get many other career opportunities after that, she told Vanity Fair.
Part of a formidable category of actresses, Oh will face Claire Foy of "The Crown," Tatiana Maslany of "Orphan Black," Elisabeth Moss of "The Handmaid's Tale," Keri Russell of "The Americans" and Evan Rachel Wood of "Westworld."
This story has been updated with a tweet and comments Oh made on Thursday.
Support HuffPost
Every Voice Matters
Popular in the Community