When his marriage ended and he retired from two decades of running a wholesale company in Zurich, Switzerland, 50-something-year-old Sandro Sorentino briefly moved back to his native Italy before resolving to live a care-free life fishing in the Florida Keys and Caribbean. Having had a vacation home in Key West, he figured his new-found retirement freedom would allow him to stay on one tropical island for six months, after which he'd seek out big fish at the next location. However, Sorentino dropped anchor in Belize in 2006, and he is now settled down into a successful yet unexpected career on the island of Caye Caulker.
Sorentino, the t-shirt-clad and barefoot chef and owner of Sandro's Piccola Cucina, says opening the restaurant, "happened by accident."
"I came to Caye Caulker to fish. I planned to stay half a year," he muses. "I started a take-out business to keep busy while I fished." Tourist and ex-patriot demand for his Italian food on the small island paradise turned his retirement hobby into a reservations-required restaurant and the most classy dining option in an otherwise casual locale. I ate at Sandro's Piccola Cucina after a fellow tourist described it as "the best Italian restaurant" he has ever visited anywhere in the world. On an island full of delightful mom-and-pop beachside grills serving up conch, lobster, sea bass and shrimp, Sandro's comforting Italian specialties indeed are pure heaven.
Sorentino, age 59, hails from Carpi -- located between Bologna and Milan -- in Northern Italy. He therefore naturally specializes in serving staples of his home region -- gnocchi and risotto -- in combination with the island's favorites -- lobster and shrimp. The first time I met Sandro, my family and I were walking down the rocky island street towards his restaurant, as if we were following a paved back road through a town in the northern Piedmont region. Barefoot with a droopy white t-shirt and khaki shorts, he rolled up to us on his bicycle and said, "I have bad news. Sandro's is closed today. Wednesdays are my day off." He looked exactly the same every other time we saw him, behind his stove, on the corner of Front Street, or serving our food at the table -- a barefoot "professa" of world cuisine.
On our two visits to Sandro's we enjoyed classic dishes with island accents such as spaghetti aglio, olio e peperoncino with shrimp and risotto primavera with lobster. Although we usually try to eat specialties of the locale which we are visiting, we could not resist pappardelle with blue cheese, gnocchi with squash, crispy caesar salad or even his simplistic garlic bread. "I am not a cook," he insists. "I make what I love to eat. I have been eating good food in good restaurants all my life, so I know what I like." He knows what customers like too.
For travelers who started their trips in Belize's rainforest, hiking, caving and looking at Mayan ruins in the Cayo region and neighboring Guatemala, coming down to the islands feels more like a Caribbean home and offers respite from the risks of Central American digestive disturbances. After tourists eat several days of meals on Caye Caulker -- which though fresh, well-made and delicious can be monotonous -- a dinner at Sandro's Piccola Cucina calms island fever. Caye Caulker's native drum-style grills and diverse array of friendly artisans and business owners are soothing for bumpy road- and sea-weary travelers. Sandro's Italian comfort food echo the calming effects of the island's Eastern trade winds after a day of manatee-watching, scuba-diving, kitesurfing, paddleboarding or snorkeling.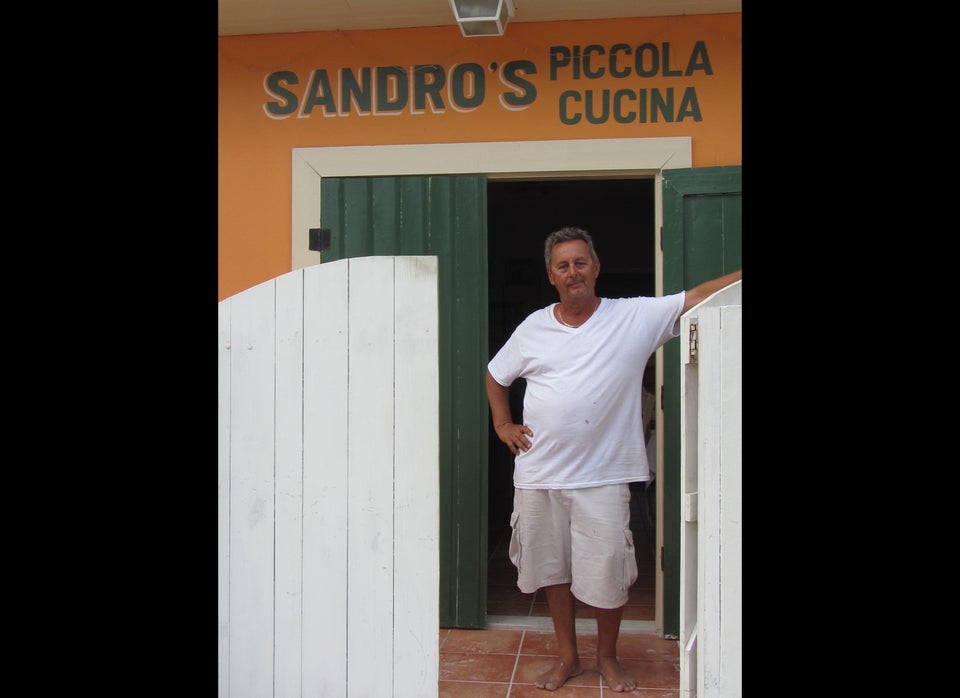 Belize's Italian Barefoot Dream: Sandro's Piccola Cucina
Find Sandro's Piccola Cucina on Pasero Street behind the Atlantic Bank on Caye Caulker, Belize. When you get to the island, walk over there and make a reservation. $50 USD for two. Nice wine list and cocktails too. Open 5-9:30, except Wednesdays.