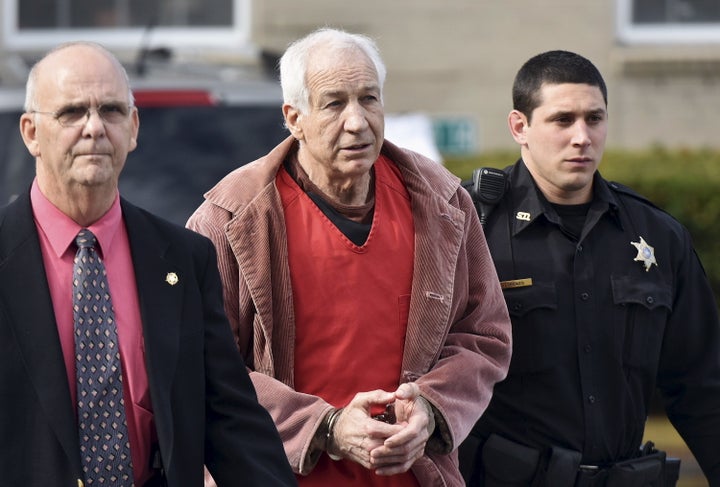 BELLEFONTE, Pa., May 2 (Reuters) - Jerry Sandusky, shackled and dressed in an orange prison jumpsuit, appeared in court on Monday in a bid to overturn his child sex abuse conviction, but the judge was skeptical about the former Penn State football coach's petition for a hearing.
With his initial appeals exhausted, Sandusky wants to present evidence under Pennsylvania's Post-Conviction Relief Act that his 2012 conviction resulted from ineffective counsel at his first trial. Ultimately, Sandusky, 72, who was an assistant to famed head coach Joe Paterno, aims to be granted a new trial.
Sandusky is serving 30 to 60 years in prison after being convicted of molesting 10 boys at Penn State University athletic facilities or at events held by his charity, The Second Mile. Dozens of other boys, including his adopted son, have accused the former coach of abusing them.
At Monday's hearing in Centre County Court of Common Pleas in Bellefonte, Visiting Judge John Cleland expressed skepticism about the petition for post-conviction relief, saying it did not appear to meet legal requirements.
He said Sandusky's lawyers failed to properly certify that any witnesses they would call at a hearing would back up the allegations outlined in the petition.
Sandusky's lawyer, Alexander Lindsay, told the judge that many of the certifications he presented in the petition were based on what he believed a witness would likely say at an evidentiary hearing.
Lindsay said that was the best he could do because Cleland denied him permission last autumn to force potential witnesses to talk to him. Cleland had said he based that decision on a Pennsylvania Supreme Court ruling.
"I'm mystified what I'm supposed to do," Lindsay said in court as Sandusky listened intently, occasionally whispering to co-counsel Andrew Salemme.
In a related ruling on Monday, the judge said Sandusky's lawyers could attempt to show that prosecutors improperly leaked grand jury evidence to former Harrisburg Patriot-News reporter Sara Ganim, who won a Pulitzer Prize for her expose of the case.
Cleland gave Lindsay permission to call Pennsylvania Attorney General Kathleen Kane to testify whether she believes Frank Fina, one of the Sandusky prosecutors, leaked the secret testimony.
Kane suggested as much in court documents filed in her own criminal case involving a charge of leaking grand jury information in a different case.
During Monday's hearing, Sandusky flashed a grin and waved to several people in the courtroom but made no public statement.
In a written statement read by Salemme at a news conference after the session, the former coach said: "I am innocent of these heinous crimes."
Prison officials say Sandusky remains in protective custody, locked in his cell 23 hours a day.
There is no timetable for Cleland's ruling on an evidentiary hearing for Sandusky. (Editing by Frank McGurty and Peter Cooney)
Calling all HuffPost superfans!
Sign up for membership to become a founding member and help shape HuffPost's next chapter
BEFORE YOU GO