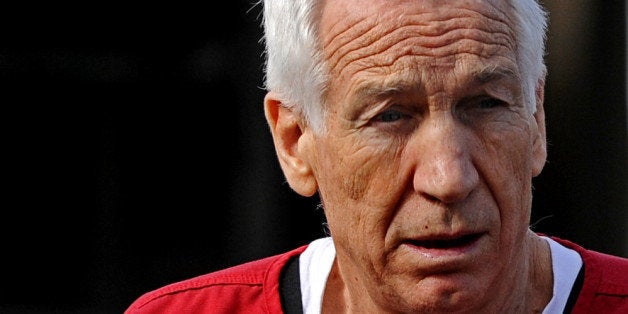 After Penn State's former assistant football coach got caught for sexually assaulting boys involved in the charity he supported and after the nation digested the horror that his iconic boss, Joe Paterno, knew about it, a whole bunch of innocent athletes, alumni, and fans took a humiliating beating in the court of public opinion.
It'd be a waste of ink to detail the myriad ways that Jerry Sandusky's crimes were ignored and consequently encouraged. The only good thing the Sandusky nightmare can do is educate witnesses on how to assist in the apprehension of villains like him the minute they offend.
The Pennsylvania lawmakers paid attention to what happened and passed some laws based on what they learned. Sadly, they also created legislation that ignored the facts, just because -- well, it's hard to say why -- perhaps because witch-hunts are human nature. The new laws went into effect on Dec. 31st and will impact folks who aren't criminals and never dreamt of hurting kids.
Firstly, Pennsylvania's logical solution is to make virtually everyone who comes in contact with a kid a mandated reporter. That means that if they don't report the abuse, they could go to jail themselves. Now, if you've witnessed child abuse and you don't report it, you're a child abuser yourself and deserve a little jail time.
This new law makes perfect sense based on the evidence gleaned from the State College offensives. Mike McQueary testified that he saw Sandusky sexually assaulting a boy in the locker room. McQueary says he told his superiors. Those superiors did nothing. Sandusky continued offending. He never got a criminal record. He just got a pass from his squeamish associates: Colleagues who were cowardly at best or what's more frightening -- likewise aberrant.
What would have happened if the law had been in effect when McQueary walked in on Sandusky? He'd have had to report the offense to the authorities and Sandusky would have been investigated. Once it was determined that Sandusky violated the young man, the police would have been called and Coach Sandusky would have been charged, tried, and -- one would hope -- stopped from violating children.
What if McQueary ignored the encounter or only referred it up the chain of command? Under the new law, McQueary would have been charged with a crime. If McQueary had been found guilty of ignoring the sexual abuse of a child, his career working with young people would have ended as well.
So yeah, way to go Pennsylvania legislature, nicely done! You took a look at the facts and corrected a big problem. See grown-ups who cover for grown-ups that hurt children are wrong and deserve harsh consequences too.
But then, sadly, the lawmakers in Pennsylvania departed from the facts and just started passing baseless laws that will hurt people and organizations that haven't hurt anyone.
Perhaps it's just that the 21st century is supposed to mark the end of civil liberties. Perhaps the presumption of innocence and fact-based rule making went out of style with landline phones and probable cause. But on December 31st another really ludicrous law went into effect. Ready for this? Everyone who works with children has to get fingerprinted and have a series of background checks. What will that yield? More safety? Unlikely, it certainly wouldn't have stopped Jerry Sandusky.
Let's look at the facts. Sandusky had no record of molesting little boys. So a background check wouldn't have done any good. According to an ABC News report analyzing the results of National Crime Victimization Surveys, "more than 90 percent of all sex offenders are living in communities nationwide without ever having been charged for their crime."
So a background check isn't going to turn up the perpetrators because the perpetrators don't get caught. Background checks wouldn't have stopped the Roman Catholic Church sexual assault tragedies either, because those priests would have passed their background checks too.
All a series of background checks is going to do -- besides cause already struggling agencies to waste money on expensive clearances and rob people of their personal liberties -- is embolden the perpetrators by lulling the agencies who hire them into thinking that the kids in their care are safer because of the checks.
It isn't just the people who work with children (or their employers) who are going to have to pay $47.50 per person to promise false security, but as of July 2015 anyone who wants to volunteer to work with children will have to go through background checks as well.
Take that you soccer moms and library aids. That'll teach you, you nanas and poppas who help out at your grandkids' daycare. Stick that in your pipe and smoke it, you college kids that thought you'd mentor a few homeless kids this year.
Hooray for expanded mandatory reporting, too bad there's no one reporting how the Pennsylvania legislature is accosting decent people who work with kids every day and never do any harm while the legislature potentially emboldens the pedophiles and violent perpetrators that never get caught.
CORRECTION: This blog post previously identified Jerry Sandusky as Penn State's former head football coach. He was an assistant coach. This post also mistakenly identified former assistant coach Mike McQueary as Mike Queary.
Calling all HuffPost superfans!
Sign up for membership to become a founding member and help shape HuffPost's next chapter