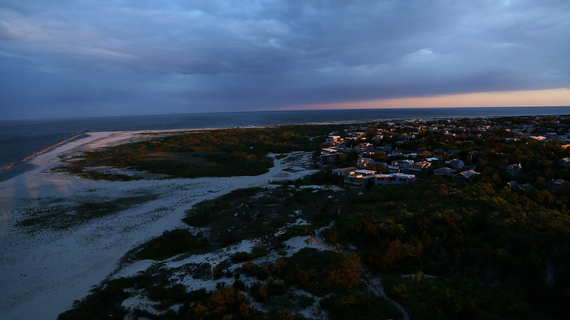 In March of 1962, my partner's mother and her family were evacuated from their home on Long Beach Island, N.J., in the back of a National Guard truck. The cause for their flight was a nor'easter that parked itself offshore for five consecutive tides, causing unprecedented damage to the quiet, beautiful barrier island often referred to by its residents as a "sandbar in the middle of the ocean."
When Hurricane Sandy bore down on the Jersey Shore one year ago today, the scenes of devastation hearkened back to the '62 storm, but this time firsthand images were immediate and prolific. It was strange for Jeff and I to see from our untouched home in Brooklyn images of the street where we'd spent so many summer vacations, the waterfront bar where his cousin had taken him to sneak his first drink, the beach where he proposed to me at sunrise one morning, underwater, vanished beneath the storm surge. The memories of so many were buried under the sand that blanketed the streets like piles of fresh snow.
Shortly after the storm, we began meeting people on LBI and its sister community Beach Haven West, hearing their stories and seeing their battered homes, and knew we wanted to film for more than just a few months. Over the past year, first on our own steam but now thanks to the generous support of the Tribeca Film Institute/Rockefeller Foundation Resilient Communities Fund, filming for our documentary This Time Next Year allowed us to explore not only stories of astounding recovery and painful loss, but the everyday rhythms of a tight knit middle class community by the sea pulling itself back together.
We've decided that, on the anniversary of the storm, we would like to honor the thoughtful, passionate, indomitable people we've met with three vignettes that allow them to speak for themselves. The thread that runs through all is the importance of home, the idea that it is intrinsically human to crave our own habitat even when it may thwart us. Carly needs to have her prom pictures taken at the beach in front of the gutted house from which she is still displaced, six year old Giada knows instinctively after months of having to stay with family friends that "everybody doesn't want to go far from their home," and Leslie reminds us that despite the especial vulnerability of LBI, rebuilding her life there was not a question but an imperative.