Tuesday marks the one-year anniversary of when Hurricane Sandy's storm surge slammed New York City's coastline, destroying homes, plunging much of the city into darkness, shutting down the subway, and ultimately taking the lives of 43 New Yorkers.
Where there was devastation however--from Breezy Point in the Rockaways, to Midland Beach in Staten Island, to Lower Manhattan-- there was also a remarkable effort to rebuild.
Below, slide over each of the images to see first, Sandy's destruction, and second, New York's reconstruction.
Before: The remains of burned homes are surrounded by water due to Superstorm Sandy in the Breezy Point neighborhood in Queens. (Photo by Mario Tama/ Getty Images) After: Newly built homes and vacant lots are shown in the Breezy Point neighborhood of Queens on October 21, 2013. (Photo by Andrew Burton/Getty Images)
Before: Boats pushed up by Hurricane Sandy lie against residences near a marina on November 2, 2012 in the Staten Island. After: A truck sits parked near the same marina on October 17, 2013 in the Staten Island. (Photos by John Moore/Getty Images)
Before: The foundations to the historic Rockaway boardwalk are all that remain after it was washed away during Hurricane Sandy on October 31, 2012 in the Rockaway neighborhood of the Queens. After: Two people stand on the beach on October 20, 2013 in the Rockaway neighborhood of the Queens. (Photos by Spencer Platt/Getty Images)
Before: Firemen gather outside a house where the bodies of two elderly people were reportedly found on November 2, 2012 in the Midland Beach section of the Staten Island. After: A cat sits outside a home on October 17, 2013 in the Midland Beach section of the Staten Island borough of New York City. (Photos by John Moore/Getty Images)
Before: A woman and child walk through water on a flooded street as Hurricane Sandy moved closer to the area on October 29, 2012 in the Red Hook section of the Brooklyn. After: A person rides a bike October 23, 2013 in the Red Hook section of the Brooklyn borough of New York City. (Photos by Spencer Platt/Getty Images)
Before: Homeowner Michael Russo (R), is comforted by friend Joseph Bono on November 1, 2012 in the Ocean Breeze area of the Staten Island. The first floor of Russo's home was completely flooded by the ocean surge caused by Superstorm Sandy. Russo said that he salvaged an American flag he had stored on the upper shelf of a supply closet. After: A 'for sale' sign lies on an empty lot where Joseph Bono's home was demolished due to Hurricane Sandy flood damage on October 17, 2013 in the Ocean Breeze neighborhood of the Staten Island borough of New York City. (Photos by John Moore/Getty Images)
Before: A man walks by the remains of part of the historic boardwalk, after large parts of it were washed away during Hurricane Sandy on October 31, 2012 in the Rockaway neighborhood of the Queens. After: A person rides a bike October 23, 2013, in the Rockaway neighborhood of the Queens. (Photos by Spencer Platt/Getty Images)
Before: A man walks along the heavily damaged beach on November 2, 2012 in Rockaway neighborhood of the Queens. After: People walk down the same beach on October 23, 2013. (Photos by Spencer Platt/Getty Images)
Before: Water floods the Plaza Shops in the wake of Hurricane Sandy on October 30, 2012 in New York City. (Photo by Allison Joyce/Getty Images) After: The underground Plaza Shops in lower Manhattan remain closed due to flooding from Hurricane Sandy almost a year after the storm on October 22, 2013. (Photo by John Moore/Getty Images)
Before: A fire burns near destroyed homes and businesses following Hurricane Sandy on October 30, 2012 in the Rockaway section of the Queens. After: Two people walk down a sidewalk past a now empty lot on October 23, 2013. (Photos by Spencer Platt/Getty Images)
Before: Edward 'Roaddawg' Manley, a volunteer and honory firefighter with the Point Breeze Volunteer Fire Department, places a star on top of a Christmas tree December 25, 2012 in the Breezy Point neighborhood of Queens. After: The same section of Breezy Point is shown October 22, 2013. (Photos by Andrew Burton/Getty Images)
Before: Gary Silberman surveys his home that was destroyed by Hurricane Sandy on October 31, 2012 in Lindenhurst, New York on Long Island. After: The same home sits still damaged by Superstorm Sandy on October 22, 2013. (Photos by Bruce Bennett/Getty Images)

Before: Rising water caused by Superstorm Sandy rushes into a parking garage on October 29, 2012 in New York City. After: Traffic drives past the garage (which is in use again) October 22, 2013. (Photos by Andrew Burton/Getty Images)
Before: Rising water caused by Superstorm Sandy rushes into the Carey Tunnel (previously known as the Brooklyn Battery Tunnel) on October 29, 2012. After: Cars use the Carey Tunnel October 22, 2013. (Photos by Andrew Burton/Getty Images)
Before: Firefighters walk the streets of Long Beach, which experienced heavy flooding and dune erosion due to Hurricane Sandy October 31, 2012. After: A man crosses the street in Long Beach, New York Octobter 22, 2013. (Photos by Andrew Burton/Getty Images)
Before: Rising water caused by Superstorm Sandy rushes onto the pathway at Battery Park on October 29, 2012 in New York City. After: Tourists walk along the pathway in Battery Park October 23, 2013. (Photos by Andrew Burton/Getty Images)
Related
Before You Go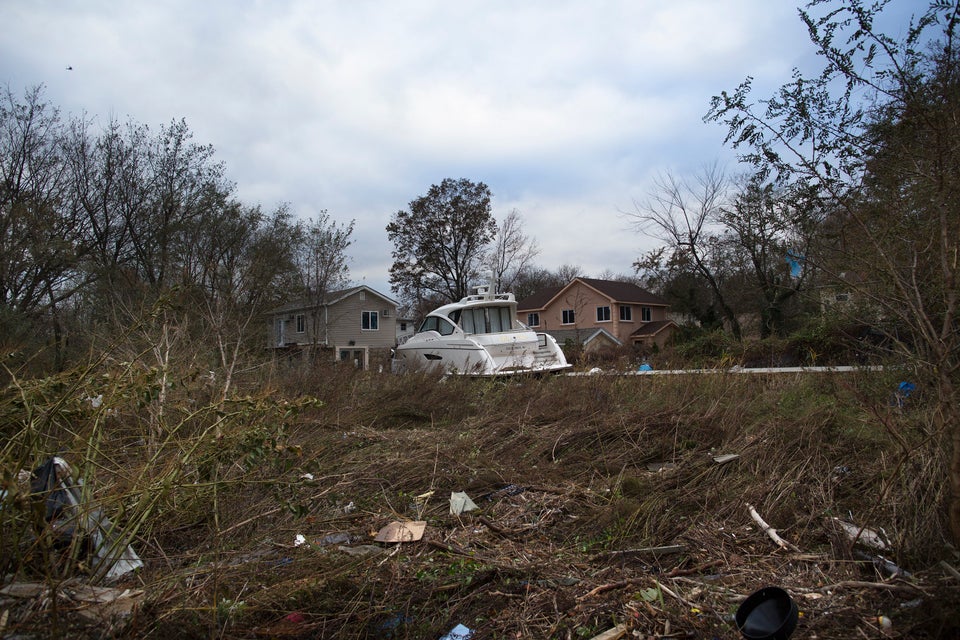 Staten Island Post-Sandy
Popular in the Community