 Greg Floyd recalled the burgeoning hazards when he first toured Sandy-damaged New York City public housing a couple days after the hurricane hit.
"The ocean came in and left a lot of contamination behind," said Floyd, president of Teamsters Local 237, adding that while he could already see and smell many dangers, such as unstable debris and raw sewage, he predicted others would later appear in the floodwater's wake.
"Mold hadn't yet developed," he said. "But we knew it could become a problem."
A month and a half later, mold has become a huge issue inside countless homes and buildings that fell in Sandy's path. Unfortunately, the process of dealing with the festering fungus is posing its own challenges. The federal Occupational Safety and Health Administration (OSHA) highlighted the hazards Wednesday in a new fact sheet on mold hazards and safeguards for workers. Currently, countless volunteers and private and public employees are working on the recovery, and soon some 5,000 workers will join them as part of a federally-funded, $27.7 million program to hire New Yorkers for the cleanup, led by the New York State Department of Labor.
Floyd recognizes the worries for these workers. He has kept the thousands of public employees he represents out of recovery efforts in order to protect them from toxic mold and other hazards, he said, arguing that the workers remain untrained and ill-equipped despite his requests for such preparation. Meanwhile, a steady flow of private workers and volunteers remain active on the scene, many without proper training or protective equipment themselves.
As of Tuesday, OSHA agents working in Sandy-affected areas had conducted field interventions for 17,481 private sector and federal employees, spokesman Jesse Lawder told The Huffington Post. Agents removed around 6,500 of those workers from hazardous conditions, including some people who lacked proper protective equipment.
"Workers were sent to Ground Zero without masks, without protective gear, and long after 9/11 they got sick," Floyd said. "What's the long-term effect going to be on these workers based on such a short-term, short-sighted decision?"
"While we think that the type of contamination and exposure is very different than during 9/11, we are very concerned that we will suffer similar consequences," said Joel Shufro, executive director of the New York Committee for Occupational Safety and Health. "We believe that a large number of workers need to be trained. We don't want to repeat mistakes of 9/11."
Michael Barasch, a personal injury lawyer based in New York City, said he is currently "knee deep" in representing 9/11 recovery workers who became sick after not having protective equipment, including respirators. He added his hope that the same story doesn't play out with Sandy.
"But if hundreds of people come down with respiratory illness down the road," Barasch said, "we'll know why and there could be litigation."
Shufro pointed to a host of health hazards sprung up after Sandy, including another notorious respiratory irritant: asbestos. But the leading risk for Sandy cleanup workers, he said, is mold.
Not only has mold been tied to a range of ills, including asthma and neurological problems, it's also deceptive and indiscriminate, experts explain. It can hide out between walls, behind furniture and under flooring. What's more, just one spore can multiply rapidly, initiating its reproduction process within just 12 hours.
"The new colony will keep growing and producing spores unless it is stopped," said Chin Yang, an expert in mold remediation at Prestige EnvironMicrobiology.
To complicate matters, there is currently no federal standard for just how to safely stop mold. Guidelines do exist, including the new set from OSHA and another from New York City.
Still, this has left questions of who should participate in the cleanup, and with what sort of training and protection, "open for discussion and interpretation," Shufro said.
Maureen Lichtfeld, chair of environmental policy at the Tulane University School of Public Health and Tropical Medicine in New Orleans, noted that kids as well as people with asthma or other respiratory conditions should steer clear of mold cleanup work.
But even healthy adults can develop problems after repeated exposure, warned Dr. Eckardt Johanning.
"I wouldn't have lay people do this, especially not with just a paper mask," said Johanning, director of the non-profit Fungal Research Group Foundation, referring to the N95 and other masks commonly provided to cleanup workers.
Of course, if not properly fit, even the best equipment won't fully protect, noted Lichtfeld. A man's beard, for example, can get in the way.
Also as important as using proper equipment, according to Johanning, is not using improper equipment. He highlighted mold-inhibiting chemical products employed by some contractors that are not approved for indoor use. "I could see legal issues arising from that end," he said.
Another "hitch" that could lead to litigation, according to Johanning, is the lack of consensus over the minimum remediation needed to fight mold. "Like a cancer, you want to be very thorough, with good safety margins so that it doesn't grow back," he said.
The dangers of lingering mold or toxic chemicals are not limited to cleanup workers. "Unless workers are properly trained and protected, we are going to see jobs that are not done properly and, consequently, the possibility of contamination for people who move back in," Shufro said.
This may be all the more critical with the encroaching winter weather, as residents are forced to close windows and, if they have heat, turn up the thermostat. Circulating heat and air within an enclosed area can lead in greater exposure.
OSHA's Lawder noted that the agency is continuing to educate workers and employers, while also keeping an eye out for mold hazards in the field. However, OSHA's oversight does not apply to volunteers or public employees -- including the more than 5,000 New Yorkers currently being hired for temporary government jobs to help in the cleanup.
What kind of training and equipment these 5,000 new hires can expect is "very much an open question," Shufro said.
Calls to the New York State Department of Labor, which is leading the program, were not returned.
"I can guarantee that a one day course will not suffice," said Floyd, of Teamsters Local 237. "We're not talking about mopping the floor. We're talking about dealing with hazardous materials."
Related
Before You Go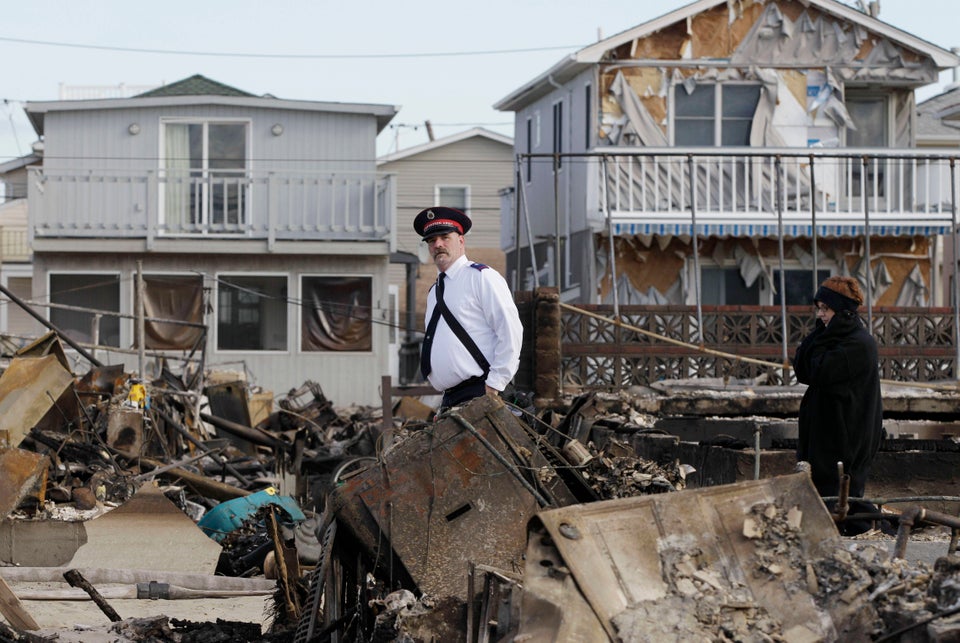 Hurricane Sandy
Popular in the Community