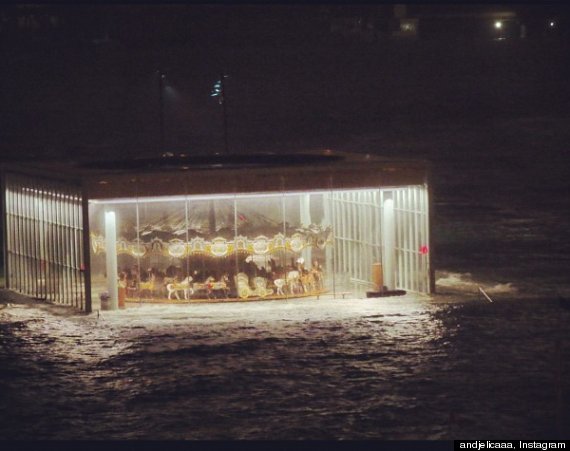 The carousel at Brooklyn Bridge Park during the early hours of Hurricane Sandy in New York City. (credit: andjelicaaa/Instagram)
Following the destruction of Hurricane Sandy, New York City is a total mess. Flooding has rendered the subway system and under-river tunnels useless for an as-yet-undetermined length of time. Over a million residents are without power following downed power lines and the explosion of transformers throughout the city. Around 1 o'clock this morning, a bright blue flickering light filled the sky before a powerful white flash and loud boom gave way to darkness as a transformer in my Brooklyn neighborhood short-circuited and exploded.
The common theme in all of the Hurricane Sandy aftermath coverage in the New York City and Tri-State area is that no one has ever seen or heard of this much damage from one storm. The devastation to the electrical infrastructure is "unprecedented," the strength and height of storm surges around the city has broken records, and the subway system has taken the hardest hit in its 108-year history.
So Hurricane Sandy was unprecedented. Sound familiar? Last summer, Hurricane Irene, largely considered a "hundred-year storm" at the time, blasted the Northeast. This summer "unprecedented" heat and dryness caused devastating droughts in the Midwest that led to crop failures. Droughts also contributed to wildfires of incomparable size and power in several Western states. The U.S. as a whole experienced its highest temperatures in recorded history.
This is climate change: unprecedented weather events happening in close succession. And as concentrations of greenhouse gases in the atmosphere increase and climate change intensifies, these weather extremes will only get more powerful and more frequent.
The link between manmade climate change and devastating weather events like Sandy deserve to be explored, discussed, and acted upon. We've sent enough CO2 and other greenhouse gases into the atmosphere to change our planet's climate, and that change has been observably negative. The only logical thing to do now is to accept climate change, prepare for its ongoing effects, and try to slow it down by dialing back the activities that caused it in the first place.
But climate change denial is alive and well. No doubt tenacious deniers will leave comments below this post that call into question the generalizations I have made about climate science and its veracity. The time has come to ignore those arguments. To move beyond amateur "analysis" driven by political ideology trying to discredit proven fact based on one inconsistency in one scientific study. As they keep up their steady drumbeat of cherry-picked data and plausible deniability, our subways will continue to flood, our electrical transformers will continue to explode, and our crops will continue to wilt.
Clear-eyed, fact-based, practical leadership on climate change adaptation and mitigation must prevail. The lack of even a mention of climate change during a presidential election filled with inane arguments and damaging half-truths shows that such leadership will not come from the White House, and probably not Congress either. That leadership must come from us--from people who choose reason over blind allegiance to the status quo. We must call on our elected officials at all levels to openly acknowledge climate change as an issue that must be addressed immediately and directly. We must deny legitimacy to those who continue to call manmade climate change a hoax or a conspiracy by denying them our attention and votes.
The bottom line is this: manmade climate change is happening right now, bringing us more "unprecedented" weather events like Hurricane Sandy more often. If deniers motivated by politics and economics continue to enjoy the attention and legitimacy of the U.S. news media and public, climate change and its effects will only get worse. The debate over the reality of manmade climate change that began two decades ago has been over for years, and scientific evidence supporting that reality continues to pile up. It's time we started talking about it and doing something about it.
Popular in the Community