A killer lobster roll, to die for mac and cheese, and dream-worthy oysters are just a few of the reasons why Bongo is one of my favorite restaurants in the city. That, combined with a decor that's an American Modernist's wet dream, featuring designs by Tobia Scarpa, Florence Knoll, and Arne Jacobsen, along with a back bar lined with gorgeous American, Italian, West German and Scandinavian Glass and Pottery from the '50s and '60s -- may also partially explain my love affair with Bongo.
Sandy almost made it impossible for me to get my seafood on, because Bongo is located on the corner of West 10th Street and the West Side Highway -- in Zone A. So as you've probably guessed by now, Bongo got the full force of Sandy's wrath. Afterwards, while I was down by the river searching for that ever elusive post-blackout cellphone connection with some friends, I stopped by Bongo, and literally ran into Andrea Cohen, one of its owners, as she was dragging debris out the front door.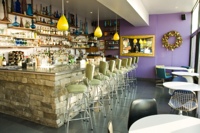 You could see where the water had been - almost four feet high, leaving water marks and stains, saturating the furniture, and soaking the machinery and equipment with salt water, a real electronics killer. She had tears in her eyes, and was clearly devastated by what had happened, having watched the water rise, and rush into her restaurant -- and there was nothing she could do.
Yet Andrea, and her partner, Jeffrey Bell, are forces to be reckoned with, and they were not going to close up shop because of Sandy. So just two weeks after the lights went back on in the West Village, Bongo was open for business. The story of how that happened is far more interesting to me than the story of Sandy, because it's a tale full of hope, love and kindness from some unexpected places.
The week after Sandy, Andrea and Jeffrey, along with a crew of helpers, many of whom were customers and friends, removed all the salt water soaked debris, cut down the water soaked walls, put new ones up, painted, and then repaired the damage that they could.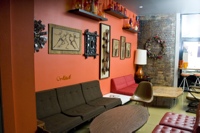 Never one to be kept down by life or a major hurricane, Andrea pulled out her American Express credit card, and started ordering new equipment, knowing that if they waited for FEMA or the insurance company they could be waiting far too long. Little did she know then that the bank FEMA referred her to would deny their loan application, and their insurance carrier wouldn't be anteing up either, so it turns out they made the smart decision.

In the mean time, the couple was busy fielding telephone calls and Facebook messages from their friends and customers, who wanted to come down and help them get up and running. William Gottlieb Real Estate booked their annual holiday party at Bongo just after the flood waters receded, giving them a much needed cash infusion. Other customers quickly followed suit so the couple were very busy when they re-opened their doors. This outpouring of love meant the world to the couple, who said they have the "most amazing" customers.
While some companies were less than helpful, including the bank, the insurance company, their security provider and FEMA, help often came from some very surprising places. Andrea had great things to say about American Express, which is allowing them to pay off their bill over time. She couldn't say enough about their kindness. Who hears the word "kind" being used about credit card companies these days? So it was great to see one step up and help out. Although some banks did donate to the Red Cross post Sandy. Also her point of service provider TouchBistro, a relatively new company, hooked them up with new equipment to replace the pieces soaked with salt water -- free of charge.
So just about a two weeks later Bongo was up and running -- maybe the chairs were still just a little bit damp, but their delicious lobster rolls were ready to be served, and their customers were coming in the front door looking for some food, drinks and a good time.
All it took was hard work, determination and lots of love.
REAL LIFE. REAL NEWS. REAL VOICES.
Help us tell more of the stories that matter from voices that too often remain unheard.