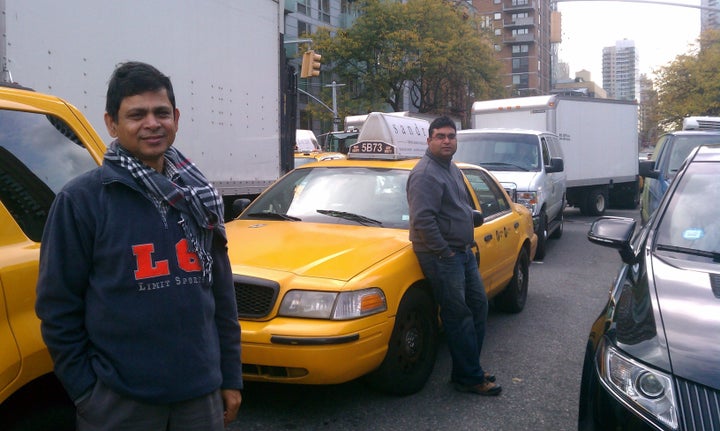 Gasoline shortages are hobbling businesses and hampering recovery efforts throughout communities hard hit by Hurricane Sandy, a situation that experts say could persist for several more days.
Even as local authorities seek to alleviate the shortages, they can't fix the biggest obstacle separating thirsty vehicles from gasoline: power outages that keep gas stations from being able to pump the supplies on hand.
"If everything goes well, by the weekend we could see some relief," Ralph Bombardiere, head of the New York State Association of Service Stations and Repair Shops, said in a telephone interview. "But it won't be normal until the end of next week."
And even when gas is plentiful again, the industry seems unlikely to take the kind of steps that could help keep another storm like Sandy from abruptly making gasoline scarce.
"Once the gas starts to flow, we'll go back to the same old habits," said Bombardiere.
Far from a mere inconvenience, a shortage of available fuel makes recovering from the storm far more difficult, slowing down reconstruction and relief efforts, and keeping businesses from operating.
Rashdal Singh of Little Neck, Queens, owner of the New Museum Deli in Manhattan, tried to get gas at three stations around his home on Wednesday night and two more on the Grand Central Parkway on the way into Manhattan Thursday morning.
By the time he picked up two of his employees in Queens and one in the Bronx and opened his business, Singh had less than a quarter tank of gas left. "I hope I can reach home," he said. "If I can't find gas today, I may have to catch a taxi or use a relative's car, or I won't be able to come to work tomorrow."

He may have as hard a time finding a taxi as he is finding gas. New York's famous fleet of yellow taxis is suffering as much as any other industry from the gas shortage, which could make getting around the city even more difficult, at a time when much public transportation is already offline.

Cab driver Darbar Singh said he hadn't been able to fill up his tank since Wednesday, driving by five gas stations in Queens that were all out of gas. He won't be able to work Friday if he doesn't find gas by Thursday night, meaning he will not only lose out on the $200 to $300 he makes per shift, but also the $120 a day it costs him to lease the cab. He said this is a major concern among a lot of cab drivers he knows. "My brother-in-law went home. He couldn't finish his shift," Singh said.

With public transportation only partially restored, Darbar Singh said it won't just be taxi drivers affected but the customers who need to get around. "Below 39th Street, people are begging for cabs," he said.
Though the region doesn't lack fuel supplies, delivering those supplies from their original source has been blocked in several ways. Key refineries, storage terminals and pipelines that serve the region have been without power, or suffered water damage, or both, and are only slowly coming back on line. Waterways for importing fuel have been closed. Many gas stations that have gasoline don't have the power to pump it. Other stations may have power, but no gasoline. Obstructed roads have made it more difficult to haul fuel to gas stations.
A little relief might be on the way. The Coast Guard on Thursday, at the urging of Sen. Chuck Schumer (D-N.Y.), cleared the way for barges carrying fuel to enter the Port of New York, which will help some of the region's supply squeeze.
"There are a number of factors that are causing gas shortages and massive lines at the pump, but one of the critical ones was simply a lack of supply, and today we're announcing that has been addressed," Schumer said in a press release. "The port is open, the backlogged barges can begin to dock, and gas ... will begin to flow into New York again."
Schumer later told the television station NY1 that the re-opened port could ease the gas-shortage problem "in a day or two."
On Wednesday, New Jersey Gov. Chris Christie temporarily waived restrictions on bringing fuel in from other states, which could also help supply issues in that state, though a spokesman for the New Jersey treasurer said the state did not have estimates on how much the move would help.
And the Environmental Protection Agency has temporarily waived clean-fuel requirements for 17 eastern states.
The 2.4-million-barrel-per-day Colonial pipeline, a major source of fuel from the Gulf of Mexico, has been closed since the storm, with no start date in sight.
And several storage terminals and refineries are still closed, including the Bayway refinery in Linden, N.J., one of the region's largest, which was damaged by flooding and may not get started again until next week, Reuters reports.
Even when power is restored and damages are repaired, the region's gasoline-distribution system won't be any less vulnerable to such an event. Some of the potential solutions could be costly, politically unfeasible, or both:
Building a system of gasoline pipelines to deliver gas to stations and do away with the need for trucks is one possible solution, according to Dmitri Grivas, executive director at the Institute for Infrastructure Asset Management, a consulting firm in Albany, N.Y. But it's costly.
Putting more hybrid cars, and electric cars with longer battery life, on the road could curb gasoline demand. At the moment, widespread development and use of such cars is a pipe dream, and government investment in the industry is not exactly a political winner.
Higher gasoline prices could make it more profitable for refineries to operate on the East Coast, which would mean more refineries, which would mean more gasoline supply in the event of an emergency. Several refineries in the region have shut down in recent years because they weren't able to charge enough to meet their costs, according to Steven Schork, editor of the Schork report, an industry newsletter. At less than $4 a gallon, U.S. consumers pay far less as a percentage of their daily income than most of the rest of the world does for gasoline, according to a recent Bloomberg survey. But, again, the idea of raising gasoline prices is a political dud, particularly when the economy is already weak.
Making every gas station own a generator is an idea that is probably coming soon to a state legislature near you, according to Bombardiere of the New York State Association of Service Stations And Repair Shops. It sounds good in theory, assuming gas stations could power their operations with $300 generator from Home Depot. But the typical gas station might need a $25,000 generator to keep the gas flowing in an emergency, according to Bombardiere. "At 15 cents a gallon" profit margin for selling gas, he said, "it will take 15 years to pay for that generator."
-- Alice Hines contributed reporting to this story.
Correction: The Colonial Pipeline transports 2.4 million barrels of fuel per day. An earlier version of this story incorrectly said "billion" instead of "million."
REAL LIFE. REAL NEWS. REAL VOICES.
Help us tell more of the stories that matter from voices that too often remain unheard.
BEFORE YOU GO
PHOTO GALLERY
Gas Shortages Lead To Long Lines Amid Sandy Recovery