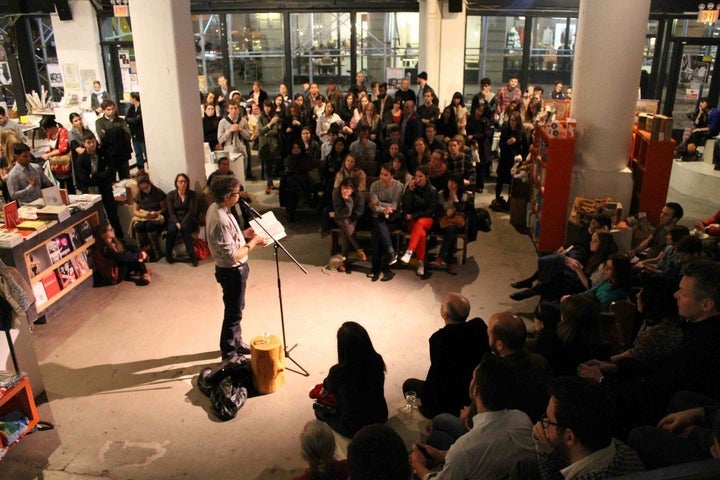 NEW YORK -- Jonathan Franzen gave a reading. With an ordinary author, that would be pretty unremarkable. With the notoriously prickly, Twitter-hating author of the novel Freedom, it was cause for hyperbole.
"He doesn't do these things. He doesn't do readings. Oh my god, this is crazy," exclaimed Daniel Power, the owner of Brooklyn's powerHouse ARENA bookstore, just minutes after Franzen made a rare public appearance there on Saturday.
Power was exaggerating a bit, but he could be forgiven for doing so. Just two weeks before, his bookshop was flooded by Hurricane Sandy, swamping $30,000 worth of merchandise and potentially putting him out of commission just before the holiday busy season. So he put out a call to authors, publicists, publishers and the public for help and created Sandy Hates Books, a hurricane relief fundraiser event at powerHouse.

powerHouse Arena books, just after Sandy.

The list of those who joined in will be recognizable to anyone who follows contemporary writing: Paul Auster, Jennifer Egan, Franzen, Pete Hamill, Rick Moody, Joseph O'Neill.
"It just leaves you speechless," said Power, who was carrying a box stuffed to the brim with cash donations when HuffPost ran into him. "There's something about the written word that brings people together, but more so in a time of need."
Power's store was buzzing with activity for more than nine hours from authors and members of the public strolling in to lend a hand and buy a drink at the fundraiser. But it was perhaps Franzen more than anyone else who focused the crowd's attention.
For 15 minutes, Franzen read an eery, oracular passage from his own disaster novel, 1992's Strong Motion -- the first time he had read that particular section in public.
Afterward, signing books, Franzen agreed to submit to a question. Or "A. Singular. Question.", as Franzen put it. Why had he come out tonight?
"I love independent bookstores," Franzen said. "I survived Sandy completely unscathed and I really downright leaped at the chance to do something to help someone who has been impacted by it."
"I think there's a pent up wish to do something and a kind of, a deep strangeness among the unaffected 90 percent of the city's population. And it's not guilt exactly, it's just the strangeness of we're all fine and some people really really got hammered. So to be able to only for a couple hours do something is downright welcome."
Franzen delivered his answer with his face turned down, toward the signing table, in the measured pace of a man trying to be open but leery of being misquoted. Then he was posed with a second, non-singular question about whether he would be doing this more.
"Let's just quit while I'm ahead," he said. "Thanks."
Related
Popular in the Community