This Sunday marks two years since 20-year-old Adam Lanza shot and killed 20 children and six teachers at Sandy Hook Elementary School in Newtown, Connecticut, before turning his gun on himself. For the loved ones of gun violence victims across America, the anniversary of the tragedy serves as a grim reminder of how little has changed since then.
On Thursday evening, dozens of family members grieving the loss of relatives who died in shootings, along with advocates for stricter gun laws, gathered at Roosevelt University in Chicago for a vigil memorializing both the Sandy Hook victims and victims of gun violence in their own city. The Cook County medical examiner's office has reported 406 homicides, many of them due to shootings, in Chicago this year.
Speaking before the packed room, Beti Guevara, who teaches science classes at the Barreto Boys & Girls Club in the city's Humboldt Park neighborhood, said she keeps five bullet casings she found on the sidewalk one day while walking around her community as a daily reminder of the importance of her work.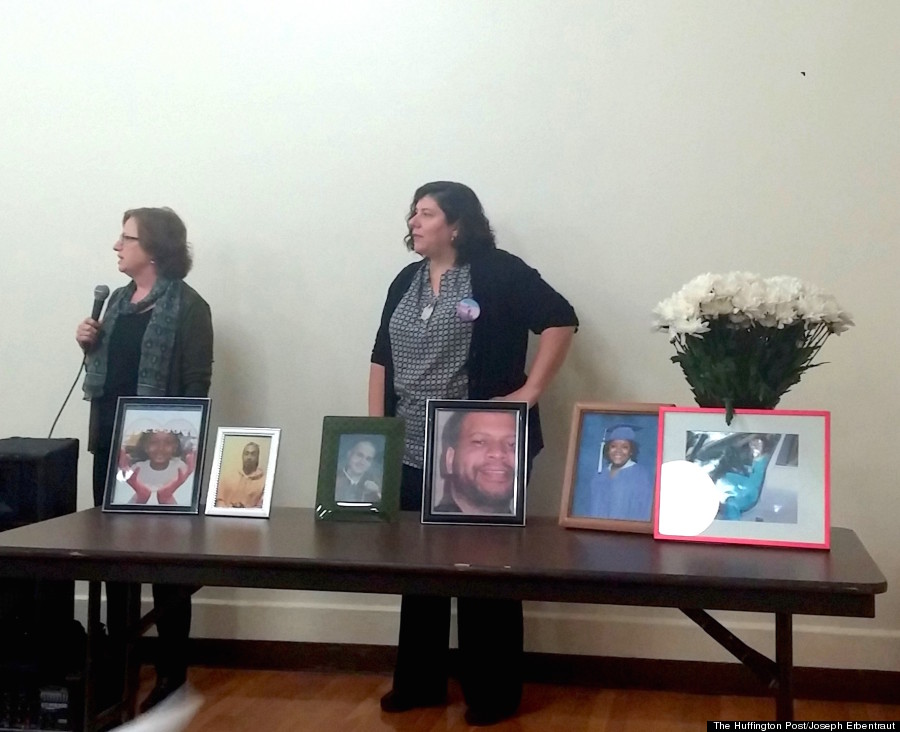 Participants in a Chicago vigil brought photographs of the loved ones they were remembering.
When she asks students in her classes to raise their hands if they know somebody who has been shot, she said, on most days all the hands go up.
"These are babies, but they've lost their fathers, their mothers, their sisters and their brothers," Guevara told The Huffington Post. "When somebody gets killed through gun violence, there's a ripple effect and that ripple effect is on the family -- but they don't report on the news about it afterwards. After they bury the child, then where's everybody?"
Guevara can personally attest to this "ripple effect" -- her brother was gunned down when she was 12 years old, and she saw firsthand the effect his death had on her parents. She says she wishes that more protests, like the ones that have taken place in response to the grand jury decisions about Michael Brown's and Eric Garner's deaths, would focus specifically on gun violence.
"We're going down the streets of Chicago with our rage and we're blocking traffic," Guevara said. "And yet we lost so many babies last week, and nobody is getting outraged and nobody's stopping traffic."
Alexandra was "a good girl, never in any trouble never in any gangs of any kind," Rafael told HuffPost. "She was a good, loving young lady. She was a very positive role model for many people." The teenager was attending college and wanted to become a social worker some day.
"It just feels like an emptiness," Rafael said, describing life without his daughter. "Every day you wake up and it feels like there is a part of you missing, because there is. And it's like you walk and you function and you want to participate in life and it's like you feel like a shadow."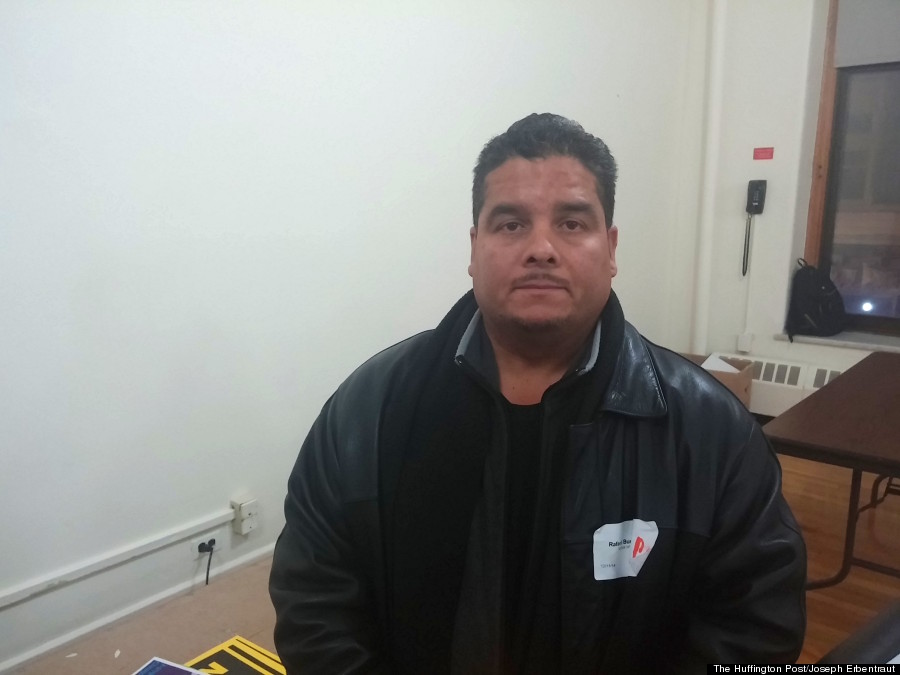 Less than two months ago, Rafael Burgos' daughter was fatally shot in Chicago. He said the shooting has made him "feel like a shadow" of his former self in his day-to-day life.
Rafael added that the shooting also particularly impacted his younger son, who witnessed the tragedy.
"My son struggles every day. He tries to go through the motions but he's hurting, we're all hurting," Rafael said. "He's trying to be strong for us."
Sharon Gardner, a mother of six, came to the vigil in honor of her brother, who she said served in the military in Operation Desert Storm. He was fatally shot in 1994, only six months after he returned to Chicago.
"I just feel so cheated, so cheated," Gardner told HuffPost. "He survived all that war and turmoil overseas -- then he wasn't here with us more than six months in his hometown."
Gardner said she fears for her children, especially her 15-year-old son.
"I pay life insurance [for him] before I pay my rent now," she said.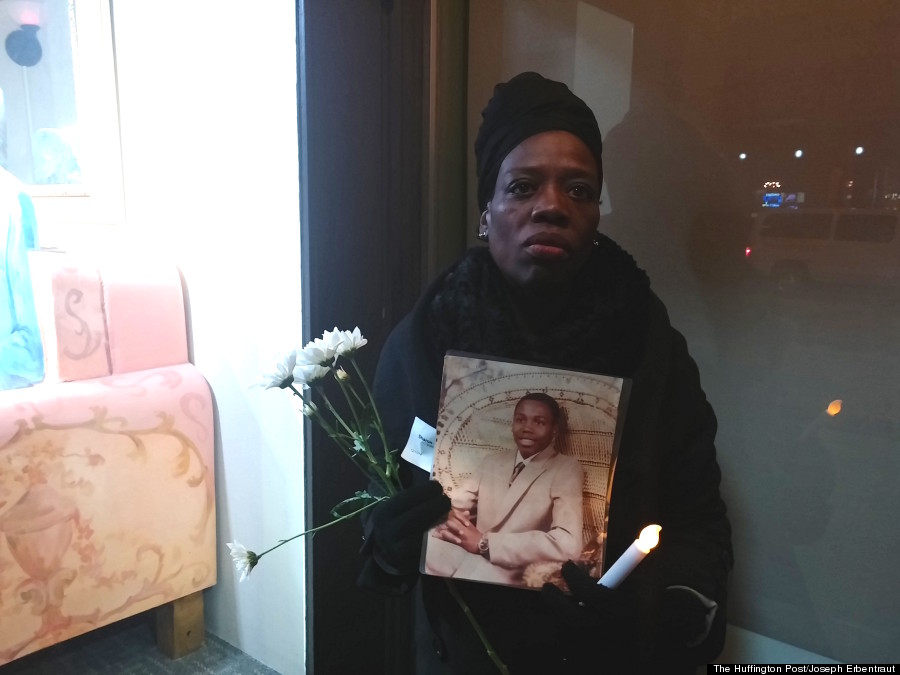 Sharon Gardner's brother was fatally shot 20 years ago. She says she still prays for him daily.
Participants in the vigil walked two blocks to Buckingham Fountain in Grant Park and released 26 white balloons into the air in memory of the 26 people who died in the Sandy Hook shooting, along with an additional balloon that represented victims of gun violence in Chicago.
At Washington, D.C.'s National Cathedral on Thursday, hundreds of mourners and activists took part in a two-hour vigil, including Gilles and Joyce Rousseau, whose daughter Lauren was a Sandy Hook teacher. The attendees used the service as an opportunity to recommit themselves to ending what speakers called "the nation's epidemic of gun violence." Despite the vigil's hallowed location beneath the sweeping stone arches of the cathedral nave, the event felt less like a memorial service and more like a very polite rally aimed at calling supporters to action.
In his remarks, the Right Rev. Gary R. Hall, dean of the National Cathedral, described an epic battle between "the gun lobby," exemplified by the National Rifle Association, and what he called "the cross lobby," the hundreds of congregations across the country taking "faithful action to prevent gun violence."
"The gun lobby is no match for the cross lobby," Hall told the attendees. "In the end, we will prevail in this struggle because love and justice always finally win over fear and hate. Let us commit ourselves, today, to stand where God calls us to stand: with and for those who suffer and die from the illegal and immoral use of firearms."

While the date of the event and the green memorial ribbons given to guests were both reminders of Sandy Hook, attendees drew resolve and spirit from more recent events as well, like the 2012 killing of Trayvon Martin and the recent fatal police shooting of 12-year-old Tamir Rice. Speakers and attendees alike said they viewed all the victims as pieces of the same problem: senseless deaths by guns.
The sentiment was similar on Friday in the Riverdale area of the Bronx, where members and staff of the Sisters of Charity bowed their heads in remembrance not only of those killed at Sandy Hook, but of all victims of gun violence across the world.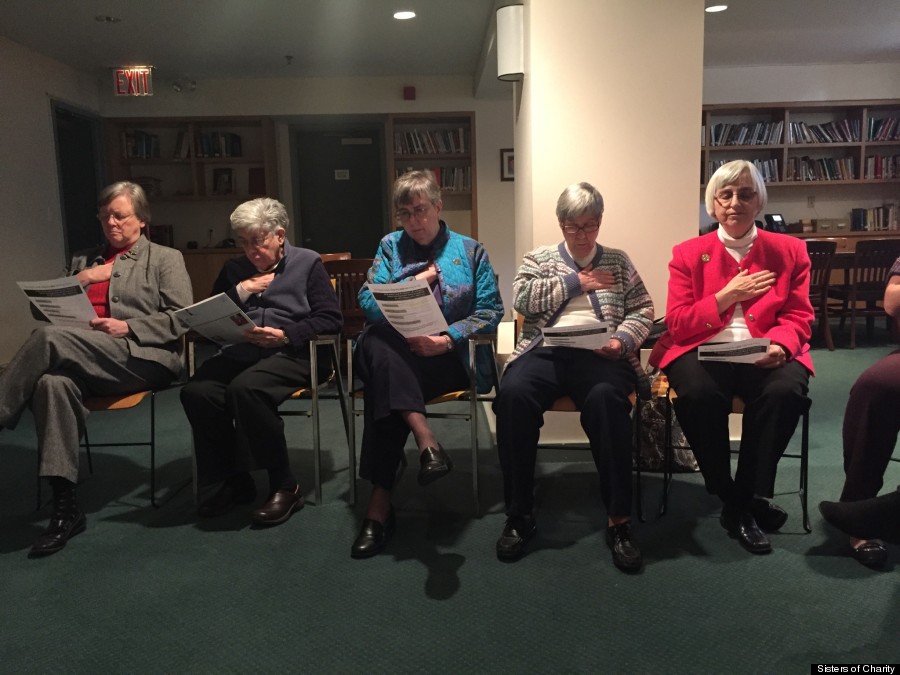 Members of the Sisters of Charity in the Bronx dedicate a moment of silence to victims of gun violence.
"Hold all those lives hurt and lost through violence in your heart -- both those who have inflicted violence and those who have endured it," said Sister Karen Gray. "Perhaps you know someone whose life was lost to gun violence. Gently hold their presence in your imagination."
After a brief pause, the sisters read aloud the names of people in their community who had been lost to gun violence. Sister Barbara Ann Ford, a Bronx native who was shot to death in 2001 in Guatemala after spending two decades doing relief work in the country, was one name. Archbishop Oscar Romero was another.
Gray read aloud statistics about background checks for buying guns in the United States. Forty-nine percent fewer suicides with a gun in states where a background check is required for all handgun sales. Thirty-eight percent fewer women killed with a gun by an intimate partner. Thirty-nine percent fewer police officers murdered with a handgun that was not their own. And so on.
"God of life, every act of violence in our world, in our communities, between myself and others, destroys a part of your creation," Gray said to close the service. "Stir in my heart a renewed sense of reverence for all life. Give me the vision to recognize your spirit in every human being, however they behave towards me. Make possible the impossible by cultivating in me the fertile seed of healing love. May I play my part in breaking the cycle of violence by realizing that peace begins with me."
At a church in the quiet suburb of Oak Park, Michigan, a group of 40 people assembled on Thursday to discuss the problem of gun violence in the nation and particularly in their state, whether in nearby Detroit or in a small town.
Linda Brundage, the Michigan chapter leader of Moms Demand Action for Gun Sense in America, spoke at length about gun control and the need for stronger background check laws.
"Stop being the silent majority," she told attendees gathered at Our Mother of Perpetual Help Parish. "We must find our voices to change the gun culture in the United States."
The group held candles in a circle as they recited name after name, memorializing loved ones lost to gun violence.
Cassandra Davis of Redford, Michigan, spoke to the crowd about her son Jeremiah, who was shot to death in November of last year by a 15-year-old. Jeremiah was 11.
"I didn't even allow my son to play with a gun," Davis said. "He never owned a toy gun."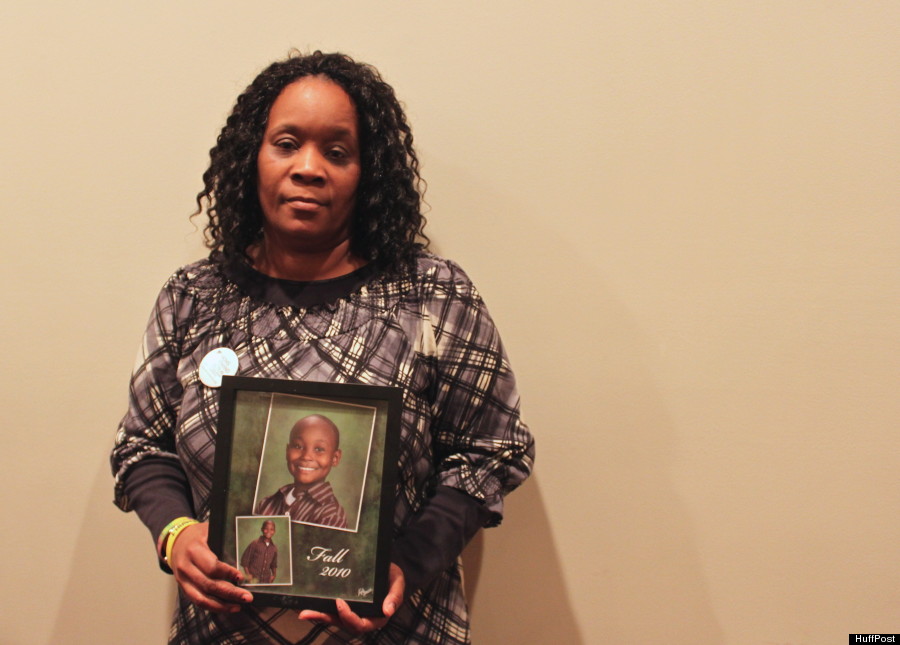 Cassandra Davis lost her 11-year-old son, Jeremiah, to gun violence last year.
According to news reports, the teen who shot Jeremiah was playing with a gun that is believed to have been found at his grandmother's house. The two boys were at Jeremiah's father's home in the Detroit suburb of Dearborn Heights, and Jeremiah's father and the 15-year-old's mother were both in the house when the shooting took place. The teen, whose name has not been released because he is a minor, later pleaded guilty to manslaughter.
Davis said Thursday's gathering was the first time she had been able to talk about her son at length in public. But she has become close with some of the women at Moms Demand Action and may continue to tell her story, in part to push for gun control laws to be strengthened and for gun safety to become a stronger priority, particularly in families with children.
"I protected my son as much as I could -- as a mom, as a parent," she said. "He couldn't ride his bike from one corner to the other [without me] standing there watching him. I didn't let him go around the block. He's like, 'Mom, why can't I go around the block and so-and-so did?' Because I said so. I'm protecting you, it's my job. I said, 'Well, when you get to be 12 years old you can go around the block.' He didn't make it."
Darrell and Katherine Lotharp brought their daughter Starletta to Thursday's gathering. The couple's other daughter was eight months pregnant in the spring of 2002 when her partner, Michael Brown Sr., was shot and killed by a neighbor. She gave birth four days after his funeral.
"Unfortunately this neighbor was a convicted felon that had just got out of prison," Darrell Lotharp said. "So what does he do? Get into an argument with a citizen, and he goes and pulls the gun out and shoots him. For nothing. They arrest him within 24 hours and he's right back in jail. It disrupted a whole family, over nothing, and that's sad. There's no rhyme or reason for it."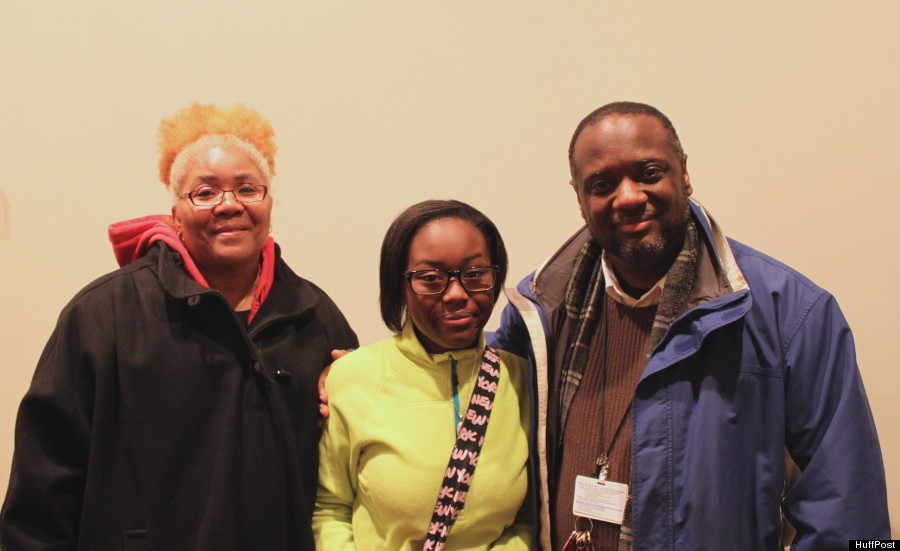 Darrell and Katherine Lotharp with their daughter, Starletta. The couple's other daughter was pregnant when her partner was shot to death.
"He never saw his daughter. Things like that, that hurts," Lotharp continued. "If he didn't have a weapon, I don't think it would have happened. But he had easy access to a gun. What's a felon doing with a gun?"
Meanwhile, Davis told attendees there are still countless things she can't bring herself to do in her son's absence: Go in his room. Watch University of Michigan football games. Eat pizza or macaroni and cheese. Walk at a favorite park. Watch the news.
"I still can't get over it. I wake up every morning saying I can't believe my baby's gone," she said. "I kept my son in a good neighborhood, a good school district. It doesn't matter where you're at -- people have guns everywhere."
Christina Wilkie reported from Washington, D.C., Christopher Mathias reported from New York, Joseph Erbentraut reported from Chicago and Kate Abbey-Lambertz reported from Detroit.
CORRECTION: An earlier version of this story indicated Darrell and Katherine Lotharp's daughter Starletta was eight months pregnant when her partner, Michael Brown Sr., was killed. The couple's other daughter, who was not present, was Brown's partner.
Related
Popular in the Community