WASHINGTON -- The lobbying firm representing Sandy Hook families in the nation's capital this week to pressure lawmakers on gun control has avoided scheduling meetings with Senate Minority Leader Mitch McConnell (R-Ky.) or most other GOP senators who have pledged to block a vote on the bill.

On Monday, President Barack Obama gave a speech in Hartford, Conn., in which he urged the families of Newtown shooting victims to push the Senate to hold a vote. But the strategy being employed this week on Capitol Hill aims to avoid confrontational meetings between the visiting family members and the filibustering senators. So far, the 11 family members have avoided those lawmakers most strident in their opposition to holding any vote at all, according to congressional aides who've met with the families.
A Senate Democratic staffer familiar with their plans told The Huffington Post that the families have met or plan to meet with Senate Majority Leader Harry Reid (D-Nev.) and Democratic Sens. Chris Murphy (Conn.), Richard Blumenthal (Conn.), Mark Begich (Alaska), Tim Kaine (Va.), Joe Manchin (W.Va.), Kay Hagan (N.C.), Joe Donnelly (Ind.) and Mark Pryor (Ark.).
Also on the list are Republican Sens. Charles Grassley (Iowa), Johnny Isakson (Ga.) and Richard Burr (N.C.), as well as independent Sen. Angus King (Maine), who caucuses with Democrats. Of those, only Burr has pledged to block the gun control bill from coming to the floor.
On Monday, more than a dozen Republican senators signed a letter pledging a filibuster, including Burr, McConnell, Rand Paul (Ky.), Mike Lee (Utah), Marco Rubio (Fla.), Jim Inhofe (Okla.), Ron Johnson (Wis.), Mike Enzi (Wyo.), Jim Risch (Idaho), Mike Crapo (Idaho), Dan Coats (Ind.) and Pat Roberts (Kan.).
Lara Bergthold, a principal at the public relations firm Griffin Schein, who represents the Newtown-based nonprofit Sandy Hook Promise, confirmed to HuffPost that Newtown families met Tuesday with Grassley and Isakson, but declined further comment other than to say the group is "making strategic decisions about meetings." The Newtown group will be in Washington through Thursday's planned Senate votes on a variety of gun control proposals.
It was unclear Tuesday night whether McConnell himself would agree to meeting with the Sandy Hook families, were they to request a meeting. A HuffPost reporter posed the question to McConnell after his weekly GOP Senate lunch meeting, but the minority leader ignored it.
The Newtown group's apparent unwillingness to play hardball with the Republicans doesn't mean the families aren't upset by the planned filibuster. "Like most of America, they are aghast that a small group of entrenched opposition could stop democracy," said Blumenthal after meeting with them Tuesday.
Still, one prominent gun control activist called the decision to avoid gun control's toughest opponents "absurd." A senior Democratic aide also questioned the group's lobbying strategy, telling HuffPost, "I want to know who is giving the families this advice. It is insane." (Both sources requested anonymity in order to speak frankly about sensitive negotiations.)
Last week, the families of Sandy Hook Promise hired the lobbying firm Mehlman Vogel Castagnetti to represent them. Bruce Mehlman and Alex Vogel are Republicans, having served in the George W. Bush administration and for then-Senate Majority Leader Bill Frist (R-Tenn.), respectively. David Castagnetti, a Democrat, comes from the orbit of former Sen. John Kerry (D-Mass.), now the secretary of state. Reached via email, Castagnetti referred questions about the families to Bergthold.
Jennifer Bendery contributed reporting.
Before You Go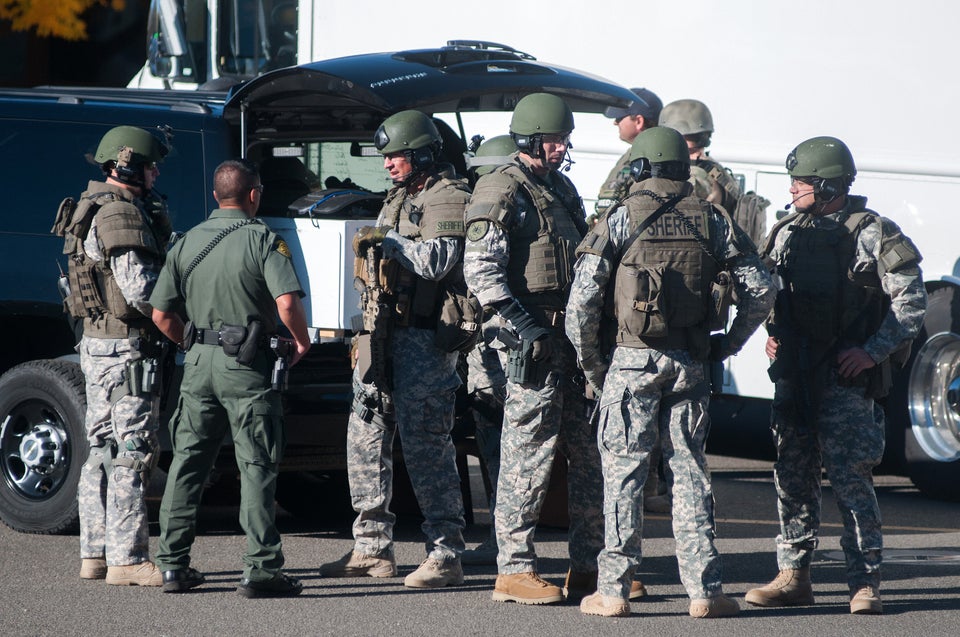 Shootings In America
Popular in the Community