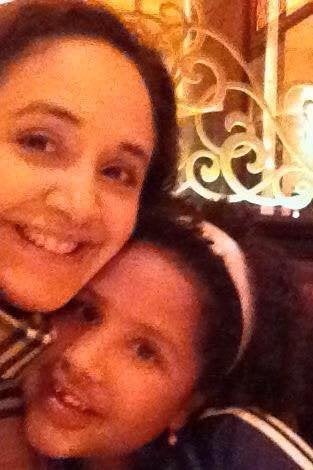 Four years ago tonight, on Dec. 13, 2012, I had just finished an entire day of hearing some really good student end-of-semester jury performances at WCSU. Nelba and the kids met me at The Cheesecake Factory in the Danbury Fair Mall nearby for supper. We enjoyed ourselves, ate a good meal, shared dessert and I snapped this picture of Nelba and Ana (at Nelba's insistence) with Nelba's iPhone ― little did I know it would be the last photo we would take of our little girl.
Nelba stayed at the mall to pick up the kids' Christmas presents while I took them home to get ready for bed. We talked on the way home and Ana asked, as she normally did, "Dad, can we listen to some music?"
I remember flipping through channels and "Lights" by Ellie Goulding came on the local pop channel (not sure I had even heard the song at that point). Ana started singing along note for note - like she wrote the song.
"Where did you learn that song, honey?" (We didn't listen to the pop channel too often - lots of age-inappropriate lyrics for a 6 and 8 year old).
"Oh, I heard it one time I was driving in the car with a friend." Wow. Listened to it one time. Such a musical memory she had.
Little did I know that was the last time I would hear her sing.
After showers were taken and pajamas put on, the three of us sat on Ana's bed to read a chapter of their bilingual (English-Spanish) children's bible and pray - my son on my right and my daughter on my left. My boy asked me a question about what I had just read and when I turned to answer him, Ana gave me the most memorable hug I've ever received in my life.
She raised herself up onto both knees beside me, threw her arms around my neck and buried her head in my neck, squeezing with all her might. She kissed me and said, "I love you, Daddy." Of all the thousands of hugs she had given me, that one stood out ― I remember it clearly to this day.
Little did I know it would be the last hug I would receive from her.
As we prepare to wake up and face another December 14th, our 4th without Ana, I am reminded of every detail of the last day we were whole as a family, December 13, 2012. My heart aches and my eyes swell with tears each and every day, missing Ana like crazy and knowing that our family won't ever be whole again.
As I look back though, I appreciate every little moment we spent together - every time we talked, laughed, disagreed, sang, played, cried and shared. Those moments with that precious little girl formed beautiful memories. Those memories are all I have now.
To all of you who have stepped in to walk with us on this painful journey, we can't thank you enough. Without your support, prayers and encouragement, we couldn't have made it close to this far.
This week, so many friends have called, texted, emailed and shown up with delicious meals and encouragement. You have blessed us and we appreciate you! You have truly modeled God's love.
"The light shines in the darkness, and the darkness has not overcome it." John 1:5 NIV
You can support The Ana Grace Project by donating at www.anagraceproject.org and by purchasing a copy of Jimmy's Grammy-nominated album "Beautiful Life." (A portion of the proceeds from sales of the album go directly to The Ana Grace Project). The album is available on iTunes, amazon.com, hdtracks.com, mackavenue.com, Barnes and Noble and wherever CDs are sold.