A number of conspiracy theories have grown up surrounding the shooting that claimed 27 lives at Sandy Hook Elementary School on Dec. 14, 2012.
Many of these theories don't necessarily assert that the shooting didn't happen, but all of them claim some amount of deception has been wrought on the American public as to what happened in Newtown, Conn., that day. Some go so far as to say the massacre was a joint government-media operation to shore up support for a federal assault weapons ban.
There have already been a number of articles debunking many of these theories, including one by The Huffington Post. But in spite of the backlash, the theories continue to grow. Even professional athletes, news anchors and tenured university professors have lent credence to them.
There are dozens, if not hundreds, of videos on YouTube that have been viewed more than 25 million times in total. (Yes, we counted.) One of those videos, by user "ThinkOutsideTheTV," was viewed more than 10 million times in just 11 days, Buzzfeed points out.
HuffPost has obtained new information that sheds more light on some of the confusion that surfaced in the hours after the shooting occurred. Here are a few persistent "truther" arguments and explanations as to why they don't hold up to scrutiny.
Choose one of the truther arguments below, or scroll to read through them all.
Sandy Hook School Nurse Sally Cox "Got Her Script Wrong"
An argument making the rounds on YouTube and on many blogs attempts to use a clip of WUSA reporter Andrea McCarren as a way of illustrating the differing narratives supposedly given to the public.
Watch the clip of McCarren in Newtown on the day of the shooting (story continues below):
In the clip, McCarren reports that Cox said she knew the shooter's mother to be a "very caring, experienced kindergarten teacher." She also says Cox called her "just the kind of person you would want with your 5-year-old children."
Some truthers assert that Cox must have gotten her "script" wrong, because why else would she think Nancy Lanza was a teacher at the school when that's been reported to be false?
However, law enforcement officials did initially state that the shooter was the son of a kindergarten teacher, and their statement was widely reported by the media. Soon thereafter it was discovered to be untrue, at which time many media outlets issued corrections to their previous reports.
A source with knowledge of Cox's interview told HuffPost that Cox mentioned no names during the interview, and that questions posed to the nurse did not use the name of Adam Lanza (or even Ryan Lanza, who was initially named as the shooter). In fact, reporters didn't use any names at all, the source said, only generic terms like "the suspect" or "the shooter."
Therefore, Cox may have heard those same initial, erroneous reports that the shooter was the son of a Sandy Hook kindergarten teacher and may have assumed them to be true at the time.
When reached by phone, Cox told HuffPost that she "never said anything about anyone," although she acknowledged a group of reporters had "descended" on her outside the town firehouse. When asked if McCarren got her story wrong, Cox said "yes" and added that "those [conspiracy] theories are all manufactured lies."
McCarren provided no public comment at time of publication.
Adam Lanza Didn't Use An Assault Rifle To Kill His Victims
The notion that Lanza didn't use an assault rifle to carry out his killings at Sandy Hook Elementary began as an erroneous report by the media in the immediate aftermath of the shooting. Perhaps most notably, NBC News, citing federal and state officials, reported on Dec. 15 that there were "actually four handguns recovered from inside the school" and "apparently only handguns that were taken into the school."
NBC also incorrectly reported that an AR-15 was found in the trunk of Lanza's car.
NBC wasn't the only one to misreport this information. CNN also incorrectly reported which weapon was found in Lanza's car. The New York Times, citing law enforcement officials, also reported that Lanza had used handguns in the shooting. (Interestingly, the Times got it right the first time by saying Lanza used a rifle.)
It's still unclear where that misinformation came from. State police spokesman Paul Vance told HuffPost it didn't come from the Connecticut State Police; FBI spokesman Dan Curtin told HuffPost it didn't come from the Connecticut branch of the FBI, and neither NBC News or the Times returned a request for comment.
What is clear is that NBC News updated its report a few hours later to say that law enforcement officials had given out "conflicting" information. The outlet said it appeared Lanza may have only carried two handguns and that a rifle was "also found at the scene" -- information that later turned out to be true.
In spite of errors the media and law enforcement officials may have made in the hectic hours following the shooting, certain facts are now established. Here they are, in chronological order:
The day after the shooting, Chief Medical Examiner Wayne Carver said all the victims he had examined had been shot with a rifle at close range. The following day, Connecticut State Police spokesman Lt. Paul Vance said that "a Bushmaster AR-15 assault type weapon" with high capacity magazines was the weapon that was used "most of the time" during the shootings. That same day, Vance also sent HuffPost an email saying Lanza carried "many high-capacity clips" for the weapon.

The Connecticut State Police released a statement on Jan. 18 with the purpose of showing the public exactly which guns were found and where.
On Jan. 24, Vance, citing "conspiracy theorists" that were "trying to mucky up the waters," reiterated that Lanza had killed all of his victims with a semi-automatic rifle. Vance emailed HuffPost on Jan. 29 to confirm, again, that Lanza used a Bushmaster rifle in the school, that high-capacity magazines were also found in the school, and that the weapon found in the trunk of Lanza's car was a shotgun.
Hoax theorists point to a grainy video that appears to show law enforcement removing a weapon from the trunk of Lanza's car. The video appears to have been shot from a helicopter, at night, and nothing in the video -- or anywhere else -- shows the gun to be anything except a 12-gauge shotgun, as the authorities have said.
Adam Lanza Died The Day Before The Shooting
The Social Security Death Master File appears to have printed Dec. 13, 2012 as the day of death for Adam Lanza, rather than Dec. 14 (when he killed himself at Sandy Hook Elementary). Conspiracy theorists have seized on the error as yet another reason to think that Lanza is a false flag for the shooting.
(Story continues below.)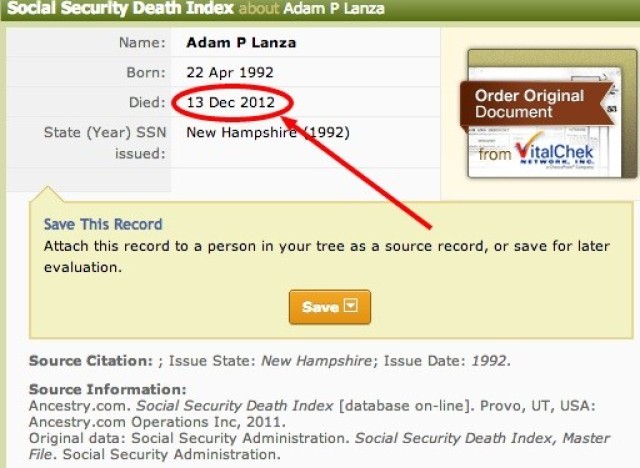 How could the Social Security Administration have made such an error?
The mistake may not have been made by the Social Security Administration. The Death Master File -- a database with information on millions of dead people that is used to prevent identity theft -- is compiled from the social security records of Americans whose deaths have been reported to the Social Security Administration. Whoever reported Lanza's death may have made the error.
HuffPost contacted the Social Security Administration's Danbury, Conn., office, which is responsible for the town of Newtown, where Lanza lived. A representative for the office said it was possible they had made a mistake, but a copy of the death certificate would be needed to change the error.
However, there is no death certificate for Adam Lanza -- yet. Lanza's certificate will become available after it's been filed with the Newtown Registrar of Vital Records. That will happen once the case is completed, said Debbie Aurelia, the Newtown town clerk. But the case won't be completed until the toxicology reports are finished, which "won't happen too quickly," the office of the Medical Examiner told HuffPost over the phone. (On Jan. 17, CNSNews reported that state police said the report is still "several months away.")
Even if the Social Security Administration made the mistake, it wouldn't be the first time it's happened. In fact, between May 2007 and April 2010, more than 36,000 people were reported as dead by the Social Security Administration although they were still alive, CNN reported in 2011. A 2012 report by the Office of the Inspector General found the Social Security Administration failed to record the deaths of about 1.2 million people. Clearly, it is not immune from making mistakes; even the agency itself refuses to guarantee the accuracy of the Death Master File.
HuffPost has requested a copy of Adam Lanza's death certificate and will update the story when the request is fulfilled.
Memorial Websites And Facebook Pages Were Already Set Up
Some hoax theorists have questioned why some websites and social media pages set up as donation sites or memorials for victims were apparently date-stamped prior to the shooting. Isn't that proof that there was knowledge of the shooting before Dec. 14, they ask?
No, it isn't. As many people with blogs know, Google crawls webpages inconsistently and, as Insquisitr notes, "if a page is repurposed to host other information than it originally displayed, it may show up as having been 'published' earlier."
It's easy to illustrate this phenomenon. As Reddit user Oltimega points out on this thread about the issue, if one uses a date-restricted search, all kinds of articles come up about the Newtown shooting with Google date stamps weeks, months and even years before the shooting occurred.
In this example, the dates for these articles are from the 1990s: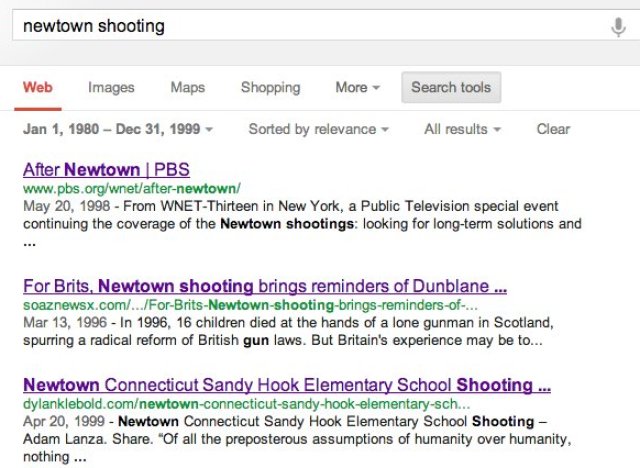 As for Facebook pages, if a user creates a page on one day and then changes the title and contents a week or a month later -- without changing the URL -- the time stamp retains the original date. This seems to have been the case with first-grade teacher Victoria Soto's memorial page, which allegedly had a date stamp before Dec. 14.
Why Did Adam Lanza Have His Brother's ID?
Conspiracy theorists assert that it's odd Adam Lanza would have his brother Ryan's ID on him, particularly when Ryan told law enforcement he hadn't spoken to his brother since 2010.
There are a couple of explanations for this: The first comes from Ryan Lanza, Adam's 24-year-old brother who lives in Hoboken, N.J., and who was originally identified as the shooter on the day of the massacre.
Ryan told both the police and a former Jersey Journal reporter named Brett Wilshe (who is also reportedly a friend of Ryan's) that it was possible his brother was in possession of his ID.
Another possibility is that Ryan Lanza's ID wasn't at the scene at all. Connecticut State Police spokesman Paul Vance could not confirm to HuffPost that it had been found on the crime scene. Meanwhile, the Associated Press reported that the confusion arose when "a law enforcement official mistakenly transposed the brothers' first names." Additionally, CNN reported, "it was not clear what caused the confusion among investigators."
While it's true that law enforcement and the media reported the possibility of multiple shooters in the immediate aftermath of the massacre, people who still believe this are willfully ignoring information to the contrary.
To support their claims, theorists point to police audio obtained by the New York Post in which an officer says he had "reports that a teacher saw two shadows" running past the gym. They also point to aerial footage obtained by the Associated Press that appears to show police catching a man in the woods near the school. Truthers also point to an interview CBS News did with a bystander who said he saw a man wearing "camo pants and a dark jacket" being walked out of the woods in handcuffs by police -- likely the same man from the aerial footage of the woods.
As many other outlets have already pointed out, that man was probably Chris Manfredonia, the father of a 6-year-old who attends Sandy Hook, who was on his way to the school when he heard "popping sounds," according to the Los Angeles Times. The newspaper reports that Manfredonia was briefly handcuffed by police after running "around the school" trying to find his daughter. Manfredonia confirmed that fact to CNN's Anderson Cooper.
Also, as Salon points out, the Newtown Bee reported that a local law enforcement official told them there was an off-duty tactical squad police officer in the woods with a gun that day, so it's possible he was mistaken for an additional gunman.
Crisis Actors Were Used To Give Interviews To The Media
One of the more persistent myths about the Newtown story is that crisis actors were employed by the government and the media to give anguished interviews in order to drive home the need for gun control. Even Dr. James Tracy, a tenured professor at Florida Atlantic University, suggested this on his blog only two weeks after the shooting.
HuffPost has covered the story of Gene Rosen, a 69-year-old retired psychologist who sheltered six children who had escaped the shooting. He has been repeatedly harassed by conspiracy theorists who believe he's an actor. Theorists have asserted that Rosen works for the Screen Actors Guild, but as myth-debunker site Snopes points out, the Gene Rosen listed as having worked for the Screen Actors Guild is an entirely different Gene Rosen than the one who lives near Sandy Hook Elementary.
Truthers have pointed to a company called Crisis Actors, which, they say, supplies trained professionals for events just like the Newtown shooting. But Crisis Actors, which helps schools and first responders create drills for educational purposes, released a statement saying it doesn't engage its actors "in any real world crisis events" and that none of its performances are presented "at any time as a real world event." And in spite of claims that there are "numerous connections" between the victims' families and the Crisis Actors firm, to date there have been no verified connections between the company and the parents of children who perished in the Sandy Hook shooting.
Lastly, there's a theory that none of the victims' friends or families actually shed tears after the massacre. The popular "Sandy Hook Shooting Fully Exposed" video claims "not a single tear" was shed, while the site SandyHookHoax.com has an entire page titled "No tears" that features photos and videos of victims families.
Of course, there were plenty of tears shed in Newtown. One of the most widely-circulated photos of the event shows the sister of Victoria Soto, the first-grade teacher who died in the shooting, as she sobs into her phone on Dec. 14. ABC News interviewed Krista Rekos with her husband Richard, the parents of a 6-year-old girl who died that day. During the interview, Rekos broke into tears as cameras were rolling. Gene Rosen also cried on camera while telling his story to the Associated Press. Robbie Parker, a parent of a slain first-grader who has also been accused of being an actor, also broke down on camera while speaking at a press conference the day after the shooting. Even President Barack Obama cried.
Part of the reason it's shocking that these theories are so popular is because many of them are so far-fetched. As BuzzFeed's Ben Smith points out, a cover-up of this magnitude would "demand massive collusion between hundreds of private citizens, the federal government, local authorities, and the news media."
Still, such stubborn refusal to take law enforcement authorities or the media at their word will likely persist as long as there is gun control legislation in Washington, or perhaps even longer.
"We are hardwired to seek order in chaos, make meaning out of data noise," D.J. Grothe, the president of the James Randi Educational Foundation previously told HuffPost, "and it is paradoxically comforting to imagine that great tragedy is not just time and chance, but a function of some nefarious, pre-planned grand design."
Calling all HuffPost superfans!
Sign up for membership to become a founding member and help shape HuffPost's next chapter
BEFORE YOU GO