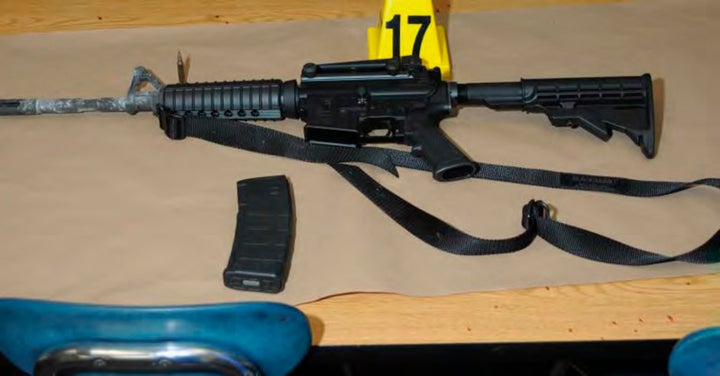 Four years before Adam Lanza killed more than two dozen people at Sandy Hook Elementary School, police had been alerted to his intentions. But they did nothing, newly unsealed records show.
The more than 1,500 documents regarding the 2012 shooting in Newtown, Connecticut, released Tuesday by the FBI, paint a disturbing picture of Lanza as a wide-eyed loner with an interest in guns, hurting his mother and pedophilia.
Perhaps most disturbing, however, is an interview the FBI conducted with an unnamed man shortly after Lanza's massacre ― in which he fatally shot 20 children and six adults at the school and his own mother at their home. The man recounted overhearing a conversation with Lanza in 2008 ― four years earlier ― in which the killer had expressed his liking for assault weapons and his intention to shoot up Sandy Hook.
"Lanza allegedly told [redacted] that he planned to kill his mother and children at Sandy Hook," the document reads.
The man went to the Newtown Police Department with what he'd heard, but his warning was allegedly ignored.
"[Redacted] called the NPD and told them he had information about Lanza threatening to kill his mother and shoot children at Sandy Hook," the document reads. "[Redacted] was told by NPD that Lanza's mother owned the guns and that there was nothing NPD could do about it." 
Under current law, it's not clear what, if anything, the police department could have done to prevent the slaughter four years later. In a statement to HuffPost provided by the FBI, Newtown Police Chief James Viadero said his department does not have any record of being contacted by the tipster in 2008.
"Newtown PD has been working closely with the FBI on verifying information on the referenced report," Viadero said in the statement. "A comprehensive search of our records indicate that the person named in the report is not on record as ever contacting the agency in 2008 or subsequent to that date. We thank the FBI for their assistance and diligence in verifying the information."
The FBI documents go on to describe Lanza as someone who "didn't talk much" in high school, had a high tolerance for physical pain and often spoke about mass murders and serial killings.
"The shooter did not 'snap,' but instead engaged in careful, methodical planning and preparation," the FBI wrote in its analysis. "The shooter was fascinated with past shootings and researched them thoroughly. The shooter shared many similar characteristics and behaviors with other active shooters."
Calling all HuffPost superfans!
Sign up for membership to become a founding member and help shape HuffPost's next chapter