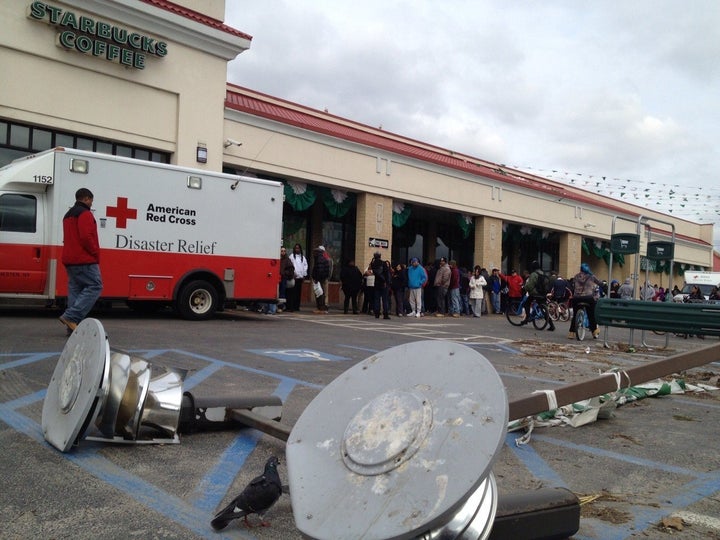 LONG BEACH, N.Y. -- Jenny Kastner couldn't conceal her frustration. After three days spent waiting for local, state and federal officials to address what she saw as the most pressing need in this Long Island community -- food and water to thousands of residents living in cold, dark homes, many without any communication to the outside world -- she couldn't believe that the first Red Cross truck she had seen was setting up operations in a windswept beach parking lot five miles from town.
"This doesn't work!" she said, loudly, to one of the workers. "People who need help can't get here."
Kastner, and her daughter, Liza Womack, began loading cardboard boxes full of ham and cheese sandwiches, bags of apples and bottles of water into Womack's car, which had barely escaped the flood damage that rendered thousands of other vehicles here useless. Then they drove off to the low-income neighborhood of single-family homes and public housing projects to distribute the supplies where they were most needed.
Hurricane Sandy hammered this beach community of about 35,000 people on the Atlantic Ocean Monday night. The town still has no power and no running water. Dark, fetid sewer water fills many basements. Most others haven't been properly cleaned of the water that surged into their homes. Those few residents in the poor neighborhoods of town who owned cars saw them swallowed up, and disabled, by the salty water.
"We've got no transportation, no phone service, it's just not a good time," said Danielle Conan, a Long Beach resident, as she gratefully accepted a sandwich and some other food dropped off by the mother-daughter team.
In interviews over the course of an afternoon, residents said they were frustrated with the official response, which has seemed haphazard, and focused at times on the wrong priorities.
"The response is not about getting help to human beings," Kastner said. "It's just yelling at us and telling us to get out of town."
The previous evening, a dozen National Guard soldiers had stood guard as three of their number distributed water to a long line of waiting residents, according to several who said they felt treated as if they were a threat, rather than victims of a natural disaster.
Authorities were also failing to communicate basic information, such as where to find food and water, locals said. Televisions are dark and cell phone service is spotty, at best. Downtown on Thursday, dozens of state and local police and officials from a variety of New York agencies milled around, but residents said they weren't getting out into the community to answer people's questions.
The interplay between various local, state and federal agencies at ground level in Long Beach is difficult to determine, meaning it is unclear whose job it is to communicate with residents and to make sure everyone knows about locations to pick up food and water. But the Nassau County Office of Emergency Management is likely playing a leading role. Calls to the agency Thursday afternoon weren't returned, and an email sent Thursday evening wasn't immediately returned.
Part of the problem seems to be the inevitable breakdown in communication that happens when different units are dispatched to an area with different missions, some from other parts of the country.
As a result, neighbors are relying on each other for information, which often proves wrong. Chrissy Bregali drove her sister and brother-in-law to City Hall after hearing a rumor that the Red Cross was distributing $250 in cash assistance to needy residents. That rumor proved false.
"Why aren't they distributing these?" Bregali asked, holding a flyer that contained some basic information about services that she had just picked up from a police officer. Bregali said she hadn't heard about the food distribution center in the beach parking lot. The flyer didn't say anything about it.
The National Guard is patrolling neighborhoods, but their primary mission is security. The soldiers intimidate many residents, and they often don't know the answer to questions about food and water distribution, locals said.
In a parking lot in the nearby community of Point Lookout, about seven miles away at the tip of the peninsula, a reporter encountered a weary search-and-rescue FEMA team dispatched from Indiana. These rescue workers, all firemen, had worked long hours since they arrived two days ago to make sure no one was still trapped by the storm. But they weren't equipped to distribute food or water aid. They had only a 1-800 number for people to call if they asked about aid.
Though many residents expressed frustration with authorities, some seemed to be coping better than others.
Standing outside the fire station in Point Lookout, Donna Walsh said she was getting by on peanut butter and Fluffernutter sandwiches. "I haven't seen my landlord since before the storm, but otherwise it's not too bad," she said.
Across the street, a worker hosing off the floor of the flooded Apples Café unleashed an expletive-laden tirade when asked how he was coping. "How the f--- does it look like things are going?" he yelled, waving around the hose. "Where the f--- are our government officials?"
Back in Long Beach, one official, who declined to give his name because he said he was not authorized to speak to the press, said that authorities were doing the best that they could and that ensuring public safety and getting power and sewer services restored was a top priority. The official said that food and water distribution was already improving.
And indeed, by Thursday afternoon that seemed to be the case. In the parking lot of a darkened, but still open Wauldbaum's grocery store on the main business strip, long lines of Long Beach residents were queuing at two Red Cross trucks which had just arrived and were distributing small bags of food.
One of the trucks was the same one that Kastner had earlier admonished to move closer to the center of town. Someone, it turns out, may have been listening after all.
UPDATE: A spokesman for Nassau County's Office of Emergency Management said in an email that that the office distributes water and MRE's to the city, which then distributes the supplies to residents. The office has no jurisdiction over the local authorities, he said.
*************************
The Huffington Post is eager for insights from our community, especially people with experience in power, infrastructure and engineering, on the adequacy of emergency preparation in advance of Hurricane Sandy, and the degree to which past disasters have informed adequate planning and construction. Please send a note to sandytips@huffingtonpost.com with insights and suggestions for the important questions that need to be asked of relevant private sector and government officials, and point us toward stories that need to be pursued.
Before You Go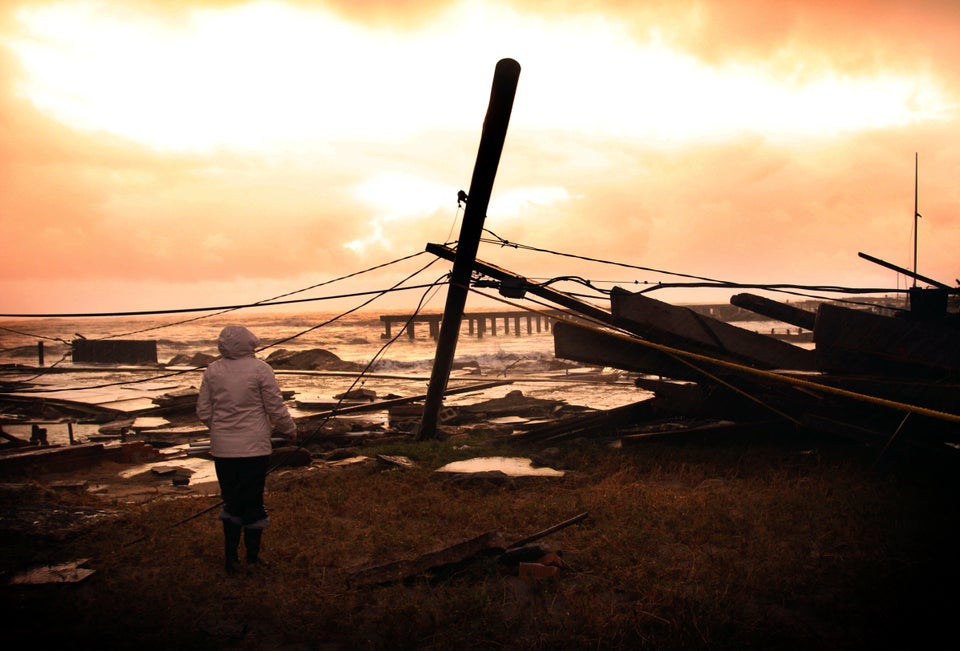 Superstorm Sandy: Photos From October 30, 2012
Popular in the Community