A measure providing $51 billion for relief and recovery from Hurricane Sandy was approved by a bipartisan majority in the House on Tuesday evening, three weeks after Northeast Republicans excoriated the chamber's GOP leaders for failing to vote on storm aid before the end of the last Congress.
An amendment to the relief package introduced by Tea Party-allied conservatives requiring across-the-board cuts to defense and domestic programs to pay for $17 billion of storm aid was supported by a majority of Republicans, but was defeated 258-162 with a combination of GOP and Democratic votes.
The full $51 billion relief bill passed the House 241-180, with 179 Republicans opposed.
The relief measure provides billions of dollars to repair flood-damaged transit systems in New York and New Jersey, and $5.4 billion for the Federal Emergency Management Agency's Disaster Relief Fund, which provides cash grants directly to storm victims. Tens of billions of dollars are also allocated for long-term flood control and recovery projects.
"There's clearly a federal responsibility to act," said Rep. Tom Cole (R-Okla.). "We have a national interest in getting this region on its feet as quickly as possible."
The Democrat-controlled Senate passed a $60 billion comprehensive storm relief package in December, but Republican leaders in the House did not take up the Senate bill, choosing instead to move on storm relief in a series of incremental measures.
A bill providing $9.7 billion to replenish the federal government's flood insurance fund passed the House and Senate, and was signed into law by President Barack Obama earlier this month, just days before the insurance fund was set to run out of money. That bill was strongly supported by House Speaker John Boehner, but opposed by 67 Republicans, including Rep. Paul Ryan (R-Wis.), the party's 2012 vice presidential nominee.
A measure authorizing an additional $33 billion in storm relief and recovery funding, in the form of an amendment to the initial $17 billion aid measure, passed the House late Tuesday afternoon.
While the storm relief bill was approved on Tuesday with the support of GOP and Democratic leaders, it again split the Republican caucus, as fiscal conservatives took to the House floor to decry the relief bill as loaded with extraneous funding.
"A tragedy like Hurricane Sandy shouldn't be used for a grab-bag of spending," said Rep. Tom McClintock (R-Calif.).
Rep. Mick Mulvaney (R-S.C.), a member of the House Tea Party Caucus, introduced the failed amendment requiring all spending on the initial $17 billion in relief funds to be offset by a 1.6 percent across-the-board cut to federal discretionary expenditures in 2013. The amendment was backed by other Tea Party-allied conservatives and cleared for a floor vote by the House Rules Committee on Monday night.
"We don't have enough money to take care of our own people. That's wrong," Mulvaney said. "Our government is facing a fiscal crisis."
The amendment was decried by Northeast lawmakers as a "poison pill" and "political ransom" that would imperil the measure's chance for passage by the Senate.
"Finding offsets is no easy task and it makes no sense to put that on the back of emergency aid," said Rep. Jerrold Nadler (D-N.Y.). "I urge my colleagues to reject this madness."
Mulvaney rejected the notion that the amendment was designed to sabotage the Sandy aid bill, however.
"This amendment is not about delay," he said. "I want these folks who need this money to get it."
Other Republicans spoke out against Mulvaney's amendment, saying the proposed cuts would hurt defense and veterans' programs. Hal Rogers (R-Ky.), chairman of the House Appropriations Committee, said the proposal would result in "devastating slash-and-burn cuts."
"This amendment is an across-the-board cut that holds no program safe from harm," Rogers said.
No previous disaster relief bill has required offsetting spending cuts, and Cole called it "hypocritical" for lawmakers whose districts have benefited from federal aid after previous disasters to require sweeping spending cuts in order to authorize the storm aid.
"We have never done that in the past in a disaster, and we certainly shouldn't do so now," Cole said.
More than two-thirds of Republicans backed the amendment, but it was defeated with a combination of GOP and Democratic votes.
This article has been updated to reflect the final House vote on the relief measure.
CLARIFICATION: 5:50 p.m. -- An earlier version of this story incorrectly stated that a $17 billion Sandy relief measure had passed the House on Tuesday afternoon. That vote in favor of the relief measure was a preliminary vote, not a final vote, which occurred later in the evening.
Before You Go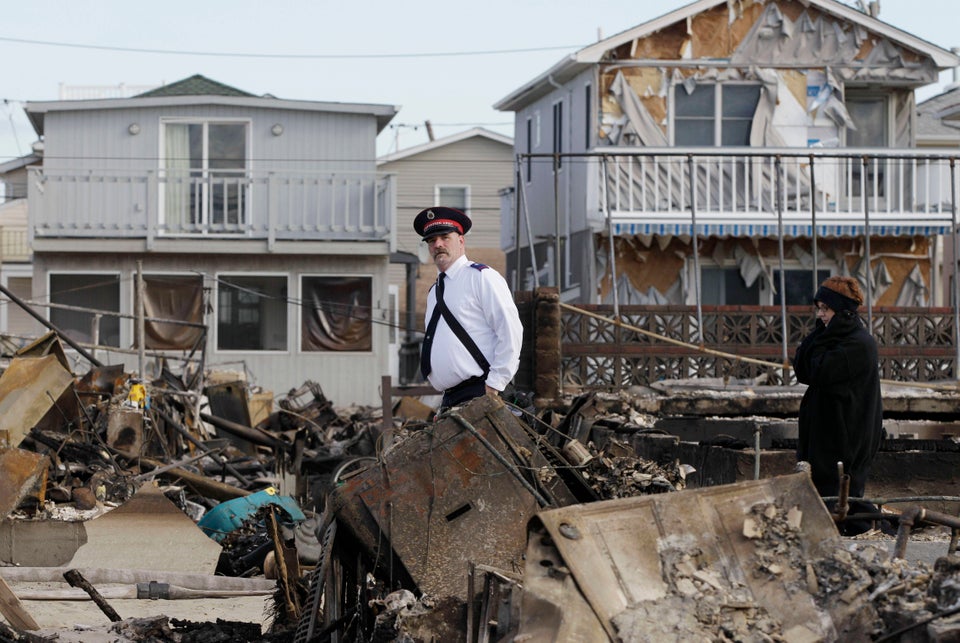 Hurricane Sandy
Popular in the Community