Sandy Sachs is most famous for co-founding Girl Bar Los Angeles and Dinah Shore Weekend in Palm Springs over 25 years ago. This party was the world's biggest lesbian gathering before evolving into Dinah Vegas, now in its fourth year. Dinah Vegas is this weekend, so it is the perfect time to ask Sandy 10 questions.
1. How did Dinah Shore Weekend start?
Dinah Shore Las Vegas started four years ago as a spin off of our Dinah Shore weekend in Palm Springs which we started in 1991. After 21 years in Palm Springs, we felt it was time to shake it up and move our event to the most fun city in the world.
2. What will make this Dinah Shore weekend different from prior weekends?
We keep changing our weekend to make it fresh and interesting for our repeat customers. This year we'll be doing our opening party at Elton John's splashy new champagne bar FIZZ at Caesars Palace. We also will be taking our VIP guests on Vegas' tallest observation structure. The 55-story Ferris Wheel known as the High Roller. We'll be rolling in bars in each pod for an open bar and an ultimate experience with unparalleled view of the Vegas Strip. In addition, the Flamingo pool has been entirely renovated with new cabanas so we are looking forward to an amazing pool party.
3. How many ladies do you expect to attend and where are they usually flying in from?
We're expecting around 2000 women. Not quite the numbers we used to have in Palm Springs but we are growing every year. Women from around the globe attend from such countries as Russia, Germany, United Kingdom, Australia, Canada, Spain, France and a few others.
4. Who will be performing this year and why did you choose them?
While our weekend format is not about entertainment as we are in the entertainment capital of the world, we have Anita Antoinette from season seven of The Voice and the new electro Pop duo Stash who will both be performing during the day at our pool party.
5. Why do you think Vegas is the best city to hold Dinah Shore weekend?
That answer is quite simple. It's the entertainment capital of the world and the city never sleeps.
6. Who are some of your favorite performers that have graced the stage at Dinah Shore?
Our favorite performers that we had are the Go-Gos. It was a full on mini concert and it was just amazing. Belinda Carlyle also performed solo on the same weekend so it was quite the weekend.
7. What are three things you should pack for Dinah Shore?
The three things you need to pack for Dinah Vegas are sunblock, a white outfit and aspirin.
8. What event will attract the most people and why?
This is a little tough to answer because both the Saturday pool party and our Saturday night White party have huge appeal. I'd say it's a tie.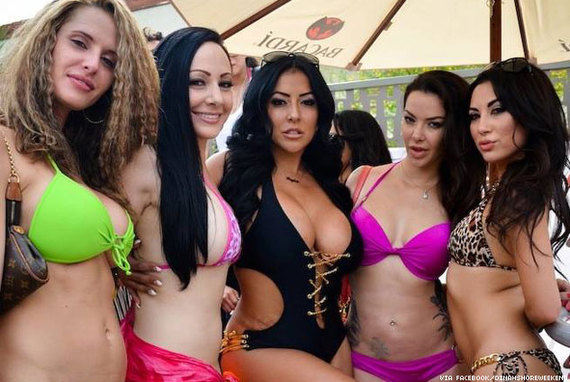 9. Describe a Dinah Shore girl...
A Girl Bar/Dinah Shore girl is a sophisticated traveler who appreciates a well-produced event in chic venues. She's professional and loves to have a good time.
10. Describe Dinah Shore weekend in three words...
Calling all HuffPost superfans!
Sign up for membership to become a founding member and help shape HuffPost's next chapter