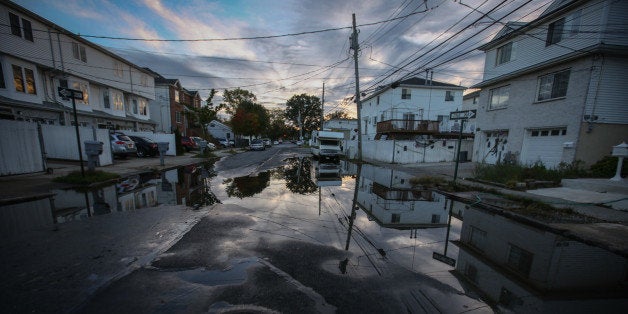 On the afternoon of October 29th, 2012, Stephanie Beharovic and her husband had made the decision to ride out Hurricane Sandy in their house in the Ocean Breeze section of Staten Island. There had been warnings of hurricanes in years past, but not much had come of them. However, as night fell it, it became clear that this storm would be different. Stephanie changed her mind and told her husband that she wanted to leave, but by then it was too late.
The couple heard a roar, as water rose up over the nearby beach and began to flood the neighborhood. "The water started coming, it came so fast that my first floor of my house was completely covered with water. All the transformers were blowing up," Stephanie told me.
The couple spent the night on the second floor of their home, waiting for someone to come rescue them. But help never came. "We had to swim out the next day and we couldn't go in our house for two days 'cause water was still there."
Listening to Stephanie's personal story of Hurricane Sandy, I couldn't help but compare it to my own.
I also live in New York City, but in the borough of Manhattan. Yes, we lost power for five days, and complained about it for several more after that. And damage was done, and lives were lost in Queens, Manhattan, the Bronx, and Brooklyn. However, it was nothing compared to the devastation that occurred in Staten Island. Forty-three people died from Hurricane Sandy in New York City; 24 of those deaths happened in Staten Island.
Two years after Sandy, few people in Manhattan are thinking about Sandy. If they are, it is like a bad dream, easily shaken off. But the nightmare continues for many in Staten Island, as I saw for myself on a recent rainy morning.
The highest concentration of deaths happened in the Midland Beach area of the island, which is where I met Stephanie as she coordinated 10 volunteers who were refitting a kitchen and painting walls of a small house that had been devastated by the storm. The owner, an elderly woman who cares for three disabled grandchildren, looked on approvingly as the group worked around her. The group responsible for the effort is called Yellow Boots and for the past two years it has been run entirely by volunteers, including Stephanie and the co-founder Ross Decker, whom I also met with at the house.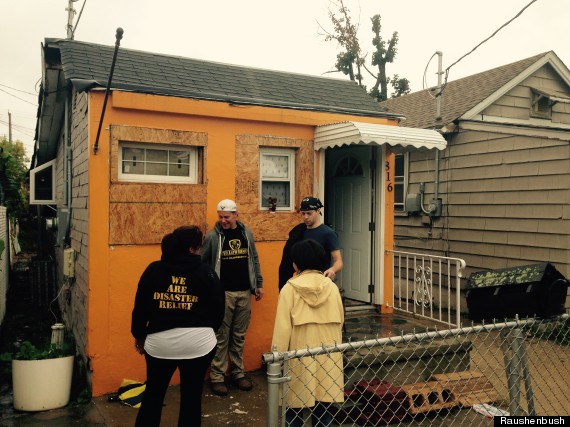 Ross Decker owns a pest control company with his father. But immediately after the storm, with his father's blessing, he dedicated himself full-time to the volunteer disaster recovery. He and his wife Catherine started a group called Eden Cares, which raised close to $20,000 to help provide for people's basic needs in the aftermath of the storm.
The couple joined forces with Farid Kader, who had formed a group of volunteers called Yellow Team, and Michael Hoffman, who had formed a group called Boots on the Ground. Together they formed Yellow Boots. Over the past two years, the group of volunteers at Yellow Boots has helped tend to over 1,800 homes in Staten Island, including mucking out, rebuilding, and painting, as well as providing food assistance, Christmas presents, and even Halloween costumes.
"On Staten Island, we estimate that there are still hundreds displaced and we know that over 4,000 are waiting in line for the city's recovery program," Alana Tornello told me as we drove around the areas of Staten Island most affected by the storm. Tornello, a former student of mine at Princeton University and a native of Staten Island, was acting as my neighborhood guide. In some areas we passed, dozens of houses were boarded up in a manner reminiscent of images from the Lower Ninth Ward of New Orleans.
After Sandy struck, Tornello left her job in DC and came back home to Staten Island to help with the recovery efforts. She now serves as the Coordinator for the Staten Island Interfaith and Community Long Term Recovery Organization (SI LTRO), a coalition of faith-based, grassroots, and national recovery organizations created by a council of faith leaders in the days immediately after the storm in an effort to coordinate the relief efforts.
Faith groups have been key players in the recovery efforts in Staten Island. "Faith groups here have been, and continue to be, major leaders in recovery social infrastructure," Tornello told me. Over the past two years SI LTRO helped coordinate 95 relief organizations, 40 of which continue to meet weekly. These groups, of which Yellow Boots is one, work to provide housing relief and assistance for those still suffering as well as coordinate volunteers for building projects.
One of the SI LTRO's projects has been an Individual Assistance Committee to bring together disaster case management and volunteer rebuild committees to identify especially difficult homeowner rebuild needs not being met by Build It Back, an often criticized government-run recovery program in New York City.
One of the people who is still hoping her needs might be met is Stephanie, the volunteer I first met at Yellow Boots. As the city observes the second anniversary of Hurricane Sandy this Wednesday, Stephanie is still out of her home in Ocean Breeze, which is now in foreclosure.
It seems to me that in New York City, one of the richest cities in the world, there might be help for people like Stephanie to get back in their homes. In the meantime, she volunteers her time helping other victims of Hurricane Sandy hoping that someone might help her and the many more who need our assistance two years after Superstorm Sandy hit our city.
I asked Stephanie why she continued to spend time volunteering after all that has happened to her. She explained, "It's a beautiful thing to help other people. It feels great to help others get back home."
Popular in the Community