 In Internet-speak, an increasingly common status message on Gchat or AOL Instant Messenger is "wfh," or "working from home." Following Hurricane Sandy, however, we might have to adopt a new acronym: "wfa," or "working from anywhere."
With millions of New Yorkers in Manhattan, Brooklyn and Queens without power in both their apartments and their office buildings, the scramble for alternate workplaces is on.
"People who [need to be] working are on this frenetic hunt for the ideal workplace," said Sarah Sherman, who works for a small mobile technology company typically based near Penn Station. Because that area lacks electricity, her company has temporarily rented out space more than seven miles away at an Art Gallery in Gowanus, Brooklyn. Her team of programmers and marketers for the software firm now find themselves surrounded by half-finished easels and modern art as they plug away on their laptops.
"They're in the middle of hanging an art show around us," she explained, an ambient environment that is apparently not as distracting as it might sound.
Sherman noted that she could be working from home -- her Park Slope apartment was not impacted by the storm -- but her mother has taken up residence with her, temporarily relocated from the Sandy-impacted Greenwich Village.
"My mom is staying with me in my apartment," she explained, "and I'm not going to have a productive work day with her sitting there nagging me."
Like many other New Yorkers, then, Sherman sought out an alternative temporary workplace. That search has led New Yorkers to various, perhaps unexpected 9-to-5 outposts: on friends' couches, on their childhood beds, at tables inside WiFi-touting Starbucks shops and -- in the case of at least one group of friends -- to the bar.
"On Tuesday we woke up and found that [our apartment] had no power, no Internet and no cell reception," said Chris Chen, who was in town for a reunion with friends and who had been planning to work from home before Sandy struck. "We figured out that there was power Uptown, so we walked from SoHo toward Midtown."
With no real destination and no cell phone reception to help them find one, Chen and his friends eventually stumbled upon the Playwright Irish Pub, a spacious bar on 35th Street in Manhattan. For the next seven hours, the posse plugged in their laptops, connected to a 4G WiFi hotspot and telecommuted from the backroom of the Irish tavern, Chen said in a phone interview.
"I was basically working and playing Taboo at the same time and having some beers," said Chen, who works at the Palo Alto advertising startup TrialPay. "It was a good experience."
Over the past few days, that ingenuity has been echoed by many New Yorkers searching for temporary offices (though perhaps, it must be said, with less booze and Taboo). The post-Sandy improvised office requires but a roof, an illuminated lightbulb and an Internet connection; for New Yorkers navigating out of a dark Downtown Manhattan, that can mean the work day can occur almost anywhere that can accommodate their laptops.
With most coffee shops "packed to the gills," according to Sherman, that has often meant some perseverance and creativity.
In the East and West Village, these new road warriors can be seen venturing out each morning, laptop bags slung over their shoulders, heading north in search of a place to work, after having spent the night sleeping in their power-less apartments. Walking downtown against the steady current of this mobile workforce almost feels like heading into an uninhabitable place, marching straight into the den of a deadly monster the locals are too savvy to stay near.
So, the downtown Manhattanites head north, to coffee shops, friends' homes and temporary workplaces rented out by employers whose regular offices are without power. BuzzFeed presented photos of a few of these "Makeshift Offices of New York," including the site's own momentary digs at the Hearst Tower; New York Magazine's Kevin Roose gave a snarky set of tips for finance types manipulating spreadsheets from home.
Whether your employer is known for slideshows of pugs wearing funny clothing or financial wizardry, however, this "work from anywhere" mentality is, for now, the new normal in NYC. It may also, if a certain set of forward-thinkers are correct, be the new normal in the near future: Employees have embraced telecommuting, just as employers have learned to accept remote workers so long as they stay connected and productive. No need to put in face time if you've got FaceTime, you might say.
The extent that Sandy will prove the plausibility of widespread, if not total, remote employment can't be measured quite yet; getting work done while hanging out with your dog may or may not end up as one of Sandy's benevolent legacies. And, too, despite widespread enthusiasm for the concept, telecommuting still presents problems for some. Marissa Smith, for example, who generally works at a law firm in Midtown, reported that though she enjoyed spending a couple days with her best friend at her Queens apartment, she did admit to missing the dual monitors at her office desk.
Still, this was a temporary situation, much like the art galleries and Irish pubs that hosted teleworkers. Unconventional though some of these locations may have seemed as offices, Sarah Sherman succinctly summed up the reason for their viability.
"If you have shit to do and you have to get it done," she explained, "you can do it anywhere."
*************************
The Huffington Post is eager for insights from our community, especially people with experience in power, infrastructure and engineering, on the adequacy of emergency preparation in advance of Hurricane Sandy, and the degree to which past disasters have informed adequate planning and construction. Please send a note to sandytips@huffingtonpost.com with insights and suggestions for the important questions that need to be asked of relevant private sector and government officials, and point us toward stories that need to be pursued.
Support HuffPost
The Stakes Have Never Been Higher
Related
Before You Go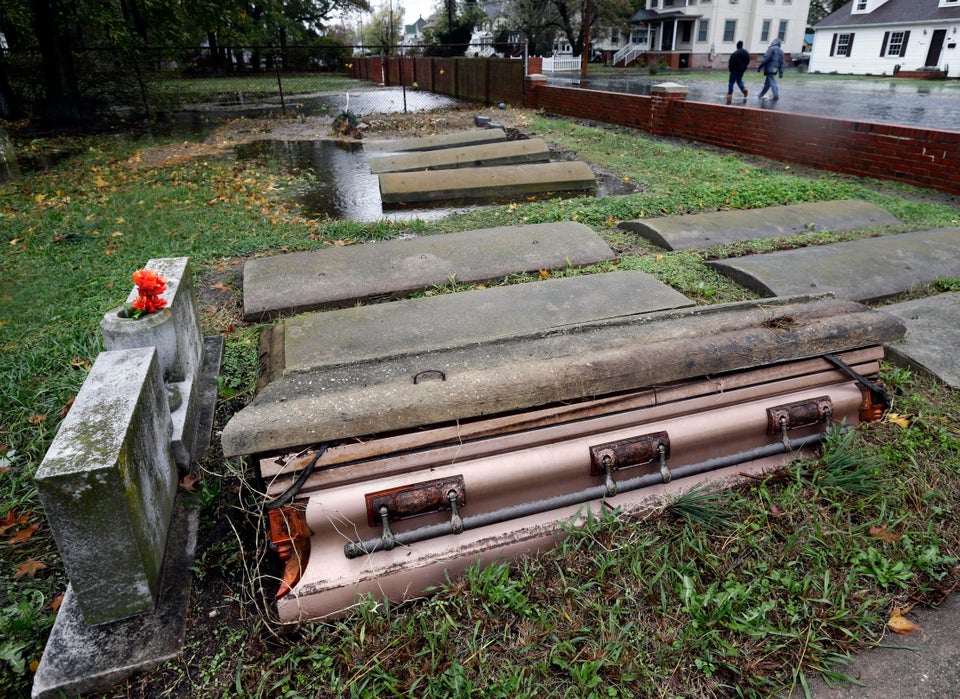 Hurricane Sandy
Popular in the Community