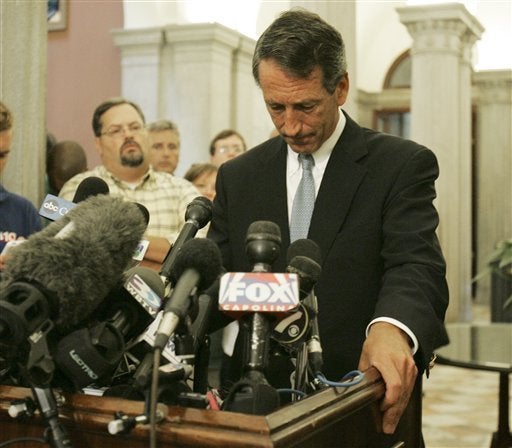 Details are emerging that could further cloud Gov. Mark Sanford's story about the affair with a woman in Argentina.
A Democratic source, who asked to remain anonymous, called to alert the Huffington Post that the Republican Governor has traveled to the South American country before, on the taxpayer dime. From an Associated Press article in December 2008:
Gov. Mark Sanford ranks in the top 50 based on the total amount that he spent on trips paid by his office and those paid by the state Commerce Department. Sanford has traveled to China, Argentina and Brazil through the Commerce Department, which has travel reports showing taxpayers covering $21,488 for those trips. Sanford also spent $1,976 in travel through his office. The figures don't include Sanford's occasional use of a state airplane, Sanford spokesman Joel Sawyer said. The Commerce-paid trips benefit South Carolina, Sawyer said. For instance, in October, FITESA, a Brazilian fabrics maker, announced it would spend $120 million on a Laurens County facility and create 80 jobs. 'I would say it was probably worthwhile,' Sawyer said.
Meanwhile, on the more comedic side, the governor frequently referred to Argentina's economic history during speeches. DemConWatch also noticed Sanford's interest in the country, including his repeated statements, starting as early as 2002, that America was becoming Argentina circa the 1920s.
Our net international debt is approaching 300 percent of annual exports. Again relevant because countries like Brazil and Argentina saw their net indebtedness rise to only slightly more, around 400 percent of their national exports, at the height of their financial crisis. - State of the State Address 2005

Calling all HuffPost superfans!
Sign up for membership to become a founding member and help shape HuffPost's next chapter