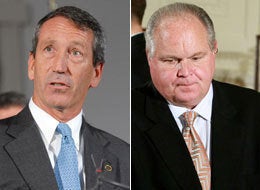 I don't want him to fail. Anybody who wants him to fail is an idiot, because it means we're all in trouble. But I do think, in that same vein, if you've looked at the pages of history, if you've looked at the pages of economic data that I've looked at over a long period of time -- I've got a masters in business from the University of Virginia, I've worked up in New York in finance -- if you've looked at that kind of stuff and you legitimately think that something ain't going to work, you'd be cheating him and cheating yourself if you didn't lay it out and call an ace an ace in terms of where you're coming from.
Sanford makes the distinction between legitimately believing a plan is not going to work and explaining your reasons why, and just openly rooting for a presidency to fail, as Limbaugh has, no matter what the cost to the nation.
Calling all HuffPost superfans!
Sign up for membership to become a founding member and help shape HuffPost's next chapter