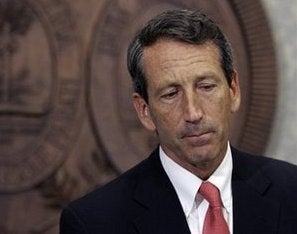 Governor Mark Sanford may be missing in action. His wife may not know exactly where he is. And there could be some dispute as to whether the South Carolina Republican is hiking the Appalachian Trail or flying somewhere via the Atlanta airport.
Through it all, however, his twitter account has kept active.
An astute observer points out that there have been multiple posts on the twitter page of the possible 2012 Republican presidential contender even though Sanford himself has gone off the radar.
On Thursday, the day the governor apparently 'disappeared,' Sanford's page had two tweets: first to trumpet his appearance the night before on Sean Hannity's show on Fox News, the next to tout the message sent by the famous tea party protests of government tax policies.
tea parties were a tipping point in pushing back against Washington DC's financial recklessness - http://tinyurl.com/sanfordo... #liberty
On Sunday, Sanford's twitter account had another post, declaring that the "stimulus discussion shows need for restructuring in SC." Finally on Monday, when news of his disappearance became a national story, the Governor's page had a tweet that South Carolina's government structure was "fundamentally flawed."
Could it be that Sanford, a self-avowed active tweeter, was filing posts from his jaunt through the Appalachian Mountains? Was he staying abreast of current events as he was closing himself off from family, friends and colleagues?
Actually, the answer is far more innocent. While the governor was gone his staff kept on working, with an aide tasked with keeping the twitter account up to date.

Popular in the Community