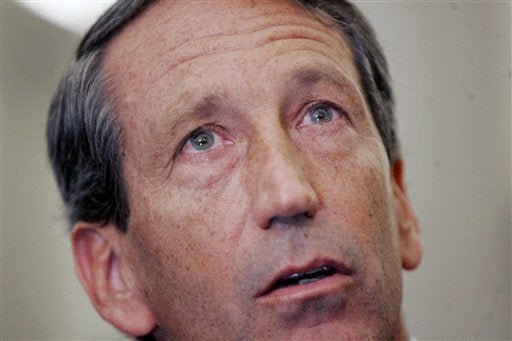 Governor Mark Sanford's admission that he has had an affair with a woman from Argentina, whom he met through the exchange of emails, promises to spark yet another round of reflection and debate over how significant a politician's personal life is when judging their professional conduct.
The South Carolina Republican, who apologized to his wife, family, staff and friends, said that he was willing to face the consequences of his actions. One of those was consequences was immediate, facing the judgment of the press, he said. Another was his resignation from the chairmanship of the Republican Governors Association. Whether the consequences extend to his resignation from the governor's chair remains to be seen.
The standard Sanford has set for other politicians over the years has been fairly high. A member of the House of Representatives during the heyday of the Clinton-Lewinsky affair, he was often a harsh critic of the president for his marital misconduct.
This is "very damaging stuff," Sanford declared at one point, when details of Clinton's conduct became known. "I think it would be much better for the country and for him personally (to resign)... I come from the business side," he said. "If you had a chairman or president in the business world facing these allegations, he'd be gone."
Explaining his decision to back impeachment articles against Clinton, he added, "I think what he did in this matter was reprehensible... I feel very comfortable with my vote."
Sanford's complaints were directed primarily, although not entirely, at Clinton's lying about the affair rather than the affair itself. At one point, however, he proclaimed that Clinton was likely to get away with his infidelities and indiscretion because he already had the perception of someone who was untrustworthy.
"In politics you can get away with anything as long as it's what's expected," he was quoted saying in a Boston Globe article published in December 1998. "If people expect you to be a rascal, you can be a rascal."
At another point, however, Sanford seemed to acknowledge that when it came to politicians, skeletons in the closet were to be expected. "This is a human institution," he said of Congress, in a Maclean's article from September 1998. "Take it as a given that weird stuff goes on."
More than anything else, Sanford -- after initially cautioning the press to withhold judgment until all the facts in the Clinton case were known -- became deeply skeptical of the president's motives. He was one of only five members of the House of Representatives (and one of two Republicans -- Ron Paul being the other) to vote against expressing support for U.S. troops in combat after Clinton ordered bombing raids in Iraq. Sanford reasoned that the president was trying to distract attention from his marital issues. And toward the end of the saga, he insisted that Clinton could not operate with any effectiveness because he'd been untruthful.
"The issue of lying is probably the biggest harm, if you will, to the system of Democratic government, representatives government, because it undermines trust," he told CNN. "And if you undermine trust in our system, you undermine everything."
Now, of course, he is working to rebuild the trust he lost from an affair of his own.
Popular in the Community