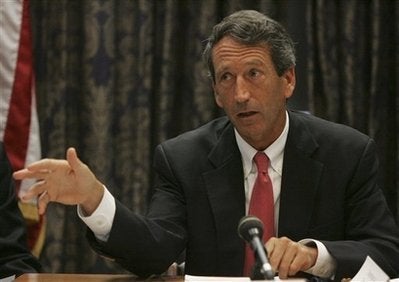 UPDATE 6/30: South Carolina Gov. Mark Sanford has admitted that he 'crossed lines' with women other than mistress, but never had sex with them. From the AP:
The governor says he "never crossed the ultimate line" with anyone but Maria Belen Chapur, the Argentine at the center of a scandal that has derailed Sanford's once-promising political career.

During an emotional interview at his Statehouse office with The Associated Press on Tuesday, Sanford said Chapur is his soul mate but he's trying to fall back in love with his wife.

He says that during the other encounters he "let his guard down" with some physical contact but "didn't cross the sex line." He wouldn't go into detail.

Sanford said the casual encounters happened outside the U.S. while he was married but before he met Chapur.
A reporter called a Sanford staffer, saying the paper had e-mails that outlined an affair between the governor and Maria. Unless Sanford would address the issue privately, The State would have no choice but to ask him -- with TV crews filming -- if he knew Maria at his press conference that afternoon.

The names of two other women tumbled into the newsroom. [...]

And more names of women were coming in over the transom. The total was at three and counting.

"Women?!" [Former Sanford Chief of Staff Tom] Davis responded, sounding incredulous. "Women?!"
The article does not elaborate on the other women.
Popular in the Community