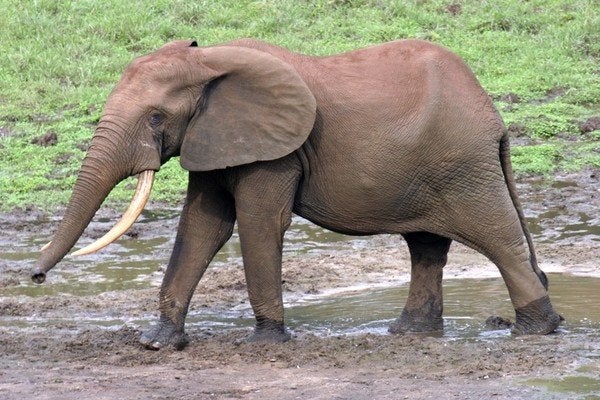 A massive swath of lush forest that straddles the borders of three African nations and is home to crowds of elephants, gorillas, chimpanzees and other wildlife has been declared a World Heritage Site.
The 9,700-square-mile (25,000-square-kilometer) site, known as the Sangha Tri-National Protected Area, or TNS, covers territory in the Republic of Congo (Brazzaville), Cameroon and the Central African Republic.
The announcement of the designation came during the annual meeting of the United Nations World Heritage Committee, held in St. Petersburg, Russia, this year.
The site is the first to span three countries, and stitches together previously established national parks.
The protected area encompasses one of the most pristine regions of equatorial Africa. The park is home to tropical forests, wetlands and natural clearings — known as "bais" — that draw enormous gatherings of some of the region's most iconic animals.
Elephant crowds of more than 100 strong congregate in the bais, alongside forest buffalo and giant forest hogs.
Some of the bais attract huge groups of gorillas, while others attract flurries of parrots.
The heart of the TNS is an area nearly 3,000 square miles (7,700 square km) across, which follows the course of the Sangha River, a tributary of the far larger Congo River.
Surrounding the core of the park is a vast buffer zone, home to groups of indigenous peoples, and regions where some controlled logging is permitted.
Conservation groups have lauded the designation.
"The TNS is the wild heart of the Congo Basin Rainforest. It contains some of the last great populations of African forest elephants, gorillas, chimpanzees, and other endangered species," James Deutsch, the Wildlife Conservation Society's director of Africa Programs, said in a statement.
"As everywhere in Central Africa, this global treasure is under threat from unsustainable resource extraction, including the illegal ivory trade, and we hope that the TNS's listing will re-energize global efforts to save it," Deutsch said.
Follow OurAmazingPlanet for the latest in Earth science and exploration news on Twitter @OAPlanet and on Facebook.
Copyright 2012 OurAmazingPlanet, a TechMediaNetwork company. All rights reserved. This material may not be published, broadcast, rewritten or redistributed.
Popular in the Community