LOWNDES COUNTY, Ala. — A breeze wafts the stench of raw sewage into Eric's face as he stands outside his ramshackle mobile home. If he notices the smell, he doesn't react.
The 62-year-old, whose name has been changed to protect his privacy, strolls a few yards from his front door to where a black pipe emerges from the ground and empties a stream of putrid water into a shallow trench. Each time the toilet flushes in Eric's home, waste flows through the pipe and out to this makeshift sewer. The effluence snakes its way within feet of a stand of trees where two pit bulls are tied up, and disappears into the woods at the far end of the yard.
A number of these waste streams crisscross the property, which Eric shares with relatives who live in several trailers clustered together near his. When it rains, he says, the trenches overflow, spreading bathroom tissue and fecal matter onto the grass. During heavy rains, wastewater backs up into Eric's bathroom.
There's also a stinking pool of sewage in the yard, just feet from the door of a nearby trailer. Soggy wads of toilet paper dot the layer of green scum on the surface. The pool is about four feet across and bubbles up from a broken septic tank below. The stench is overpowering. Eric keeps his distance.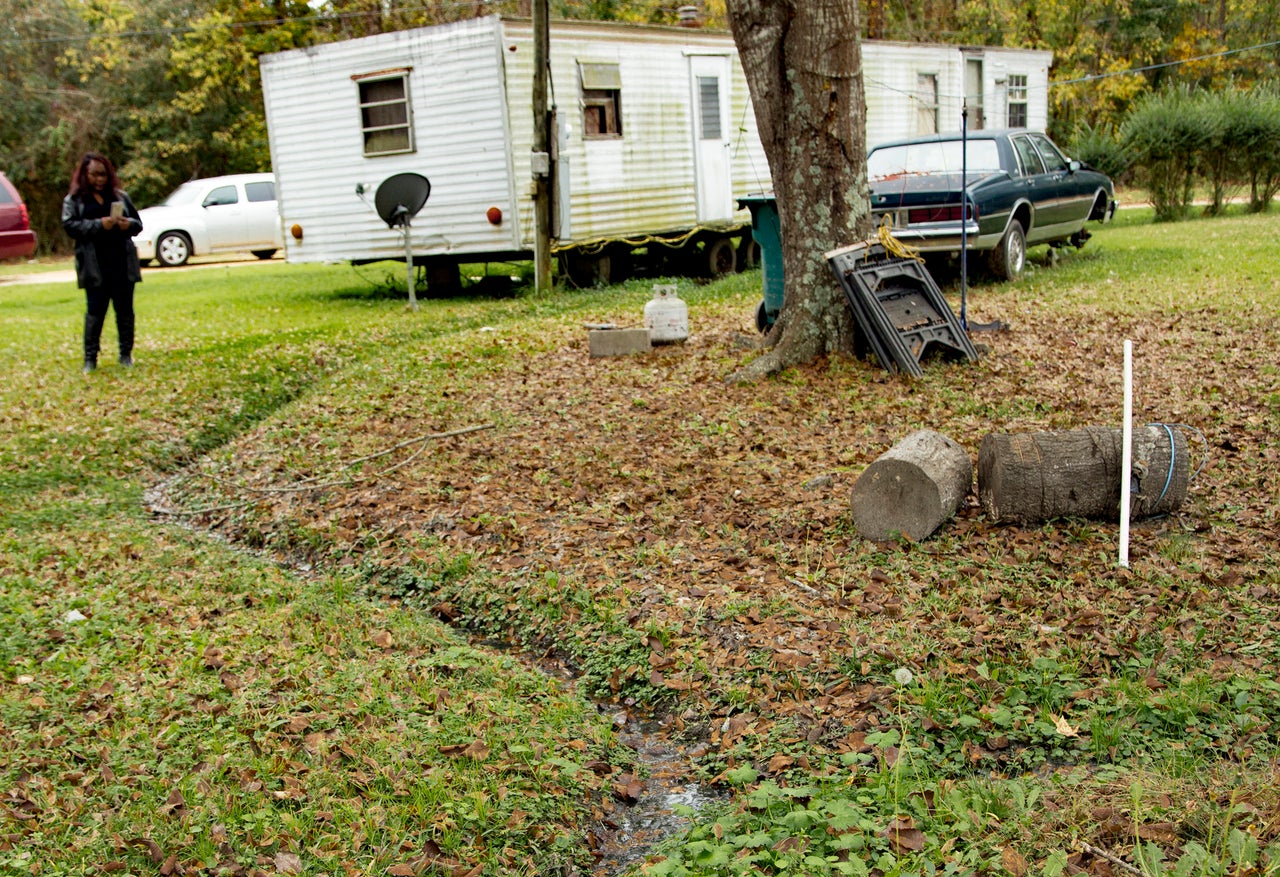 He says he's always had to live with raw sewage spilling onto his yard or flooding into his house. Nearly all his neighbors also pipe sewage into the woods or let it run onto the ground under their trailers. This is illegal and unsanitary — and residents know it. But it's quotidian in this impoverished part of the South.
"It's been like this before I was even born," Eric says.
Thousands of Americans may come into contact with raw sewage on their property, based on survey estimates by the Census Bureau, though it is not known how many live in situations as extreme as Eric's. There is no formal count of people in this country who reside near open sewers ― they're believed to be among the nation's poorest. Many are native, Latino or African-American, like Eric and his neighbors. Those exposed to unsanitary conditions can be found in both rural and urban areas, living in fear and secrecy and slipping through the safety net intended to protect them.
"These are fellow Americans suffering under unconscionable conditions that their neighbors and other Americans don't know anything about," Sen. Cory Booker (D-N.J.), who earlier this year met with Alabamians about wastewater issues, told HuffPost. "It allows a level of villainy to transpire in their lives. In other communities that are more privileged or well-off, that have access to the media or the levers of power, these kind of injustices would never be tolerated."
The majority of Americans live in areas where their bathroom pipes connect to a public sewage network. They use the toilet and flush their waste without a second thought. People who live outside these networks typically must install and maintain their own septic systems. Usually, it all works just fine ― but sometimes things go wrong. (Among U.S. households with sewage connections, there were 1.4 million reports of system breakdowns estimated in 2015, per Census survey data. Another 400,000 households reported breakdowns in their septic systems that year.) And sometimes things go really, really wrong.
A spate of recent media attention has made rural Alabama the de facto epicenter of this issue, but a complete account of the problem here has yet to emerge. Though government agencies and local people have worked for years to improve conditions, evidence of raw sewage can be found all over, if you know where to look. For this area, steeped as it is in a history of racial strife, protecting the most vulnerable people from exposure to raw sewage means coming to terms with deep-seated inequality borne of America's troubled past.
The land Eric's trailer sits on is part of the Black Belt, a swath of dark, clay-rich soil stretching 300 miles through central Alabama and northern Mississippi. The dirt here doesn't absorb water, making it ideal for creating ponds or growing cotton — the area was a key part of America's slave plantation economy — but terrible for wastewater disposal. The land swells when it's wet and contracts as it dries, forming cracks and damaging pipes, foundations of buildings and anything else buried close to the surface.
Municipal sewage networks can't reach everyone in the Black Belt counties, where town populations are small and residents are spread over large areas. Instead, far-flung homes have their own septic systems ― or they're supposed to. Relatively affordable conventional systems don't function properly in this soil. Finding something that works can come with a shocking price tag.
Depending on the type of soil where a house is built, people in this region can expect to pay between $3,000 and $30,000 to install an onsite septic system, a huge sum considering the Black Belt has some of the poorest counties in the nation.
If a system fails, homeowners might find their own toilet waste bubbling up through a bathtub or sink, or pooling on the ground outside. Residents with failing systems often describe a "gurgling" noise coming from their toilet after heavy rains ― it's a warning not to use the bathroom that day. Fixing a failing system means forking over hundreds or even thousands of dollars, and the burden often falls on the homeowner.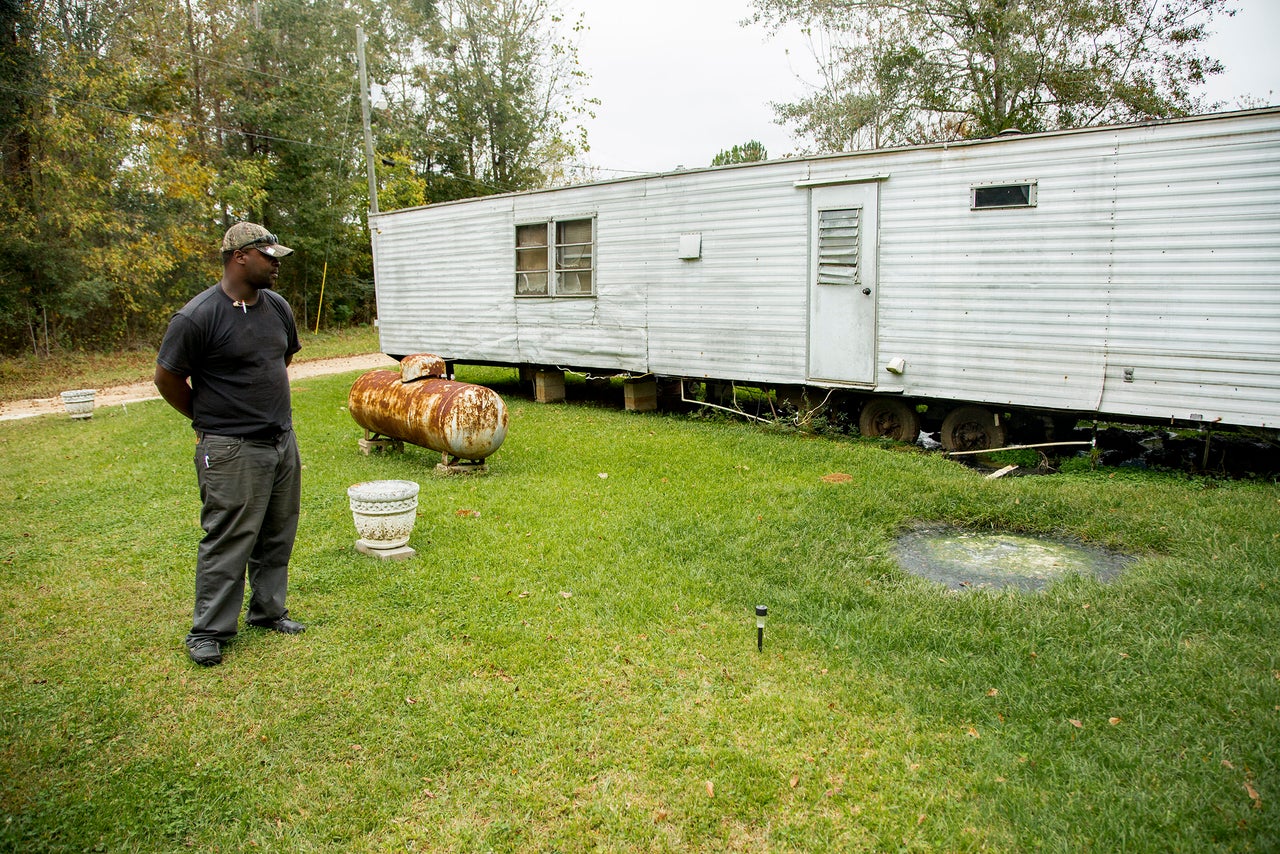 "Some residents here, their monthly income isn't over $800," said Aaron Thigpen, a community activist working to draw more attention to wastewater problems in the area.
Poverty has impeded progress, says Catherine Flowers, 59, founder of the Alabama Center for Rural Enterprise and an advocate for environmental justice. "If the people impacted were wealthy, the powers that be would have found a solution a long time ago," she said.
Eric and his relatives live on the border of Lowndes County, where activists have focused much of their attention. Lowndes is home to 10,400 people. A majority are African-American, many descended from people brought to the area as slaves. The median income is just $28,000, and job opportunities are limited. The overall health of people here ranks near the bottom of the state. Only 20 percent of homes are on municipal sewage networks.
Before the 1960s, the area was far poorer than it is today. In the decades following the Civil War, many former slaves scraped by in grinding poverty.
In 1965, hundreds of African-Americans protesting racial injustice and demanding voting protections marched five days with Dr. Martin Luther King from Selma to Montgomery ― passing through Lowndes County on the way. Today, civil rights activists in the staunchly conservative state say the effort to keep black citizens from the polls is alive and well. They point to a restrictive identification law believed to make voting more difficult for African-Americans, who tend to cast ballots for Democrats.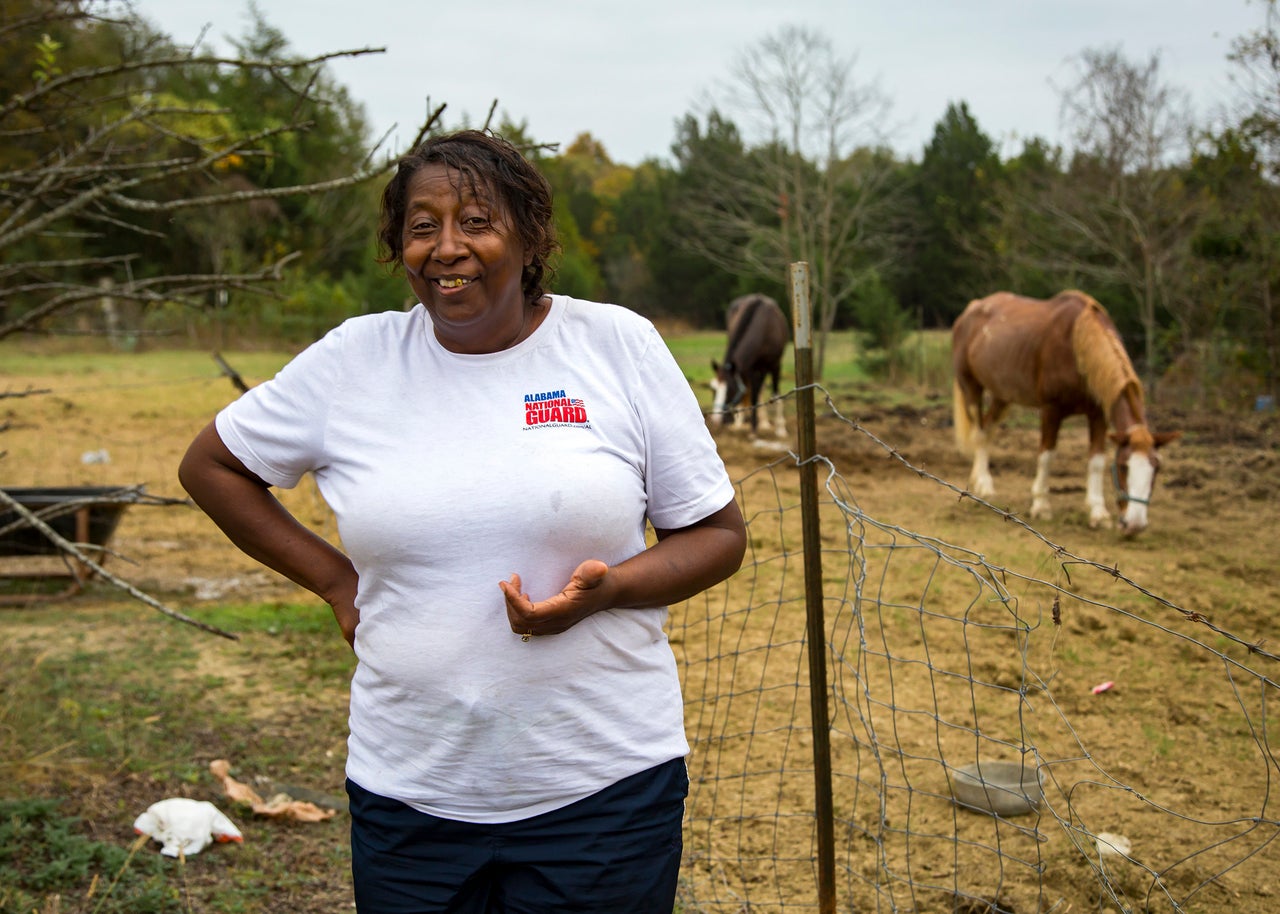 On an overcast day in November, Hardy showed HuffPost the failing septic system behind her home. Nothing looked amiss ― two years ago she spent the family's Christmas savings to refurbish the system ― but the real trouble would come that night, she said. There was rain in the forecast. "When there's a lot of rain, you can't use the toilet," she said.
Hardy's had issues with her septic system since she installed it nearly 30 years ago. "I don't have $15,000 to put another system in," she said. She'll have to fix what she can to keep worse problems at bay.
"So we'll go without Christmas again this year," Hardy said.
In another part of the county, across farmlands, forests and pastures, lives Joyce (not her real name). The scene behind her mobile home is a horror show. Her septic tank fills up completely every few days, leaking wastewater into an open trench. Rainy days fill the trench even more. Mosquitoes breed there by the thousands when it's warm.
Joyce, 50, tries not to flush toilet paper. She discards used tissue in a little trash can, hoping to take some pressure off the system. It hasn't helped much.
At least twice a week, she has her son attach an electric pump to the system, flush out the liquid and empty it in the nearby woods.
"I know it's not sanitary, but I don't have another choice right now," Joyce said.
She estimates that she paid $10,000 for the system.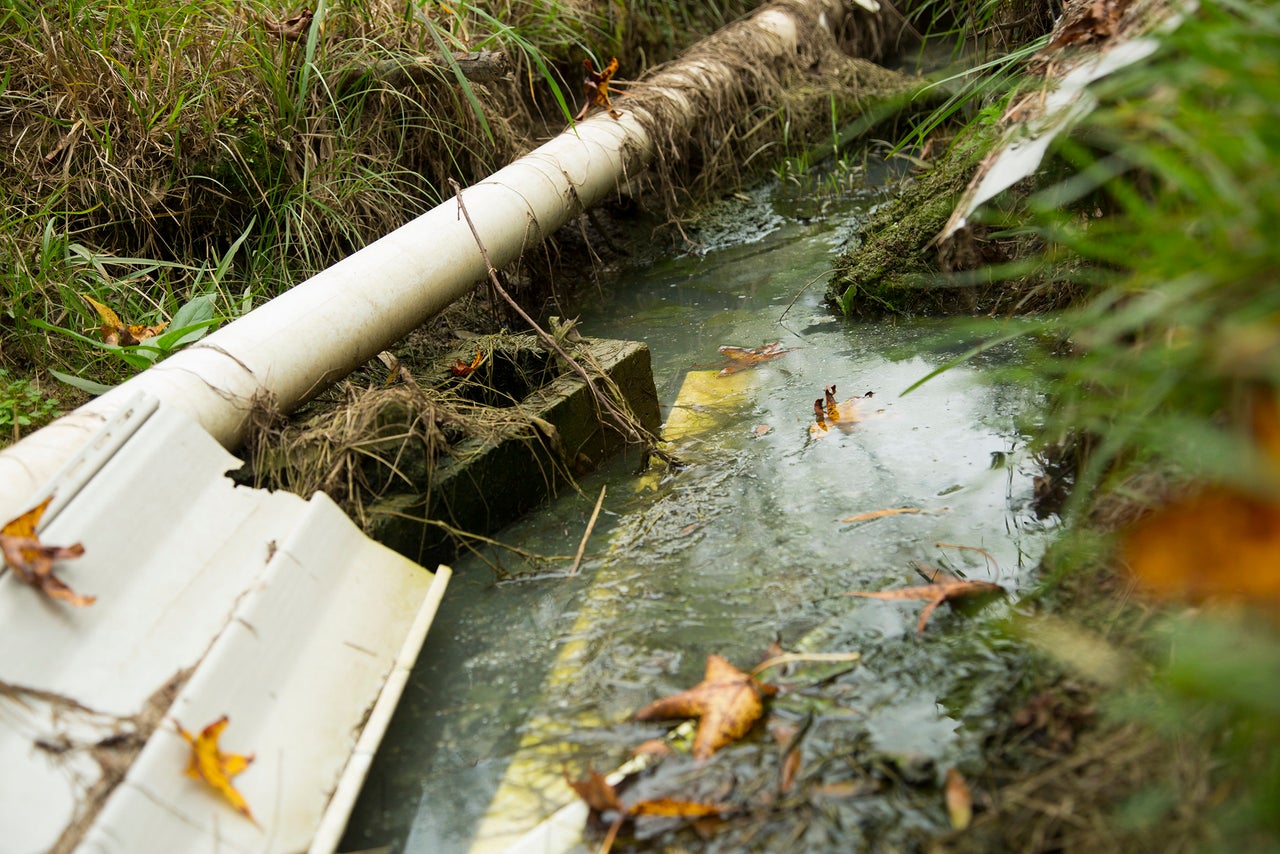 Residents who live on fixed or low incomes might choose not to throw away precious dollars on technology that has failed them in the past. Homeowners sometimes turn to a practice known as "straight-piping" — fixing a PVC pipe to the house and running wastewater directly onto the ground, without filtering or treating it. If the sewage isn't piped to an area far enough away, children or pets might wander into it. Waste can also contaminate drinking water.
People exposed to raw sewage are at risk of illness from viruses, bacteria and parasites. A study published this year by Baylor College of Medicine found evidence of hookworm infections in Lowndes County. Known as a disease of poverty, hookworm causes anemia and fatigue and can lead to impaired cognition in children. The study's sample size was small, says lead author Rojelio Mejia, who told HuffPost additional research is needed.
It's not always obvious which houses have wastewater problems and which don't. The only way to know for sure is to go house to house and check.
Kevin White, an environmental engineering professor at the University of South Alabama, estimates that about 15 percent of people in the Black Belt region are on straight pipes. White has conducted two studies on wastewater disposal, visiting hundreds of homes in one Black Belt county and one county adjacent to the region.
Flowers says the number of people on straight pipes may actually be much higher.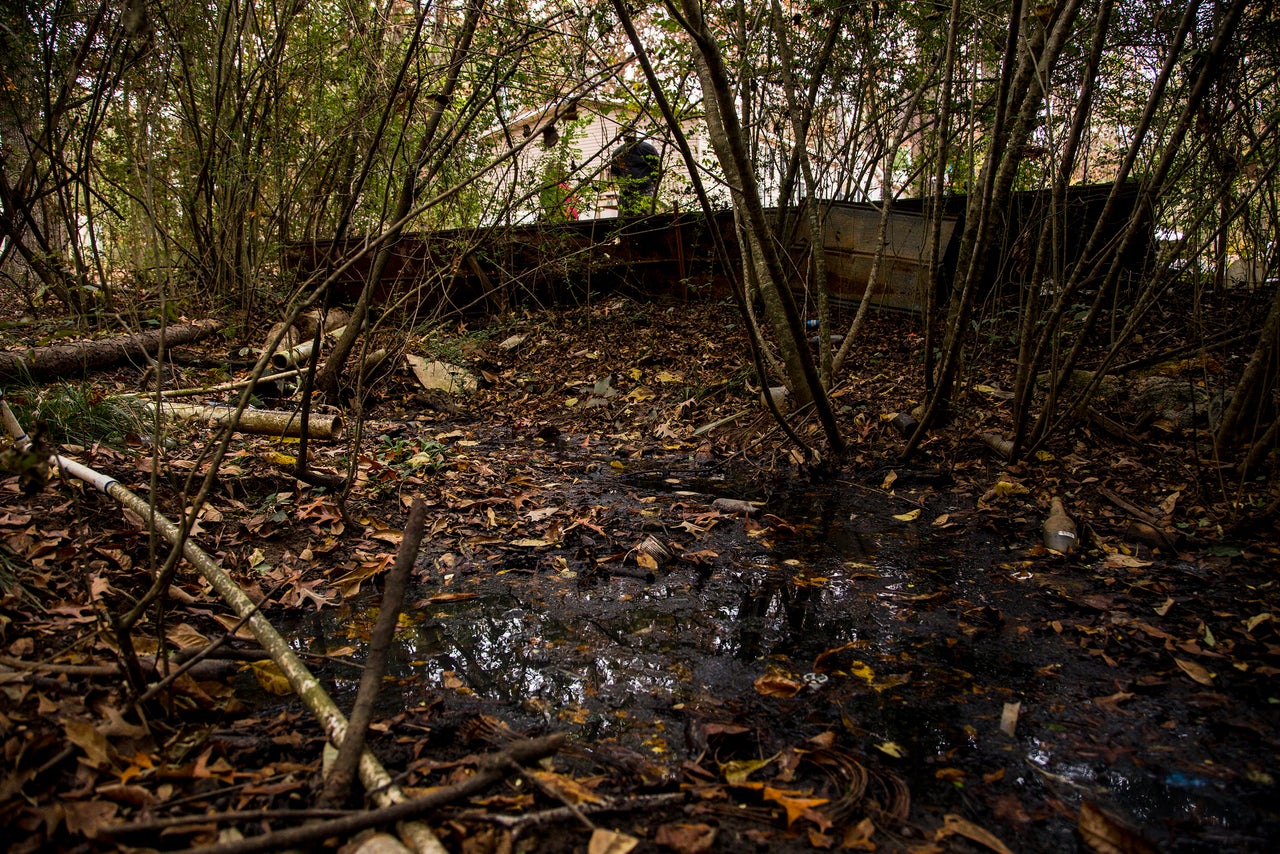 White also said that a third of the septic systems in the Black Belt are failing, with raw sewage on the ground. According to the Alabama Department of Public Health, 21 percent of systems are failing in the region. These figures are higher than the national average of 10 to 20 percent.
Workers at the health department, which regulates onsite septic systems, are aware the region's geology poses a challenge. "The soil here is awful," says Sherry Bradley, director of the agency's environmental services bureau. She also suspects that unregulated installations and improper maintenance may cause some systems to fail.
The department usually learns of a violation after someone calls to report sewage running onto their property from a neighbor's house. Bradley says the agency allows ample time to resolve an issue with a homeowner before escalating the case to a legal team. The process can take months. In some cases, noncompliant residents could face jail time or fines. In years past, people have been arrested. These days, the department says it takes a more lenient approach.
Nevertheless, some of the people who spoke to HuffPost said they feared being turned in for having raw sewage on their land.
Some people in Lowndes also have problems with their public sewage connection. In the town of Hayneville, the Lowndes County seat, the municipal network is old and in dire need of replacement. The job would cost millions, which the town doesn't have. State and federal funds are available, but Hayneville has been slow to acquire them, leaving residents with unreliable sewage service.
Stevieonna Peoples, 44, lives with her mother, brother and nephew in a cramped house in Hayneville. They pay a small monthly sewage fee to use the public network, but heavy rains make their toilet overflow. Sometimes stinking water will pour across the hall and into the bedrooms as the family scrambles to get it cleaned up.
"It's pathetic," Peoples said, that the town can't get its act together.
"Don't take your toilets for granted," she cautioned.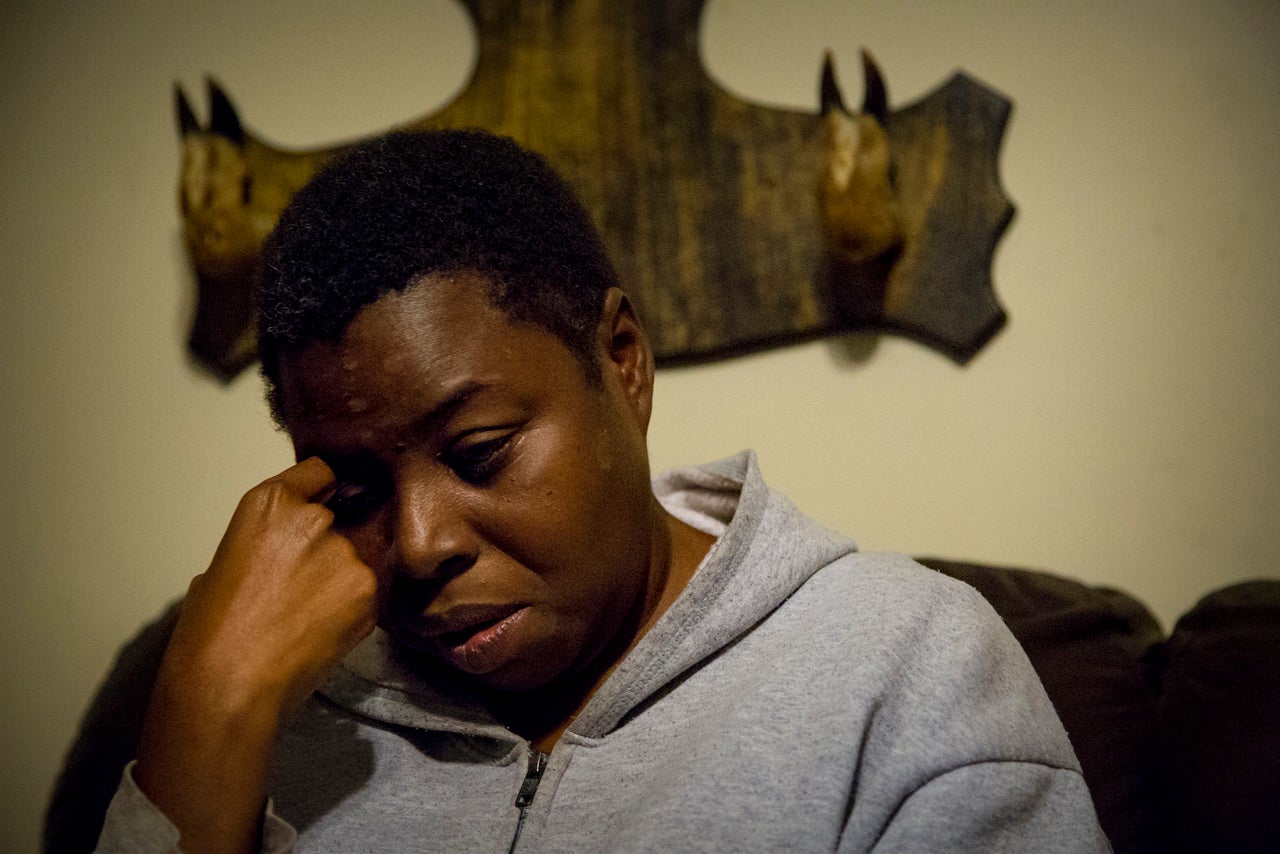 Peoples lives on a street adjacent to the town's sewage lagoon, which collects and treats wastewater from the municipal network. The lagoon's stench is noticeable from the house. Exceptionally heavy rains will flood the front yard, and the water smells suspiciously like waste.
The town is aware of problems with its sewage system, but denies that the lagoon would overflow into a resident's yard. Municipal networks are regulated by the Alabama Department of Environmental Management, which said in a statement that it has taken enforcement actions against Hayneville.
Wastewater infrastructure is not just a problem in small, rural towns. All across the U.S., public sewage networks and treatment plants need improvement. And the country hasn't budgeted for it. An estimated $271 billion in additional funds are needed to expand and modernize existing systems, according to an annual report from the American Society of Civil Engineers.
The goal in Lowndes County is to get as many people on the public networks as possible. It'll take time and a lot of grant or loan money. In the meantime, there are still far too many people with failing or inadequate septic systems. Some live in spots so remote they may never be able to connect to sewage pipes. Cutting-edge onsite systems could work for them, but the options would be impractically expensive.
"The technology is hardly even out there that can deal with these kind of conditions," said Allen Tartt, director of the training center for the state's onsite septic installers.
White, the University of South Alabama professor, says there are plenty of groups and agencies aware of the problem, but none that could oversee a fix for the whole area.
"Who's in charge?" White said. "That's the question that would go a long way toward making something happen."
Folks like Eric, the man with the rivulets of waste running through his yard, are fed up and want to see change. All they can do is wait and hope.
"A man's home is supposed to be his castle," says Eric, "but it's only as good as he can make it be."