WASHINGTON – After nearly three months in office, President Donald Trump may have finally hit upon an accomplishment that both Republicans and Democrats are applauding: Ridding his West Wing of the influence of chief strategist Stephen Bannon.
Bannon, the former head of a white nationalist-friendly website, was removed from the National Security Council and its influential Principals Committee last week. Since then, he has reportedly seen his stock fall within the West Wing amid clashes with Trump's son-in-law Jared Kushner, and top economic adviser Gary Cohn. There have also been published reports that Deputy National Security Adviser K.T. McFarland is leaving the NSC to take the ambassadorship to Singapore, and Trump foreign policy aide Sebastian Gorka possibly becoming Trump's special envoy to Libya.
McFarland came to the Trump administration from Fox News, where she was touted as a national security expert, and she has come under fire as unqualified and unsuited for the NSC's No. 2 position. At a recent meeting, she reportedly boasted that she was wearing shoes from presidential daughter Ivanka Trump's clothing line. Bannon ally Gorka, meanwhile, has drawn unwanted attention of late because of his ties to a Hungarian group of Nazi sympathizers.
White House press secretary Sean Spicer on Monday declined to discuss personnel moves that have not happened yet. But he took the unusual step of acknowledging disagreements among top aides, and argued they were a good thing.
"The reason the president's brought this team together is offer a diverse set of opinions," Spicer said. "He doesn't want a monolithical kind of thought process going through the White House."
Spicer also tacitly acknowledged that the changes to the NSC personnel are because the new national security adviser, H.R. McMaster, wanted them. McMaster, an active Army general, replaced Michael Flynn, who left after his contacts with Russian officials prior to Trump's inauguration became public.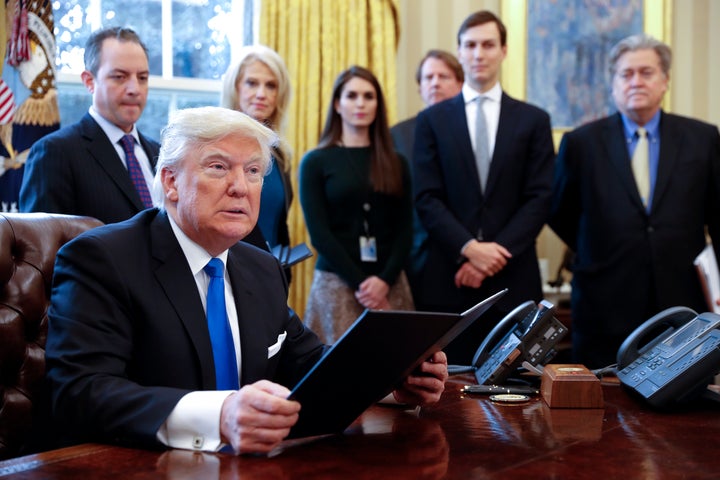 For critics of Trump's original National Security Council, that the changes are happening is a positive development, regardless of why.
"Those are all good things," said Eliot Cohen, a vocal Trump skeptic who was a senior State Department official under President George W. Bush and a participant of his National Security Council. "H.R. will run a normal process with normal kinds of people in it."
And on a broader level, they changes have given denizens of Washington ― Democrats included ― the stirrings of hope that the Trump administration won't be the dangerous calamity that many feared through its first months.  
"I actually think the swamp is drowning the inhabitants that came with Trump Inc., which i frankly think is a good thing," said Steve McMahon, a longtime Democratic strategist. "I'm a Democrat, so I naturally oppose Republicans on policy grounds. But I do think there is a certain kind of Republican that is not dangerous to the country and that to me is an establishment Republican.
"Every president comes to Washington thinking they will bend Washington to their way," he added. "One hundred days is pretty fast. But Washington is winning and Trump seems to be figuring that out."
The history of the presidency is littered with over-ambitious first years, followed by sobering recalibrations. The most infamous of these, at least in modern times, was Bill Clinton, whose early days were a beehive of political activity, notable wins and higher-profile defeats, sprinkled with a fair amount of dysfunction. Clinton adjusted over time, bringing in outsiders to layer over his more unseasoned staffers, and moving fundamentally away from his liberal objectives (gays in the military and health care) to a centrist platform.
Few expect Trump to make such a deft evolution, or to score the policy victories that he had promised in his early time in office. And veterans of the Clinton years argue that the two administrations' levels of political talent, intent and competence make them fundamentally incomparable.
"While Clinton, of course, brought in some us from his inner campaign circle, he also knew he was new to D.C., and therefore had to put in people with first-rate experience in passing legislation like Howard Paster, Lloyd Bentsen at Treasury and Leon Panetta at OMB," said Gene Sperling, a longtime Clinton adviser and confidant. "In the Trump White House, even the few senior people with some legislative experience have so far focused more on putting out extremely conservative and often divisive policy stances than on actually devising strategies for legislative success."
But the new path Trump appears to be taking has some parallels to administrations past, albeit with a more chaotic starting point. While Cohn and Kushner lack anything close to the type of government experience of those Clinton's aides, neither do they share Bannon's seemingly nihilistic take on governance. The elevation of McMaster and Defense Secretary Jim Mattis in the national security apparatus, meanwhile, has "reinvigorated" the GOP foreign policy community, according to one Republican official who interviewed with the Trump administration, but declined to take a job.
"The kind, generous explanation is that Trump realized he needed professionals in this space," said Rick Wilson, a longtime Republican Trump critic and former Pentagon staffer. "The less generous explanation is that Trump's attention span is so short that McMaster waited him out and did what he wanted to do."
Cohen, who now teaches at Johns Hopkins University, said that McMaster taking control of the National Security Council doesn't solve the fundamental problem, which is Trump's lack of fitness for the job.
"He has a limited attention span, he has no background knowledge, he listens to the last person he's talked to," Cohen said, adding that McMaster cannot possibly make Trump more qualified. "It's a conceit of the bureaucratic age that having that kind of person around can change everything. It can't."
Still, Cohen said, it's better that the White House changes happened. "This is all good news. Don't get me wrong," he said. "The big moment will be when he (Bannon) either quits or is fired. Which I think will happen eventually."
REAL LIFE. REAL NEWS. REAL VOICES.
Help us tell more of the stories that matter from voices that too often remain unheard.
BEFORE YOU GO