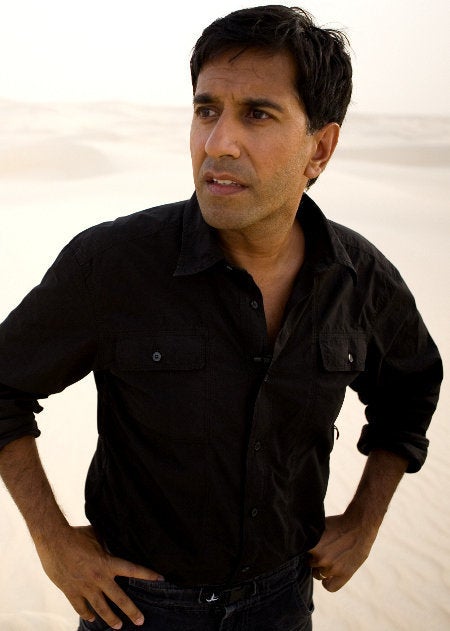 President-elect Barack Obama has approached CNN's chief medical correspondent, Sanjay Gupta, to be the country's next surgeon general, the cable news network said Tuesday. CNN said it has kept Gupta from reporting on health care policy and other matters involving the incoming Obama administration since learning he was under consideration for the post.
A Democrat with knowledge of the discussions over the surgeon general spot cautioned that there was not yet a final decision on who would fill the post. The person spoke on a condition of anonymity because they were not authorized to speak to the media on the matter.
Obama's transition office did not immediately respond to requests for comment.
Gupta hosts "House Call" on CNN, contributes reports to CBS News, and writes a column for Time magazine. He is a neurosurgeon and is on the faculty at Emory University School of Medicine in Atlanta. During the Clinton administration, he was a White House fellow and special adviser to then-first lady Hillary Rodham Clinton.
The surgeon general typically isn't heavily involved in shaping an administration's policy, but it can be a very effective bully pulpit. Past surgeons general have proved instrumental in battling tobacco and AIDS.
Having such a well-known TV personality could bring the surgeon general attention not seen since C. Everett Koop help the position under President Ronald Reagan. Koop is best known for pushing to make AIDS a public health issue rather than a moral issue, and Reagan faced pressure to fire him. Koop has said Reagan never interfered.
CNN said Gupta would not comment on the discussions and released a statement that said, "Since first learning that Dr. Gupta was under consideration for the surgeon general position, CNN has made sure that his on-air reporting has been on health and wellness matters and not on health care policy or any matters involving the new administration."
CBS News is a unit of CBS Corp.; CNN is owned by Time Warner.
The offer followed a two-hour Chicago meeting in November with Obama, who said that Gupta could be the highest-profile surgeon general in history and would have an expanded role in providing health policy advice, the sources said. Gupta later spoke with Tom Daschle, Obama's White House health czar and nominee for Health and Human Services secretary, and other advisers to the president-elect.

The Michigan-born son of Indian and Pakistani parents, Gupta has always been drawn to health policy. He was a White House fellow in the late 1990s, writing speeches and crafting policy for Hillary Clinton. His appointment would give the administration a prominent official of Southwest Asian descent and a skilled television spokesman.
Jacob Goldstein of the Wall Street Journal offers:
There's a certain logic to picking a TV talking head to be surgeon general, because the surgeon general is largely a talking head. The top doc does oversee the 6,000-member Commissioned Corps of the U.S. Public Health Service, but the real work of the job is traveling around the country, using the job as a bully pulpit to advance a public health agenda.

In this media-saturated era, who could do that better than a doc who's famous for explaining health issues on cable TV?
Popular in the Community