The Santa Barbara Museum of Art is currently presenting Delacroix and the Matter of Finish featuring 27 paintings and 18 works on paper: it is the first exhibition of works by Eugène Delacroix in the U.S. in over a decade. At its heart is a previously unknown version of the artist's dramatic rendering of The Last Words of Marcus Aurelius, a canvas from a Santa Barbara private collection which has recently been authenticated by the museum's Assistant Director and Chief Curator, Eik Kahng.
The show is accompanied by a catalogue that features essays by Dr. Kahng; Marc Gotlieb, Director of the Graduate Program and Class of 1955 Memorial Professor of Art, Williams College; and Michèle Hannoosh, Professor of French, University of Michigan.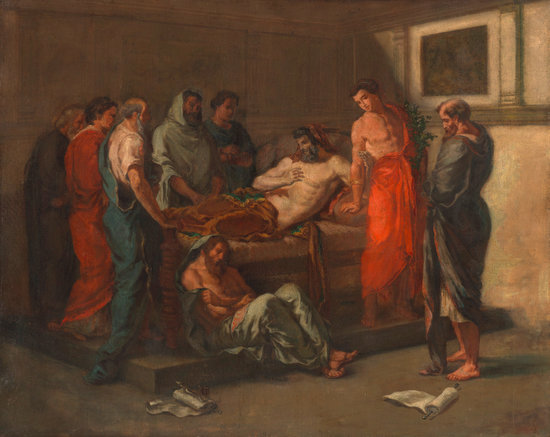 Eugène Delacroix, The Last Words of Marcus Aurelius, n.d.
Oil on canvas, 25 5/8 x 31 3/4 in.
Collection: The van Asch van Wyck Trust.
In her role as a curator, Eik Kahng has been deeply involved in the design and installation of the exhibition. Since it is extremely difficult to do a Delacroix show in the United States -- his monumental works are in Europe and rarely travel -- Kahng sought ways to maximize the impact of the intimate selection of works on view and give them a rich context. "We wanted to maximize the potential for visitors to interpret the show on their own terms," Kahng explains. In the final installation design a variety of elements -- including texts, images, wall colors, music and digital technology -- all make significant contributions.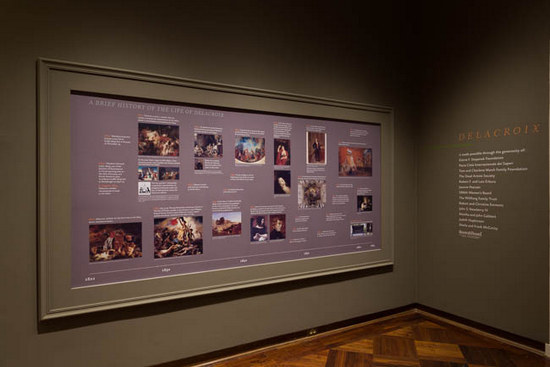 Installation View: A Brief History of the Life of Delacroix
Near the entrance to the exhibition visitors are greeted by a chronological history of the artist's life which is interspersed with key images of his art. It provides a sense of historical and personal context and also provides an introduction to the evolution of the artist's subjects and ideas over time.
As the show's title suggests the issue of finish is extremely important in experiencing Delacroix's oil paintings. Delacroix and the Matter of Finish is the first exhibition to invite side-by-side comparison between Delacroix's paintings and the so-called "sketch-copies" by his closest students, Pierre Andrieu (1849-1935) and Louis de Planet (1814-1876). Delacroix's oils tend to be executed with a certain roughness and his use of impasto caused him to be derided as a "pastry cook" painter during his lifetime.
The artist, who felt that his execution allowed viewers to complete his images and ideas in their own imaginations, has a distinctive hand that Eik Kahng wanted to be apparent and available in a variety of scales and contexts. To give visitors a sense of the monumentality and dynamism of Delacroix's large works, the museum has installed digitally printed scale facsimiles adjacent to his actual works.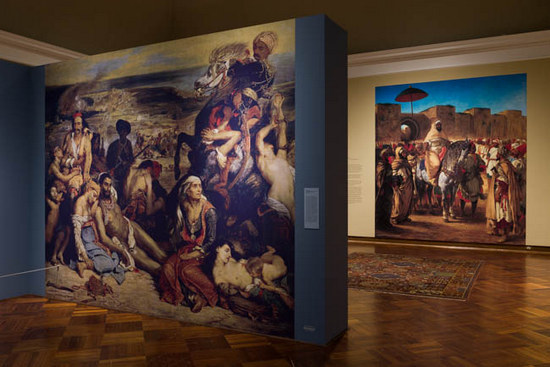 Scale facsimiles: Delacroix's Massacre at Chios (left)
Delacroix's The Sultan of Morocco and his Entourage (right)
As a counterpoint, a group of tethered iPads available in the exhibition area are equipped with a specially developed "Delacroix" app which allows close inspection of the master's surfaces which range from relatively tight to explosively abstract. The app also facilitates comparisons to paintings in the exhibition -- including those of Delacroix's students -- and related works of art in other museums throughout the world.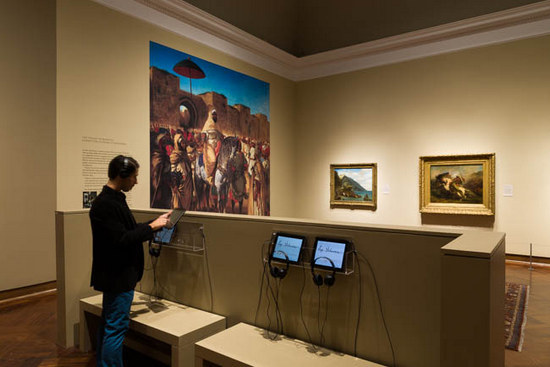 An exhibition visitor tries out SBMA's Delacroix iPad app
The exhibition marks the first time rugs have been included in an SBMA exhibition. "They offer a sense of intimacy," Eik Kahng explains, "and they help with acoustical issues presented by the high ceilings of our gallery." As visitors peruse the show they hear Romantic music played at low levels via SONOS wireless speakers.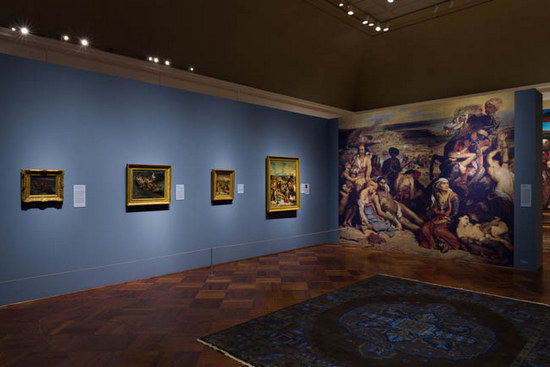 Installation view: Delacroix and the Matter of Finish
Delacroix and the Matter of Finish has been presented with a sense of generosity and invention: it provides visitors with every tool they need to experience Delacroix's works in their imaginative intensity. The exhibition's thoughtful installation appeals both the the mind and the senses and lets every visitor feel welcomed, informed and engaged.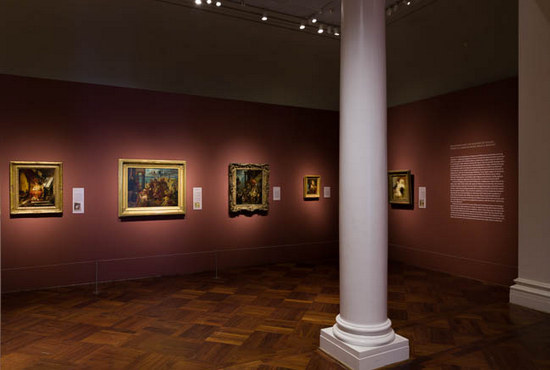 Installation view: Delacroix and the Matter of Finish
Delacroix and the Matter of Finish
October 27, 2013 - January 26, 2014
Santa Barbara Museum of Art
1130 State Street, Santa Barbara, CA 93101
Museum Hours: Tues-Sun 11AM-5PM, Thursdays 5-8PM
Installation Photos by Bryan Toro
Support HuffPost
The Stakes Have Never Been Higher
Related
Popular in the Community