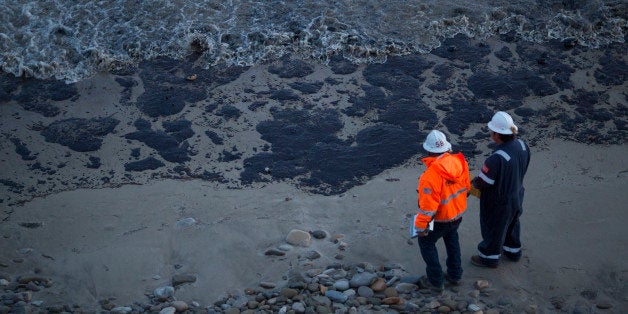 In Santa Barbara, California, a major oil spill has shut down beaches just ahead of Memorial Day weekend, with as much as 105,000 gallons of oil spilled in a coastal area near Refugio State Beach. The disaster has led environmental groups to scrutinize the company that owns the pipeline -- and to highlight its record of spills and penalties as evidence that drilling threatens the California coast.
As much as 21,000 gallons of crude oil has entered the water since the underground pipeline ruptured on Tuesday. Officials said Thursday that they have so far recovered over 7,000 gallons of mixed oil and water.
"Cleanup doesn't occur overnight. It's a long process," said Coast Guard Captain Jennifer Williams, a leader of the federal response effort, at a news conference Thursday.
California's Office of Spill Prevention and Response said via Twitter that 300 responders are working to clean up the spill, along with 18 boats. Gov. Jerry Brown declared a state of emergency on Wednesday in order to "quickly mobilize all available resources."
Williams said that while volunteer assistance is appreciated, volunteers will need to be trained and provided with protective equipment before they can help. She directed interested parties to the website Californiavolunteers.org for information on how to help.
"This company's disturbing record highlights oil production's toxic threat to California's coast," said Miyoko Sakashita, the oceans program director at the Center for Biological Diversity. "Oil pipelines and offshore fracking and drilling endanger our fragile marine ecosystems. Every new oil project increases the risk of fouled beaches and oil-soaked sea life."
The Los Angeles Times reports that per PHMSA's records, Plains All American has had 20 federal enforcement cases since 2006 for issues like corrosion control and maintenance. The agency has also assessed $284,500 in penalties against the company in that time period.
"Plains All American Pipeline's decades-long record of myriad permit violations, oil spills, and destruction reflects an utter disregard for the environment, public health, and the rule of law," said Sara Aminzadeh, executive director of California Coastkeeper Alliance, in an email to The Huffington Post.
As the extent of this week's spill has become clear, some onlookers have pointed out that Santa Barbara was also the site of a 3-million-gallon oil blowout in 1969, an event usually credited with jump-starting the environmental movement. John Metcalfe wrote at CityLab last year that in the 1969 spill, "miles of California beaches were turned into hellish morasses of reeking petroleum, littered with the dead bodies of seals and sea lions and innumerable limp seabirds."
UPDATE: 11:10 p.m. -- Patrick Hodgins, senior director of safety and security for Plains All American Pipeline, issued a statement in response to questions about the company's safety record:
"Safety and environmental responsibility are core values to Plains. Since 2008, Plains has significantly increased its size and spending related to our U.S. integrity management and safety programs."
Hodgins said the company "exceeded the federal regulatory requirement" by inspecting the pipeline twice within the last three years. "We are part of the Santa Barbara community and we deeply regret that this release has happened," said Hodgins. "On behalf of the Plains family -– the 350 employees located here in the state of California and the more than 5,000 employees located across the country –- we will do everything in our power to make this right."
Calling all HuffPost superfans!
Sign up for membership to become a founding member and help shape HuffPost's next chapter
BEFORE YOU GO
PHOTO GALLERY
Least Environmental Senators