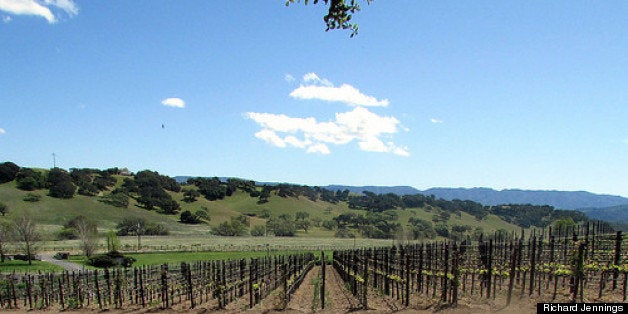 Two more Santa Barbara County producers I visited last month whose wines greatly impressed me possess winemakers who are highly respected by their peers. Both winemakers -- Longoria's Richard Longoria and Rusack's Steven Gerbac -- are modest, low key, high achievers who constantly experiment, searching for ways to improve their already excellent wines.
As it happens, Longoria and Gerbac's careers intersected long ago: Gerbac's eighth grade science project involved studying malolactic fermentation with Longoria.
Richard Longoria has been making wine for nearly 40 years. He's a self-described product of the Sixties counterculture, who graduated from U.C. Berkeley in 1973.
Longoria is gentle and soft spoken, and seems to have a boundless interest in new techniques and experiments going on in the winemaking world.
Rick and his wife Diana, whom he had met while working at Santa Barbara's Firestone Vineyards, launched Longoria Wines in 1982 with a focus on Pinot Noir and Chardonnay.
The Longorias relied entirely on purchased fruit until Rick had a chance to plant his own vineyard in 1998, a partnership with Hank and Brenda Klehn, on the Klehns' 40-acre ranch located on a small mesa at the western end of the Santa Rita Hills. They named the vineyard Fe Ciega, Spanish for "Blind Faith."
I had a chance to try the very first vintage from Fe Ciega, the 2000, over lunch with Rick at Avant, a delightful tapas restaurant that co-occupies and shares a long glass wall with a custom crush facility in Buellton.
The wine was a powerful beauty, with a great deal of complexity and a lot of life to it yet. At 13 years of age, it still had fruit, but has also taken on tertiary aromas and flavors, like mushroom, iodine and dried cherry. It also has a sweet green herb note to it that Rick believes is a signature of the vineyard. Rick himself confessed to being surprised as to how the wine had developed, especially at the sweetness and richness it had taken on with age.
In December 1998, Longoria was the very first to site his winery in the Lompoc industrial park affectionately known as the "Lompoc Wine Ghetto."
This industrial park is now home to about 20 wineries. It's sort of like a large campus devoted to the study and creation of wine, and Longoria is, for many there, its beloved dean and counselor.
Tasting through about a dozen of Rick's wines at the winery reinforced my conclusions from many other tastings of Longoria over the years. These are very consistent, well-made wines that are significantly lower in alcohol than most other wines from the region. Despite their lower alcohols, they typically have a lot of power and structure, giving them great aging potential.
For me, Rick's most striking and successful wines are the Chardonnays and Pinot Noirs, especially those based on fruit from his Fe Ciega vineyard. The Tempranillo is also a very good effort -- one of the better domestic Tempranillos I've had, bringing to mind a delicious Rioja Crianza from a ripe year.
This is an intentionally small production operation at about 3,000 cases a year, so Rick can stay hands on and keep the quality high. The wines may therefore be harder to find outside of the California market, but they are well worth seeking out.
Rusack Vineyards is likewise a relatively small operation, with annual production at about 7,000 cases. Steven Gerbac was named winemaker there this year, after having worked his way up, starting in 2003, from production assistant, to cellar master and then to assistant winemaker.
Rusack's owners are Geoff Rusack, an aviation lawyer, and his wife Alison Wrigley Rusack, a Disney exec and descendant of the Wrigley chewing gum family, which also owned the Chicago Cubs and, through their purchase of the Santa Catalina Island Co. in 1919, all the developable land on Santa Catalina Island, which is located 22 miles off the coast of Los Angeles.
The two had long dreamed of starting a vineyard and winery, and purchased a 48-acre property in 1995 in Ballard Canyon that now has 17 planted vineyard acres. The Rusacks also source grapes from other top growers in Ballard Canyon as well as, for their Pinot Noirs and Chardonnays, cool climate vineyards in Santa Rita Hills and Santa Maria Valley.
Having gained substantial experience in grape growing and winemaking in Santa Barbara County, the Rusacks turned in 2007 to a project they'd been thinking about since their first visit to Santa Catalina Island together in 1982, planting a vineyard on Wrigley family land on the island's southwestern coast.
The challenges here are many, including very saline soils and grape-loving foxes, quail and yellow jacket wasps.
They have so far planted 4.5 acres there to Pinot Noir, Chardonnay and a heritage clone of Zinfandel that Geoff Rusack obtained from nearby Santa Cruz Island.
It turns out that back in 1884, a San Francisco businessman named Justinian Caire also had dreams of an island vineyard. He built a red brick winery and planted vines on Santa Cruz Island off the coast of Santa Barbara, turning it into a very successful winery until Prohibition brought the business to an end in 1932.
The ranch manager on Santa Cruz Island located one of the last remaining vines on the island growing on a willow tree on a hillside. Rusack collected cuttings and had the vine identified as Zinfandel at U.C. Davis.
Steven explained that they have to fly workers from Santa Barbara to the island during harvest, and that they then fly the grapes, one ton at a time, from Catalina to Santa Ynez to make the wine at the Rusack winery in Ballard Canyon.
Hearing this story about the Catalina Island project, I was dying to try the wines. They did not disappoint. The 2010 Chardonnay is quite complex, with highly unusual salty caramel aromas and flavors, along with more typical lemon, mineral and almond notes. The Pinot Noir also had very unusual, but appealing, aromas and flavors, including salty and dried cherries.
The best of the island wines of all, however, for me, was the Zinfandel from the Santa Cruz Island heritage clone. Steven only had one bottle left of this elixir, of which only a small amount had been made and quickly sold out. I am so glad he ultimately decided to open this bottle for me, as I've never tasted a Zin quite like it.
To start with, this wine is intensely aromatic, with dried currant, saline and iodine aromas. The palate includes salty dried plum, lavender bath salt and dried blueberry flavors. That may not sound like the most appetizing description, but believe me, this is a very tasty and unusual wine.
Turning back to Rusack's Santa Barbara-based wines, this is also a very strong lineup. I like everything they make, but am particularly a fan of their Anacapa Bordeaux blend, two of their Pinots -- the 2011 Sta. Rita Hills Reserve and the 2011 Solomon Hills Vineyard, and both of their Syrahs. The 2011 Ballard Canyon Estate Syrah, which includes nine percent Petite Sirah in the blend, is a particularly good value. I gave it 93+ points and it sells for only $25.
For my tasting notes on all of the wines I sampled at both Longoria and Rusack, see the full report on my blog here.