If I could rewrite a Christmas classic knowing what I know now, it might go something like this:
'Twas the night before Christmas and all through the house,
Creatures were stirring, about ten zillion louse...."
You read that correctly. LOUSE. Lice. Lousy lousy LICE! My biggest fear and worst parenting nightmare was realized in church on Christmas Eve. As the choir sang and our hearts swelled with the sentimentality of the season, one of our 6-year old triplets sat on my lap and with a two-handed itch that made both of our bellies jiggle like a bowl full of jelly, proclaimed above the dulcet tones of Silent Night, "Ma, my head is REALLY ITCHY!"
In the most non-Christian of ways, I shoved my little angel to the edge of my lap and into the back of the pew in front of us thinking, "Please God. No. Not on Christmas. Please don't let us have lice on Christmas. Pretty please!" I put the nasty thought of it out of my mind as we went home for dinner with our extended family, exchanging gifts, good cheer and potentially a louse or two.
We awoke on Christmas day to the merriment of our five offspring bouncing in our bed before bounding downstairs to see what Santa had brought them. Little did we know the lousy gifts they had shared during those few moments we all snuggled in the early morning light.
It was under the glow of our Christmas tree that the aforementioned triplet once again took to the two-handed itch. "Uh oh," I thought. "We may really have a problem here." I led him to a stool by the window where I examined his head under the light streaming in. "What was I looking for?" I wondered. Beetle-sized bugs? Mosquito-sized bites? Eggs about to hatch? Having had thankfully no experience in this area until now, I decided to swallow my pride and "phone a friend." One of my best friends had suffered through lice a few weeks before and in the spirit of Christmas, agreed to come over to investigate... talk about a true friend!
With a squirt of conditioner and swipe of a fine-toothed comb she declared, "He's got it. And it looks like he's got it bad." And so it was that our collective Christmas cheer went up the chimney faster than old St. Nick.
On Declan, on Cormac, on Ciara, on Liam,
On Kevin, on my husband, it was easy to see 'em,
The lice were everywhere -- on my head too!
So we fled to the drug store to buy lice shampoo!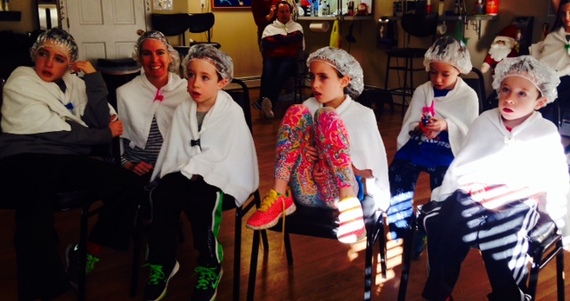 And so it was that we spent the rest of Christmas day -- and the entire week that followed -- washing and combing and doing laundry. I wouldn't wish it on my worst enemy. For the duration of our Christmas "vacation," we spent our mornings combing nits out of each other's hair like a group of gorillas and our afternoons attacking the waist-high piles of laundry -- sheets, comforters, slip covers, duvet covers and of course, anything that had once covered our heads.

I wouldn't wish it on my worst enemy. I even pulled a muscle in my back, which I suspect is not an uncommon side effect of getting lice -- especially for someone who spent days lugging laundry down (and up!) three flights of stairs in addition changing four bunk beds, two other beds and a brand new loft bed, which required some acrobatics to get the job done.
A few weeks later, the lice are gone and while my back still aches, my hair has never looked better; all that washing, conditioning and combing seems to have restored some long lost luster! For now, we're all grateful to be enjoying a lice-free new year and as for next Christmas, if the only creature stirring is a mouse, ours will be one very merry house!
Popular in the Community