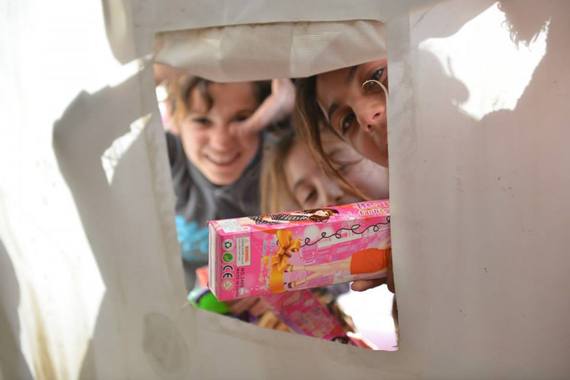 Savina Dawood has been back in Erbil for a week. Leading the distribution fo Christmas presents there, she flew home after spending the past two months in Germany studying. Fahmi Afram flew from Stockholm to Beirut on Sunday, December 20th to assist the Syriac League and our Lebanese team. Eyala Saadi started handing out presents in Qamishly on December 19th.
A Demand For Action's Christmas campaign has finally taken off, and it warms my heart. We're handing out Christmas presents in Syria, Lebanon and Iraq. We want children to smile; children who've been forced to flee with their parents because of their religion and ethnicity. Children who have witnessed the most evil of acts.
Our goal is to distribute 3,000 gifts to refugee children. Nothing feels better than getting a sad child to stop crying, and that's what we do when we bring a moment of joy in the form of unexpected presents.
Last Christmas, Savina Dawood, one of the ambassadors for A Demand For Action, was heartbroken as she went around refugee camps in Erbil and Dohuk. She got tired of seeing so many sad children. She wanted to do something for them. Anything. She wanted to see them smile. Soon, this became an important project: Little Smiles.
With the help of the organization Help Iraq in the United States, L'OEuvre d'Orient in France and Save Our Souls (ADFA) in Germany, as well as volunteers Ashur Shiba and Raymond Rasho in Chicago and Suzy Younan in Turlock, we have managed to collect money for Christmas presents for nearly 3,000 children.
Nothing makes me happier than being able to help improve a childs life if only, for one day, to make a child feel that it is not forgotten. Another project A Demand For Action is involved in is the construction of the Little Angel orphanage in Syria. The entrepreneur and philanthropist Gunilla von Platen, Mor Aphram Karim II, Patriarch of the Syrian Orthodox Church and A Demand for Action, have along with other volunteers worked hard to make it possible to build a home for over 120 children.
I sometimes get the question whether we also help Muslims. In our teams out in the field we've had Muslims, Christians, Yezidis, Germans, Iranians, Arabs, Kurds, Swedes and Frenchmen helping. We've had people from the U.S. and now France on location helping our teams distribute toys and school supplies. Our young men and women take their time with every child, they do not simply "dump" the presents and move on. They take the time to play and actually spend time with the children. They see it as their mission to bring out a smile in every child.
What started as only a thought by a young activist in Erbil has grown to be a project that has now spread to several countries in the Middle East. In many Western countries, money has been raised in order to make Christmas gift distribution possible.
In February 2003, I interviewed Polish woman Irena Sendler, a long interview published in many newspapers, including the Swedish Daily News. I had learned of her existence by chance: a poor retired woman in Warsaw who lived in a retirement home with a broken door. I will never forget my meeting with Irena Sendler. Her incredible story, her generosity, her love for people and life. Her fight. She helped two thousand Jewish children escape death. A lonely Polish, Catholic nurse who simply decided to form a resistance army and risk her own life to save little lives.
We in A Demand For Action will obviously never come near her heroic efforts, but it's her spirit that Little Smiles and other such projects exist. "What is worth more than to change a child's sad face into a smile?" she said to me.
The other day, at yet another wedding, I was reminded of Irena and Little Smiles. We Assyrians/Syriacs/Chaldeans love our big weddings. Well, most of us, including me. Many people wonder how we can afford the grand, lavish events. It's simple: the guests pay for the food, drinks and entertainment. We all contribute, by giving the couple a gift in the form of money in an envelope. It usually costs each guest much less than it would have at a fancy restaurant without the entertainment and dancing. I have made it my business to place in the envelope a "thank you for the gift" and donate the amount that I had otherwise given to the bride and groom to the organizations helping children in refugee camps. That way the bride and groom also contribute.
Santa Claus exists and he brings the most vulnerable children a moment of joy.
*The above text was translated from Swedish by Daniela Babylonia Barhanna
Calling all HuffPost superfans!
Sign up for membership to become a founding member and help shape HuffPost's next chapter