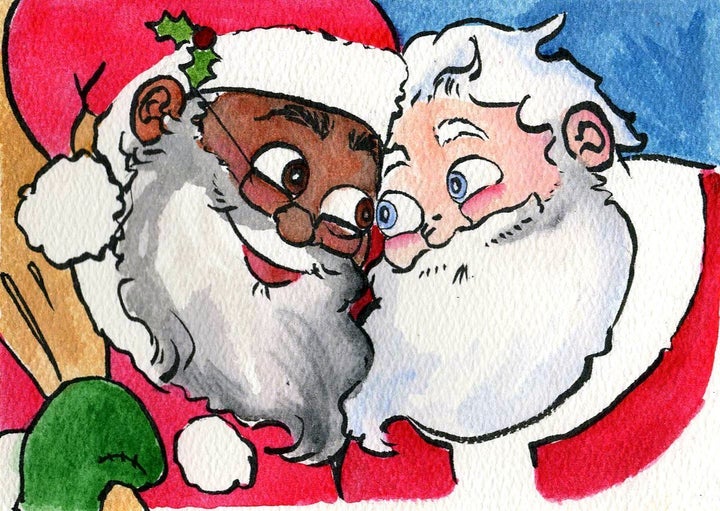 On March 28, publisher Harper Design announced plans to release Santa's Husband, which re-casts Kris Kringle as a black man in an interracial, same-sex relationship. Slated for an October release, the book will follow Santa's life in the North Pole, except in this version, he'll have a white husband who fills in for him at shopping malls around the world.
It will be written by Daniel Kibblesmith, a comedy writer on "The Late Show With Stephen Colbert," and feature illustrations by A.P. Quach (including the image above.)
"My fiancée [author Jennifer Wright] and I joked privately, and then on Twitter, that since every house has its own traditions and lore surrounding Christmas, we would tell our child that the black Santa Claus was the 'real' Santa," he said. "If they saw a white Santa at the mall, we'd explain that this was his husband."
Kibblesmith then joked about the idea in a Dec. 3 tweet.
After his tweet garnered over 3,300 retweets and 8,300 likes and was featured on parenting blogs, the writer-comedian said he realized "there was genuine interest in this book becoming a reality."
As to what he'd like readers to take away from Santa's Husband, Kibblesmith said, "warm Christmas-y feelings and a good night's sleep," noting that he hopes the book will ultimately become a yuletide favorite "for couples and new families who are looking to begin their own kinds of holiday traditions." To prospective critics who may be angered at the prospect of a black Santa, Kibblesmith would like to remind them that "everything is OK."
"Some people — not me — even believe that Santa Claus is just your parents, which would mean that there are as many interpretations of Santa Claus as there are different kinds of families," he quipped. "But again, this is only a theory, because Santa Claus is real, and we have written a book about him."
Support HuffPost
Every Voice Matters
Popular in the Community