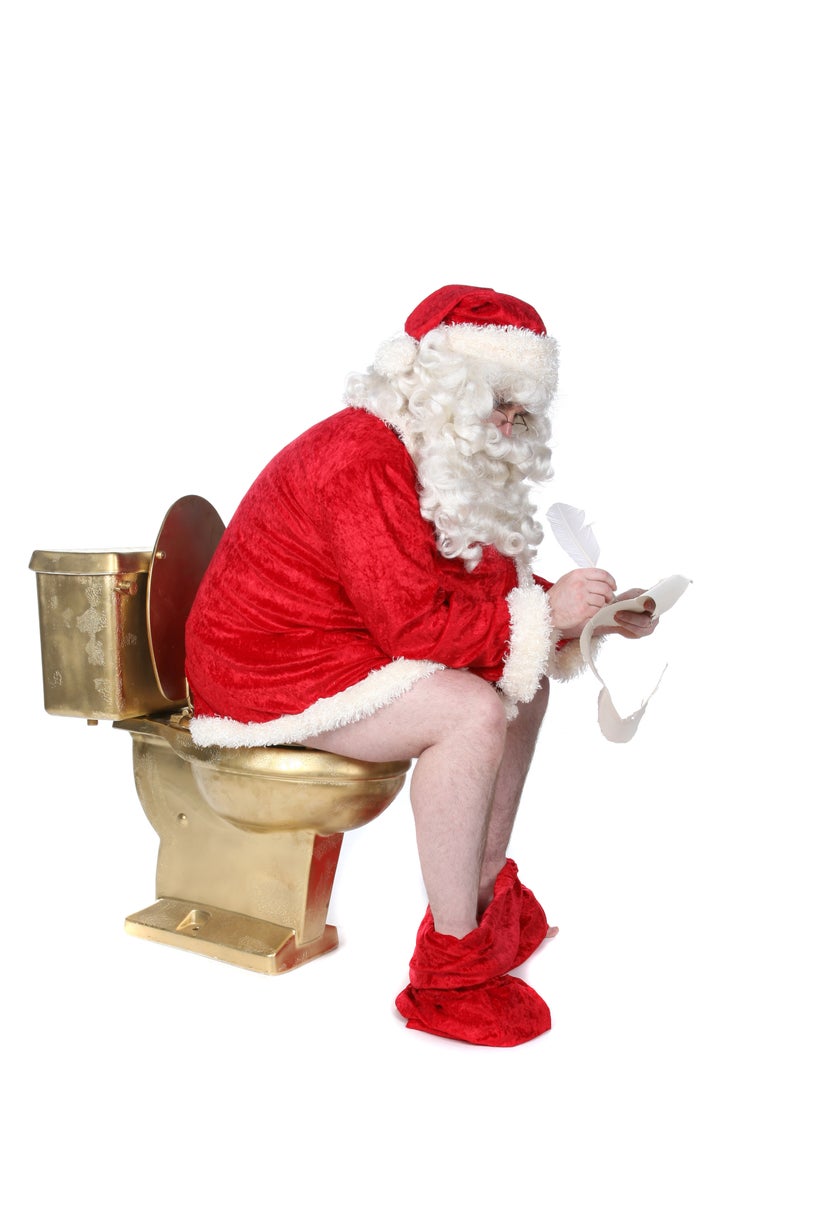 Travel in 2017 was a Dicken's cliché, the best of times and the worst of times.
The best of times: a sunset wedding on a beach in Naxos, West End plays, Soweto smiles, Botswana safari, a Sri Lankan sunrise pilgrimage, and long Icelandic days. And, the worst of times: hidden fees, selfies, crowds, lines, a 36-hour transit to and fro, Chinese tour groups, and having to explain what the hell is gone so wrong in America while traveling.
But as I fondly reflect on a year's worth of travel (23 countries) and assorted adventures, I thought What would Santa do in these times? Well, of course, Santa would make a Naughty/Nice List. So, here's my quick, down and dirty, 2017 Travel Naughty/Nice List.
First, the Naughty List that would make Ebenezer Scrooge wince—lumps of coal for all:
● Holier-than-thou cynical jaded travelers who pooh-pooh other travelers great adventures. You know who you are.
● Travelers, who want to see how the other 99% live by attending "poverty simulation workshops" in order to desensitize themselves to the world's poverty—yep, it's a thing!
● United Airlines for dragging a paying customer, Dr. David Dao, kicking and screaming off an April flight that shocked the world. Another passenger who didn't get to "fly the friendly skies." How soon we forget?
● Southwest Airlines, who forcibly removed a passenger who had a "life-threatening pet allergy" to an emotional support animal. Was it a pig, turkey, or monkey? It raises a question: What do we do with folks with nut allergies?
● All US airline passengers whose incidents of "physical aggression to others and damage to aircraft" grew by 12% in 2017. Come on folks…breathe.
● Fodor's for lifting my annual Go/NoGo list started online in 1999, with their inaugural Fodor's No List 2018. Is imitation the sincerest form of flattery?
● The Aviation Consumer Protection Division of the Department of Transportation (DOT), for punishing significantly fewer airlines for obvious passenger transgressions and slow-walking our consumer grievances.
● Zimbabwe officials for even contemplating letting part of Victoria Falls to be run by a Chinese company that proposes Disneyland-like play park with a Ferris wheel in the middle of the jungle.
● Despite TSA's theater of the absurd, they had an abysmal failure rate close to 80 percent in identifying and neutralizing potential security threats.
● Tay Boon Keh, a Singapore airport worker who was charged with over 280 counts of mischief when he arbitrarily swapped destination luggage tags.
● Delta for allegedly price gouging during Hurricane Irma trying to charge a flyer $3,528, not the usual $547, for a flight between Miami and Phoenix.
● Marriott Hotel for extracting only their 300 guests from a St. Thomas, Virgin Islands resort on a rescue ship that seats 600+ following Hurricane Irma, leaving hundreds stranded.
● Motel 6 for practicing vigilante justice by tipping off U.S. Immigration and Customs Enforcement officials to undocumented guests that led to at least 20 arrests.
● American Airlines for earning a NAACP warning to African-Americans to exercise caution, citing a pattern of "disrespectful" and "discriminatory" behavior from the airline.
● Azerbaijan for declaring Anthony Bourdain persona non grata.
● JetBlue for retrofitting planes with smaller bathrooms (that seem to have issues) in order to fit an extra 12 seats on their A321 planes.
● To really naughty horny air travelers…aboard a flight from Atlanta to Las Vegas who were arrested for having sex mid-flight "multiple times"; and another couple of "strangers" on another flight who had oral sex in their seats; and, a drunk couple who decided to join the mile high club in their seats on a flight between Manchester and Ibiza. Geez, get a room, or at least a bathroom—though not on JetBlue!
● American, United, Spirit, Southwest, JetBlue and Frontier airlines, for continually eroding the value of frequent flyer miles earned. Shame on you; but shame on us for still flying them.
● United and American: a gate service fee—you are kidding right?
● TSA for denying over 63% of claims from flyers with lost, stolen or damaged luggage in their control.
● Disneyland for allowing folks to pay $10 to cutline waits with their new MaxPass.
● United Airlines (again), who kicked off a 10-year old girl for wearing "inappropriate" leggings. Really!?
● Elaine Chao, Dear Leader's Secretary of Transportation, who rescinded a much-needed Obama-era requirement that airlines disclose extra fees for things like baggage up front. Who needs transparency?
● Dear Leader's "Trumpy Tax" that added 20% to the Federal tax on each ticket.
● Hotels that continued the spread of hidden Resort Fees. Use ResortFeeChecker to see if your hotel is abusing you.
● Ryanair, who blamed the grounding of over 2,000 flights on an administrative calendar error, whereby pilots' holidays were not correctly recorded…et tu American?
● Nine cruise ships who the Centers for Disease Control and Prevention (CDIC) reported multiple cases of Norovirus and undiagnosed upset stomach symptoms…contact your travel agent…and your gastroenterologist, for up-to-date information.
● And speaking of viruses…we did not know where to put this one…Naughty or Nice? Delta or Anne Coulter, can't say really…for moving her from an aisle to a window seat. Oh the unmitigated outrage that ensued with Delta claiming Ms. Senseless was "slandering passengers" and transgressing the "mutual civility" that we have all come to expect on board domestic flights these days. Maybe a pox on both their houses.
And now the Nice List-side of the ledger—extra spiked egg nog for all.
● New York Times for posting a 52 Places travel writer gig and giving over 9,000 applicants lottery ticket-like hope that maybe it's me in the process. Fun.
● National Economic Council who lashed out at "hidden fees" charged by airlines and hotels saying "consumers are being deliberately fooled.
● Norwegian Air for making trans-Atlantic travel affordable again.
● Cathay Pacific, Singapore, Thai, Etihad, Emirates and Qatar airlines, for knowing how to really treat all your customers. Try it…you will like it!
● Anonymous flying vigilantes who continue to use Facebook and Instagram to shame fellow travelers online for their crude, nasty and uncivil flying transgressions.
● Hawaiian, Alaska and Virgin American for sprucing up their frequent flyer programs. You have Santa's business..
● Rudy Maxa...for continuing to pass on your travel know-how to us amateurs. Enjoy St. Paul.
● Alaska Airlines for being the first airline to allow passenger free use of online messaging services. Now our family & friends know when we will be late, earlier.
● The Global Scavenger Hunt...for 14 years of successfully holding an authentic around the world travel adventure ala Indiana Jones. (April 13 - May 5, 2018)
● Southwest Airlines for remaining the last (US) airline not charging for a checked bag. Thanks.
● Anthony at Thrifty LAX for always making our lives a little easier.
● Istanbul transit authority for creating an absolutely seamless and friendly transportation system from airport to trams to funicular to ferry to bus to subway.
● Museum Barberini in Potsdam, Germany and the Louvre Abu Dhabi in UAE for opening.
● Pauline Frommer for her always illuminating timely and honest takes on travel.
● Bill Weir at CNN Travel for his great series...fun.
● To the group of bipartisan Washington legislators who got together to pass a consumer protection bill requiring airlines to: refund checked-bag fees when luggage is lost; to provide families with information about the availability of seats together at the time of booking; enforces a truth-in-advertising up-front pricing code of ethics; no hidden fees; and, locks in frequent flyer reward programs. Ah, just kidding, it's Christmas not April Fool's Day!
● To the many people of: Hong Kong, Hanoi, Macau, Bangkok, Colombo, Galle, Cairo, Alexandria, Brussels, Istanbul, Athens, Santorini, Naxos, Ostuni, Positano, Rome, Botswana, Namibia, Victoria Falls, Johannesburg, Livingstone, Soweto, London, New York, Dublin and Reykjavik among others, who so sweetly took care of us this year traveling. Thank you all and may all your happy holiday wishes come true.
And yes, I checked it twice!
Calling all HuffPost superfans!
Sign up for membership to become a founding member and help shape HuffPost's next chapter
This post was published on the now-closed HuffPost Contributor platform. Contributors control their own work and posted freely to our site. If you need to flag this entry as abusive,
send us an email
.