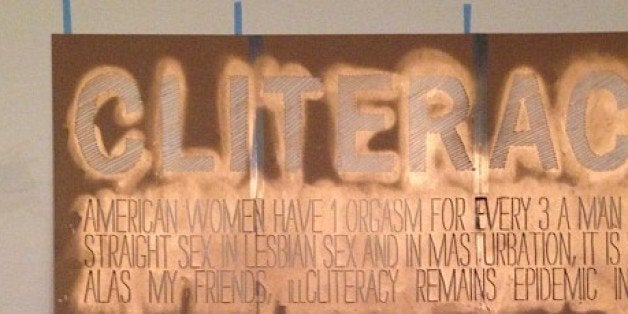 Administrators at Santa Fe University of Art and Design were not happy to see depictions of female anatomy and the words "Solid Gold Clit" painted around campus. So unhappy, they nearly imposed a $250 fine on every student living on campus, according to the Santa Fe Reporter.
It has not been disclosed who did the clitoris-themed graffiti on campus, but it is clear it was inspired by artist and Brooklyn-based photographer Sophia Wallace, who visited the campus earlier this school year promoting her work on "Cliteracy." Her project seeks to educate people about the clitoris and to spark debate about female sexuality.
"It's appalling and shocking to think that scientifically, the clitoris was only discovered in 1998," Wallace told The Huffington Post in August. "But really, it may as well have never been discovered at all because there's still such ignorance when it comes to the female body."
Wallace's projects include a "clit rodeo," which uses a giant golden clitoris, and shirts that read "solid gold clit." But Larry Hinz, the SFUAD president, told the Santa Fe Reporter that the administration and some students weren't aware of that connection when they discovered "Solid Gold Clit" and "SGC" marked on campus in January. The most controversial one, according to student magazine The Jackalope, was the defacing of a mural by Shepard Fairey.
Students were frustrated following a January announcement about the campuswide fines, and after making the connection to Wallace's work, Hinz backed down on the fines. But he's still upset.
"We believe that students and their parents don't want their tuition payments to be spent on cleaning up after a small percentage of students damage property," Hinz said.
And like, you gotta understand that I go to an art school. There is TONS of graffiti. SO MUCH. There are tags and spray paint EVERYWHERE. We have a graffiti garden and one time it was positively covered in cartoon penises. Like. Administration does not give a single shit.
Wallace is enthused about the graffiti at SFUAD, telling the Jackalope what was happening on their campus was "powerful."
"I would guess that in the days since these tags have appeared, the word clit or clitoris has been used more than in the entire history of SFUAD's existence combined," Wallace said. "Imagine for a moment, the psychological effect if you have a clitoris, and it is never ever spoken of, never shown in any visual or textual representation."
Students at other schools have tried to do similar clitoris-themed displays, only to be met with their own problems. At Scripps College, students saw their "Solid Gold Clit" spray-painted over with giant phallic shapes.
REAL LIFE. REAL NEWS. REAL VOICES.
Help us tell more of the stories that matter from voices that too often remain unheard.