Ten people were killed in a school shooting in Santa Fe, Texas, on Friday morning.

At least 13 people were wounded, including one police officer.

The suspect is 17-year-old Dimitrios Pagourtzis.

Police are investigating "explosive devices" found at the high school and surrounding area, including at a home and in a vehicle.
As students at high school in Santa Fe, Texas, were beginning their first classes of the day on Friday, a familiar scene unfolded: A young man entered the campus, opened fire on his classmates and killed 10 people.
Authorities believe Dimitrios Pagourtzis, a 17-year-old student, came to Santa Fe High School that morning armed with a shotgun and .38 revolver and began shooting. Eight students and two teachers were killed, while at least 13 others, including a police officer, were injured. Texas Gov. Greg Abbott (R) previously said nine students and one teacher died.
Courtney Marshall, a 15-year-old student who was in the art class, told Reuters the gunman entered the room and opened fire.
"I wanted to take care of my friends, but I knew I had to get out of there," she told the news agency. "I knew the guy behind me was dead."
Pagourtzis was taken into custody after the shooting and charged with capital murder and aggravated assault of a police officer. A "person of interest" was also detained for questioning, Harris County Sheriff Ed Gonzalez said during a Friday morning news conference.
Pagourtzis reportedly told authorities he didn't shoot people he liked, according to a probable cause affidavit obtained by ABC 13, CNN and the Los Angeles Times.
Officials found several explosive devices on campus and in other locations, including a car and a home, Texas Gov. Greg Abbott (R) Abbott said Friday. Santa Fe High School remains "an active crime scene" and officials warned people to wait until Saturday morning to retrieve their cars from the campus.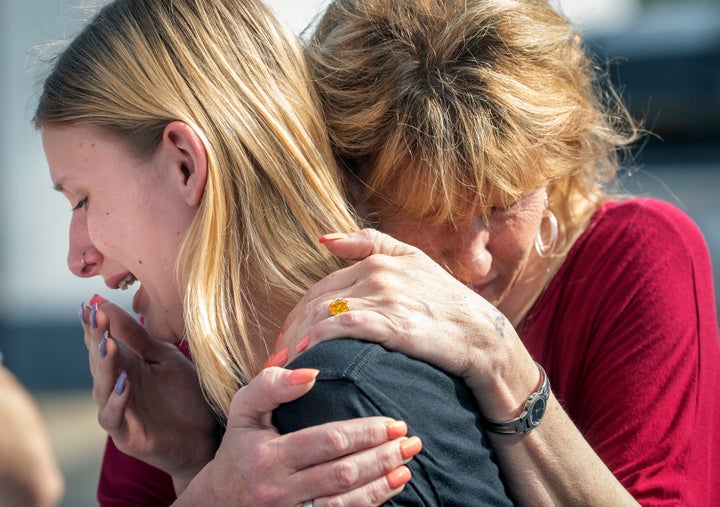 All 10 victims in the shooting have been identified by officials: Sabika Sheikh, an exchange student from Pakistan; Cynthia Tisdale, a substitute who was teaching an art class when she was shot; student Shana Fisher; student Kyle McLeod; student Angelique Ramirez; student Chris Stone; student Kim Vaughn; student Jared Black; substitute teacher Ann Perkins; and student Christian Riley Garcia.
Pagourtzis obtained the shotgun and revolver from his father, who likely had them legally, according to Abbott. The alleged shooter had information on his computer and in journals saying that he wanted to commit the shooting and kill himself, Abbott said.
The Pagourtzis family issued a statement to the media on Saturday, saying they were "saddened and dismayed" over the shooting. They also asked asking for privacy while they "process these events ... and begin the healing process," continuing:
We are as shocked and confused as anyone else by these events that occurred. We are gratified by the public comments made by other Santa Fe High School students that show Dimitri as we know him: a smart, quiet, sweet boy. While we remain mostly in the dark about the specifics of yesterday's tragedy, what we have learned from media reports seems incompatible with the boy we love.
During a hearing for Pagourtzis later on Friday, Galveston County Judge Mark Henry denied bond for the teen, who requested a court-appointed attorney. After the hearing, Henry told reporters that Pagourtzis was being held in solitary confinement.
The judge also said police found several different explosives while investigating the shooting, including a Molotov cocktail, a pressure cooker device and a CO2 device.
According to Abott, some of the explosives were found at a home and in a vehicle.
All schools in the Santa Fe Independent School District will be closed next Monday and Tuesday. Santa Fe High School has less than two weeks left before the end of its academic year.
Dozens gathered Friday evening for a prayer vigil at the Texas First Bank on Highway 6 to honor the victims of the shooting. Politicians and religious leaders offered prayers and words of solidarity for the small, tight-knit community.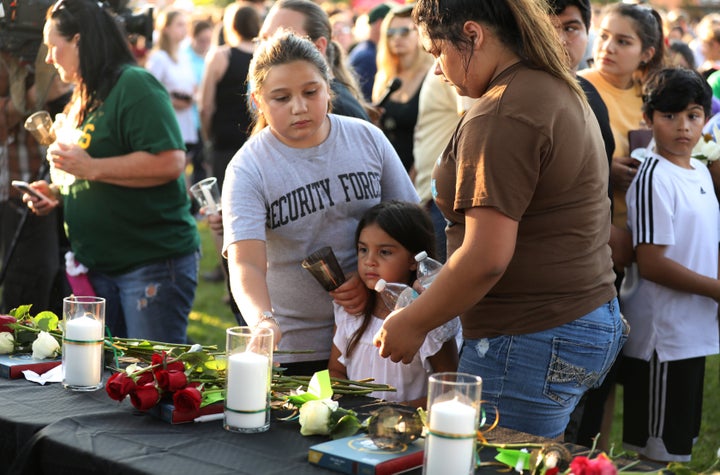 Abbott addressed the gathering, telling the people that he and other state leaders wouldn't be "here today and gone tomorrow."
"No child, no parent, no student, no community should ever have to go through this again," the governor said. "So we will work until we come up with answers to address the challenge that Santa Fe encountered today."
Earlier Friday, school district officials confirmed on their Facebook page that the school was on lockdown, following reports of an "active shooter." Santa Fe police told HuffPost that officers were on the scene. Officials at the Bureau of Alcohol, Tobacco, Firearms and Explosives announced shortly thereafter that they were also responding to the situation.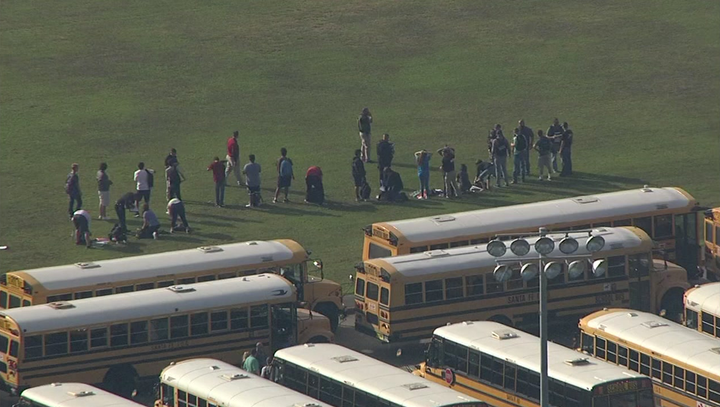 Three patients with gunshot wounds were taken to the University of Texas Medical Branch at Galveston, hospital spokesman Raul Reyes told HuffPost.
As of 8:00 p.m. local time, one middle-aged male patient had undergone seven hours of surgery and was transferred to the intensive care unit in critical condition. A middle-aged female patient was also in critical condition and in the ICU. The third patient, under the age of 18, suffered gunshot wounds in the leg and was in "good condition," Reyes said.
The Clear Lake Regional Medical Center, a Level II trauma center, treated eight patients from the Santa Fe shooting and released six. Two additional patients were treated and released from the Mainland Medical Center, located on Clear Lake Regional's campus.
In February, the same school went on lockdown after reports of shots fired. However, after investigating, the police did not find any evidence of shots, and no one was injured, according to local news reports.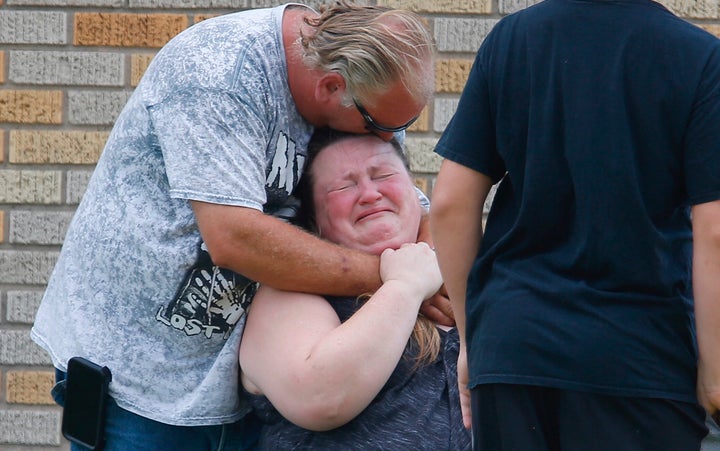 Friday's shooting was the 16th school shooting so far this year, according to a count by The Washington Post. It was also the 10th since the February massacre at Marjory Stoneman Douglas High School in Parkland, Florida, which left 17 dead and reignited a nationwide conversation about gun violence in America.
"It's been happening everywhere," she told the local ABC affiliate. "I've always kind of felt like eventually it was going to happen here too."
Abbott has pledged to work with state legislators to look into solutions to gun violence.
At the White House, President Donald Trump called the shooting "a horrific attack."
"This has been going on too long. Too many years and decades now," he said. "We will be with you forever."
Antonia Blumberg, Andy Campbell, Sebastian Murdock and Nick Wing contributed reporting.
This story has been updated throughout.
Popular in the Community