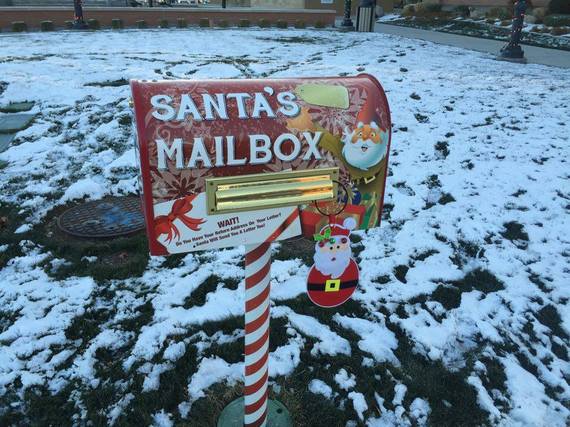 Another year has rolled around. The time to write letters to Santa Claus has arrived. When I was growing up, I remember having to write a letter to Santa to place under my pillow 11 days before Christmas, or maybe it was 21 days. After all, Santa needs time to make wishes come true. However, with the advance of technology, children of the present day can have their pick of snail mail or email, traditional response times or instant gratification. Either way, in my eyes, there is a bigger picture and important message to this simple tradition. A letter to Santa is a representation of words, from a child, filled with hope and faith, sealed in an envelope by love. To each his own, I say. As for me, I will continue keeping the magic alive for my girls as long as they believe. I will still teach them the meaning of Christmas through acts of kindness and remind them of the every day Santa Claus' who walk our streets of life giving generously.
Sending a physical letter to Santa can be one of the most exciting things kids will do this Christmas season. Do you know what is even more exciting? Receiving a reply from the Big Man himself. Some of the following places send replies!
Deliver your child's letter to Santa at a Macy's closest to you.
For every letter that Macy's receives, they will donate $1 to the Make-A-Wish foundation up to $1,000,000. On December 11, 2015, which is National Believe Day, Macy's will donate $2 for every letter received.
Follow the instructions here and use the tips given!
Letters must be received by the Anchorage, AK, Postmaster no later than December 15, 2015. Santa's helpers will take care of the rest.
The cost is a first class mail stamp.
Follow the instructions here!
Every letter to Santa received by December 21, 2015 will receive a letter back from Santa Claus himself! The earlier you can send in your letter, the better.
To help pay for postage, donations are greatly appreciated. All donations can also be mailed to Santa at PO Box 1; Santa Claus, IN, 47579
Email
If your children are like me and love interacting with Santa instantly, try some of the following websites.
Letters to Santa
Kids just have to fill out their first names, how good they've been and what they would like for Christmas. Submitting this information returns an instant reply from Santa along with clipart. Your child can also check to see whether he or she is on Santa's list!
You can submit your child's first name, your email address and a letter from your child to Santa to receive an audio reply from Kris Kringle in your inbox!
Emailsanta.com
Children can watch Santa read their letter on camera! They have to just fill in the missing words in the letter to Santa and submit. No personal information is required except for a first name!
Santa Claus House
The Santa Claus House offers packages for the original Santa Claus letter and the North Pole deed from a genuine North Pole postmark.
The deadline for orders is December 10th, 2015.
Templates for letters TO Santa
Children are the most creative, however, if some inspiration is needed, the following sites provide some templates for letters to Santa. I will be using a template I created for my daughters this year.

Letters to Santa
Letters to Santa Templates
Tracking Santa
Kids love to track where Santa is at any given time. Norad Tracks Santa is a fun website for kids to follow Santa's movements.