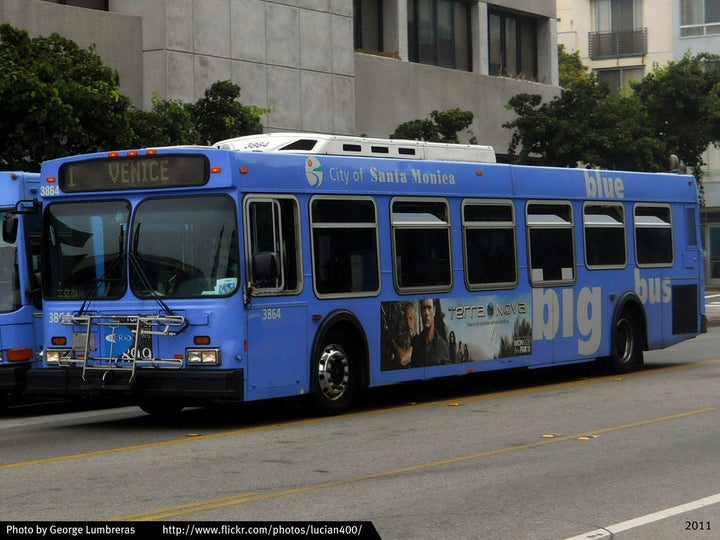 I was stunned when I heard the news: bus ads for AIDS Walk Los Angeles were banned in Santa Monica after a six-year, problem-free, fully paid run. Worse still, all nonprofit messages were being rejected from the city's transit line, Big Blue Bus.
Could it be that my "progressive" city (I'm a 29-year resident) was now favoring large corporations over community organizations? Advertisements from oil companies? Allowed. Ads from environmental groups? Denied. Coca-Cola ads? Welcomed. Public service announcements from a diabetes foundation? Shunned. Promotions for Viagra? Yes. HIV awareness messages? No.
After several months of trying to open a meaningful dialogue on the topic with Santa Monica city staff and having our efforts rebuffed, the picture became clear: The city's sudden ban was a decision made for the convenience of the the city's unelected leaders. It was based on a fixation on the possibility of litigation by groups with bad intentions, and implemented without community input. It also ignored the more likely prospect of litigation from groups with good intentions. (Right now the city is facing just such a suit from three residents, including me.)
This bus-ad ban is serious and potentially deadly to the fight against AIDS, the future of organizations like AIDS Project Los Angeles (APLA) and the missions of nonprofit organizations throughout the country.
If other cities travel the path that Santa Monica and its Big Blue Bus are currently taking, the future of events like the AIDS Walk Los Angeles, the Susan G. Komen Race for the Cure and many of the most revered and worthwhile initiatives will be dealt a disastrous blow. They will be further disadvantaged in their competition with mindless, missionless messages from commercial corporations, messages to consume, consume, consume!
The AIDS epidemic has taught us that government alone cannot address all social problems in a timely or effective manner. That is why this country has a robust nonprofit sector. Santa Monica's move to suppress these voices ignores a painful lesson of history and threatens to throw us back into the darkest days of discrimination. It also violates the values held dear by the residents of Santa Monica -- and the vast majority of Americans.
Many cities are now confronting the question of what ads can and cannot run on public buses. The great cities will shape the conversation. They will hold public hearings. They will then hold robust, publicly accessible discussions among elected officials. Then great cities will bring forth regulations consistent with the values of their people. Great cities will lead and not be led; they will exercise self-determination and not surrender to extremists on the left or the right or to courts rendering the final verdict. Instead, great cities will stake out reasonable and informed policies and then, if needed, defend those policies in court.
The city of Santa Monica stands at a crossroads. It can reverse its absurd new policy. It can take the path of great cities, show leadership and shape this debate. Or its leaders can be passive. They can be fear-driven instead of vision-driven. And they can let this debate roll over them, the First Amendment and their residents like a driverless bus.
I sincerely hope that my city will be among the great ones.
Popular in the Community