Mention the Mexican folk saint "Santa Muerte" in many polite circles and the response will likely be one of confusion, fear or outright antagonism. Many outside of Mexico, where Santa Muerte's popularity spread in the 1990s, have never heard of her. Those who have know only of her popularity among drug cartels and the alleged ritual murders in her name.
Santa Muerte, which is Spanish for "Saint Death," has become notorious in recent decades as the "patron saint of the drug war," beloved to criminals who pray to her for protection. Images of the saint -- often a decorated skull, occasionally in the form of a "grim reaper" -- appear on T-shirts, altars, jewelry and in tattoos.
In recent years, however, Santa Muerte's popularity has been growing in more unusual quarters. The Vatican has condemned the devotion to Santa Muerte as "blasphemous." But for a largely ignored contingent of devotees in both Mexico and the U.S., she has become a compassionate and egalitarian figure who provides comfort to some of the most marginalized people in society.
"Santa Muerte is particularly appealing to people on the margins of Mexican and U.S. society because she's seen as the saint who embraces everyone regardless of race, sex, age or gender orientation," Professor R. Andrew Chesnut of Virginia Commonwealth University, who has studied the rise of Santa Muerte, told The Huffington Post.
In a new documentary produced by AJ+, Al Jazeera's digital news network, the devotion to Santa Muerte comes alive in homes and small devotional spaces in Queens, a borough of New York. Many of the followers depicted in the short film are LGBT-identified, including the central figure, Arely Gonzalez, who identifies as transgender and who has become a leader of the Santa Muerte community in Queens.
The subjects of the film, which was released on Nov. 1, describe the saint's equalizing effect on their community, echoing the words of one devotee (translated from the original Spanish): "In this cult there are no soldiers, there are no cops, there are no criminals. There are only brothers."
Watch the short film about Santa Muerte, above.

Adrian Baumann, who co-produced the documentary and worked on another short film about Santa Muerte as part of the "Faith in the Five Boroughs" project, said it's tricky to trace the saint's origins.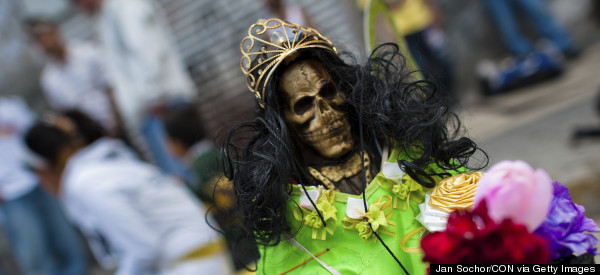 "I've met people in their 70s who remember Santa Muerte on altars in their home as a child," Baumann told HuffPost over the phone. "Some trace her to an Aztec goddess of the underworld."
Laura Lee Roush, a professor of anthropology at Mexico's University of Michoacan, has studied and written about the rise of Santa Muerte devotion in Mexico. She told HuffPost over the phone that she first encountered the saint in 1990 as a figure people often turned to in matters of love.
Over the next few decades, Roush said, Santa Muerte grew in popularity, becoming strongest in areas of Mexico where some Catholic priests were strong proponents of liberation theology. Liberation theology, a religious movement that sought to combine socialism with an understanding of salvation as liberation from injustice, emerged out of South America in response to political upheaval and economic inequality. Many priests who supported the movement became politically involved, which was frowned upon by the Catholic Church.
As liberation theology waned in the last decade of the 20th century, Roush said, people who may have previously found support from a socially radical priest had nowhere to turn. When they lost a family member, became ill or got sent to jail, many turned to Santa Muerte.
"[Santa Muerte devotion] comes together with a loss of faith in other saints, also tied to really difficult situations in Mexico City," Roush said, "where people feel like they can't go to the Catholic Church anymore -- people involved in things that are so scary the Catholic Church doesn't want to deal with them."
Marginalization does not, on its own, guarantee that someone will turn to Santa Muerte, Roush pointed out. For instance, St. Jude is another figure people often find solace in. But he is safely situated within the church, which, Roush said, might not sit well for those who feel abandoned by the Catholic hierarchy.
"When you decide to venerate the Santa Muerte there's a transgression," she explained. "There's a critique [of the church.] You're giving the finger to the church even if you still consider yourself Catholic."
One notable place where Santa Muerte has gained popularity in recent decades is Mexico's prisons. Roush said that the saint is especially appealing for people who lead "dangerous lives" -- perhaps better than they could to the immaculate Virgin Mary, Baumann added, who has long been revered in Mexican culture.
"They call [Santa Muerte] a real 'bad b****'," Baumann said. "Her offerings include tequila, tobacco smoke, chocolate. She likes to have a good time. And it's not just that she's an alternative -- she has a different temperament."
Some adorn themselves with Santa Muerte imagery as a "posture of rebellion," Roush said. When someone wearing a Santa Muerte T-shirt gets on the subway, she noted, the whole car hushes.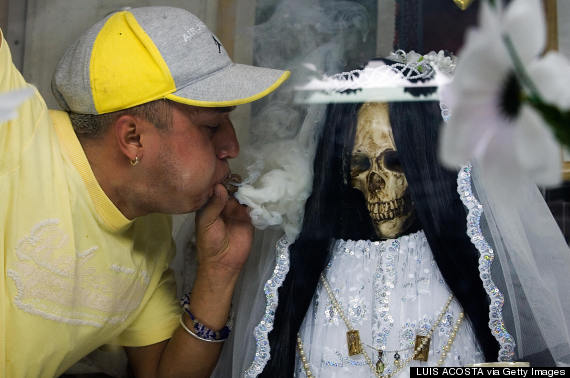 A devotee of Santa Muerte blows smoke at a figure of the saint at her shrine in Tepito, Mexico City.
Roush also describes the saint as a grandmotherly figure, someone who is always there for you and who is not afraid to speak her mind.
"The way that people talk to her in family spaces is almost like she's a doting grandmother," Roush said. "She can tell you everything's OK because it's not your time yet. [At the same time,] she's a very tough grandmother, and she's not going to beat around the bush."
Santa Muerte's proximity to death is key to understanding her followers. Chesnut, who is the author of Devoted To Death: Santa Muerte, The Skeleton Saint, noted that the saint often draws devotees who might feel their own demise to be imminent, like drug traffickers and sex workers. With the help of the saint, death becomes normal, familiar and even sacred.
Baumann noted that in Spanish, "santa" can mean "saint" or "holy," suggesting that Santa Muerte embodies not only death itself, but also the holiness of dying.
"Who in this world, after God, is more powerful than death?," Baumann said, paraphrasing one way the saint's devotees might describe her. "Who has farther reach? And who is more just? Rich or poor, brown or white, young or old, beautiful or ugly, everyone dies and death comes indiscriminately."
Indeed, it was through death -- the death of her son -- that Enriqueta Vargas, shown in the Al Jazeera Plus documentary, became the leader of a prominent Santa Muerte temple in Tultitlán, Mexico. In the film, Vargas says she believes her son, who was the previous leader, was murdered by the Mexican government for his beliefs. The government, according to Vargas, has painted her son's death as being related to drug trafficking, a charge Vargas denies.
Santa Muerte devotees typically are no strangers to violence, but Roush said she fears that criminals might irresponsibly co-opt the saint to justify or glamorize their own acts of intimidation, kidnapping and even murder. Several accounts of "ritualistic murders" associated with the saint have raised alarm in Mexico and abroad, a trend Roush fears will increase in the form of "copycat crimes."
But these cases are by no means representative of the entire Santa Muerte community. Roush noted that devotees in Guadalajara have begun performing unofficial baptisms for babies born to Central American refugees who find themselves stranded en route to the United States. Many arrive with nothing and obtain the first "documentation" for their children from Santa Muerte devotees, in the form of small scrolls during the baptism.
For Vargas, the saint offered a way to find peace after her son's death. It was by embracing the saint, Vargas says in the documentary, that she found strength to continue living.
"To me," Vargas says, "Saint Death is an angel, the Angel of Death. Someone who will one day come for all of us."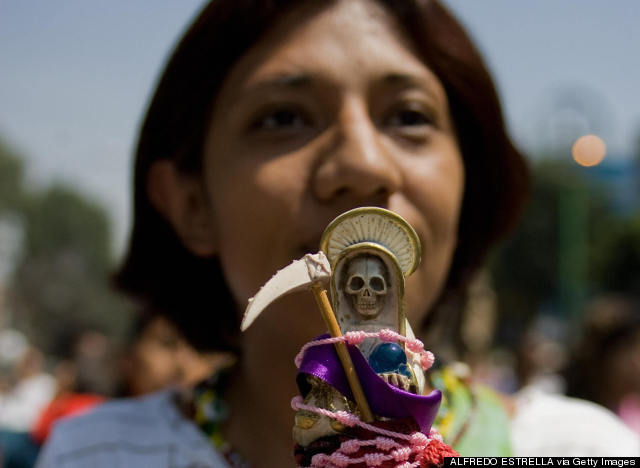 A devotee holds an image of Santa Muerte in Tepito, Mexico City.
National Geographic wrote in 2010 about the rise of Santa Muerte devotion in Mexico, nothing that the worship of the saint may be linked with a number of problems that have plagued the country:
[Santa Muerte] is only one among several otherworldly figures Mexicans have been turning to as their country has been overwhelmed by every possible difficulty—drought, an outbreak of swine flu followed closely by the collapse of tourism, the depletion of the reserves of oil that are the main export, an economic meltdown, and above all, the wretched gift of the drug trade and its highly publicized and gruesome violence.
Many Santa Muerte devotees, National Geographic pointed out, continue to identify as Catholic. Some even appoint themselves as "priests" connected to the official church, which has roundly rejected them.
The Vatican's condemnation of what it calls a "false saint" stems from what is perceived to be a direct offense to Jesus' death on the cross, according to Chesnut. Writing in HuffPost in 2013, Chesnut said:
"From the Christian perspective, Christ defeated His last enemy -- death -- through His resurrection. Thus, the veneration or worship of a figure of death is tantamount to honoring the enemy of Christ, or Satan."
In reality, though, the devotees Baumann has spent time with are not obsessed with death or violence in the way they are often portrayed to be. Rather, he has found the Santa Muerte community to be hardworking, welcoming and kind.
"What I saw in the Santa Muerte community is a group of people who are totally open to people from all walks of life," Baumann said. "[They demonstrate that] there are ways of approaching God, spirituality, death and religion which are not intolerant but which are radically inclusive in a way that few institutions are."
Related
Before You Go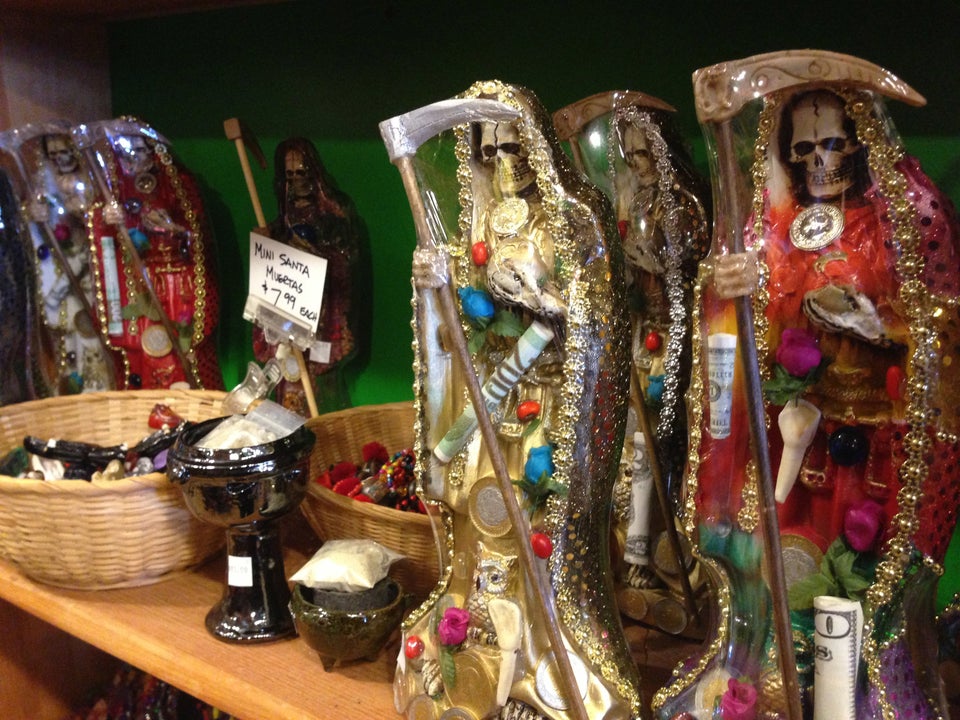 Saint Death
Popular in the Community