It's not just kids who look forward to seeing Father Christmas.
These cute dogs, dressed up specially for the occasion, waited in line along with hundreds of children to meet New York's most popular Santa, resplendent in his rose-colored crushed velvet outfit: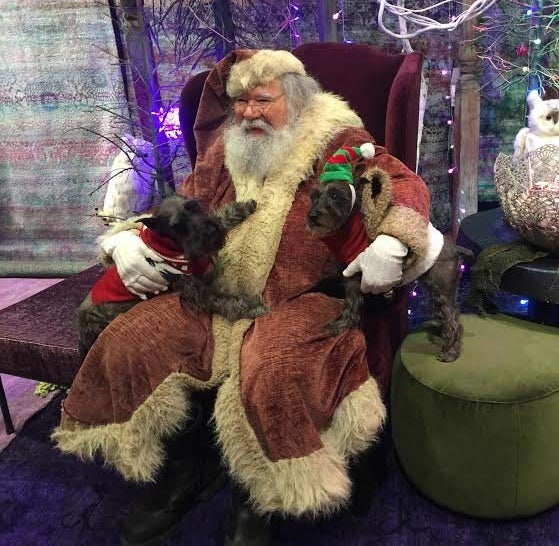 The same man has played the role of Kris Kringle for 25 straight years at the ABC Home store in New York City. He told The Huffington Post on Wednesday that unlike some of the thousands of children who visit him every year, "the dogs I've met are very well-trained, sit on my lap and don't kick my legs. And they don't cry."
ABC Home's Santa has seen every type of dog over the years, but his biggest shock came when a bull mastiff came to visit: "He was as tall as me! Can you imagine?"
The canines in the picture are no different from the kids in knowing exactly what they want for Christmas. "These schnauzers wanted endless raw hides and a comfy new bed," Santa said.
And just in case those dogs don't believe that Santa can make their wishes come true, he has this message:
"A woman came to me crying one year. I said, 'Why are you crying?' She said, 'My daughter is in Africa this Christmas.' I told her, 'Don't cry, next year you will be with your daughter.' The following year she came to me and said, 'Do you remember me?' I said, 'Yes, you were the woman crying last year.' She said, 'I want you to meet someone.' From behind her, her little 8-year old girl appeared. She said, 'You told me I would be with her! And she is here! A little miracle.'"
How's that for Christmas magic? 
CORRECTION: An earlier version of this post said ABC Home featured the same Santa for 20 years in a row. In fact, it's been 25 years. 
REAL LIFE. REAL NEWS. REAL VOICES.
Help us tell more of the stories that matter from voices that too often remain unheard.