Will there be a Santa Rally in 2016?
The short and most accurate answer is yes and no. On the one hand, the U.S. Bureau of Economic Analysis just came out with its advance estimate of 3rd quarter 2016 GDP growth. It was pretty strong (for a slow growth, developed world economy) at 2.9%. On the other hand, that's nothing compared to China's 6.7% growth (source: The National Bureau of Statistics of China). And behind the U.S. statistics are a lot of financial engineering, including rampant debt, fiscal space and constant currency, which make the growth number feel like a fairy tale.
Here Are the Real Issues Behind the Numbers
2016 GDP Growth, Full Year Estimates
With Additional Information on Each Topic Directly Below… Including How Each Factor Will Impact a Santa Rally in 2016
2016 GDP Growth, Full Year Estimates
As you can see from the chart below, even if the next two revisions to the 3rd quarter 2016 GDP growth are downward, 3Q is still going to look great compared to the first half of the year. Fitch Ratings is predicting the full year GDP growth to be just 1.4%, which means that the 4th quarter GDP report might be nasty, at least a percentage point lower than the 3rd quarter, with the possibility of being barely in the black. The 4th quarter 2016 GDP report will not be issued until January 27, 2017.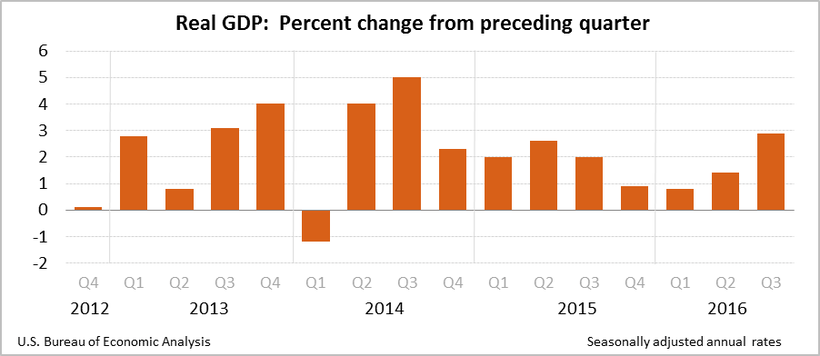 Until that report, consumers might be excited enough about growth to spark a spending spree, which will make headlines and fuel a Santa Rally. Beware of the hangover in late January! It will also pay to be sober about the drags on the economy, which could also make headlines over the next few months, in the wake of the election and the selection of a new President. These headlines will keep Wall Street volatile, and subdue a strong run-up in stocks that might otherwise occur in the last quarter of the year, when investors are full of holiday glee.
In the wake of BREXIT, the pound and the euro both fell dramatically against the dollar. Many multinational U.S.-based corporations have a large portion of their sales to Europe and the United Kingdom. The dramatic drop in value of the pound and the euro would have negatively impacted earnings, if the multi-nationals hadn't used a fancy trick called constant currency, which allows corporations to use the same exchange rate in the 3rd quarter that was in place at the beginning of the year.
The growth of public debt has led the SEC to pass a rule that reduces the vulnerability of money market funds to a mass redemption. So, it's important now to check and see if the "cash" account of your retirement 401K and IRA is a money market fund. New rules allow those funds to have redemption gates (periods where you cannot access your own money) and liquidity fees (charges for you to access your own money). In other words, the policymakers acknowledge, and are prepared for, a problem with the rampant U.S. debt and massive amount of paper money that is currently in circulation.
This is a term that you'll start hearing more and more out of the mouths of government leaders, policymakers, pundits and analysts. Since debt is astronomical, fiscal space has become the new norm for sovereign ratings. As you can see in the chart below (source: Moody's), the United States is still in "safe" range, but well beneath Hong Kong. Greece, Cyprus, Japan and Italy are in the red. Portugal has "significant risk," while Ireland and Spain are in the caution category.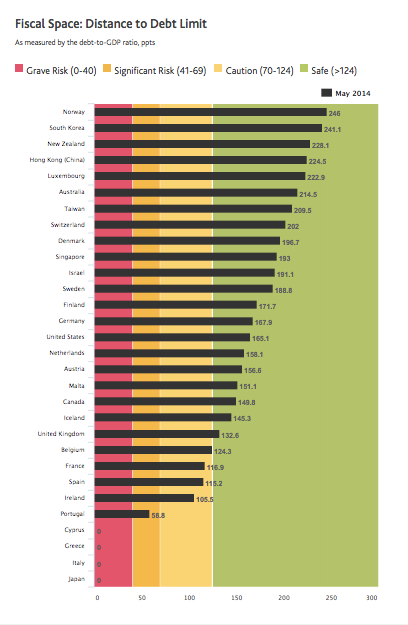 Will these financial fairy tales have happy endings?
They will prevent a full-blown Santa Rally because most people living in the developed world are aware of the debt problem. They know someone who is in debt collections, or recently lost their home. They might have a Millennial who is still living at home, trying to pay off college loans, while looking for a job.
The U.S. can actually cycle through the debt problems, just as we did during another period of very high debt, post World War II. However, getting back to healthy economic growth will require a serious look at our national dependence on cheap goods imported from developing world nations, like China. It will also require an investment in the innovative products and services that will be the Internet and smart phones of tomorrow. We'll need to find a better way to empower our Millennials with the education, capital and tools they need to drive our economy, rather than burdening them with a debt sentence and low-paying entry-level jobs.
January has become one of the worst performing months of the year, largely due to the dismal 4th quarter GDP growth that has been the trend of late. The good news of today's GDP report could have a ripple effect through the middle of January. However, when the 4th quarter 2016 GDP growth is reported on January 27, 2017, there could be quite a sobering and hard wake up call. You want to be prepared and protected before then.
The bottom line is that if you lost more than half of your nest egg in the Great Recession and you haven't made any changes to your plan, you are as vulnerable today as you were then. If you are in cash or bonds, you're more at risk than you know. Wisdom is the cure.
Register for the Valentine's Investor Educational Retreat before November 15, 2016 and you'll receive the lowest price and a complimentary, private prosperity coaching session (a second, unbiased opinion on your retirement strategy).
Click on the banner ad directly below to learn more. Call 310-430-2397, if you have questions for our team and when you are ready to register.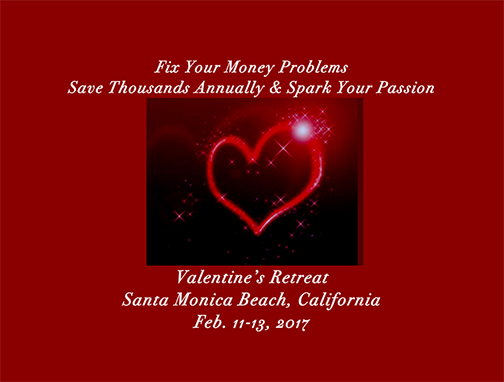 Calling all HuffPost superfans!
Sign up for membership to become a founding member and help shape HuffPost's next chapter
This post was published on the now-closed HuffPost Contributor platform. Contributors control their own work and posted freely to our site. If you need to flag this entry as abusive,
send us an email
.