We have been helped by so many people in the days following the wildfire that destroyed our home and the EFT Universe office.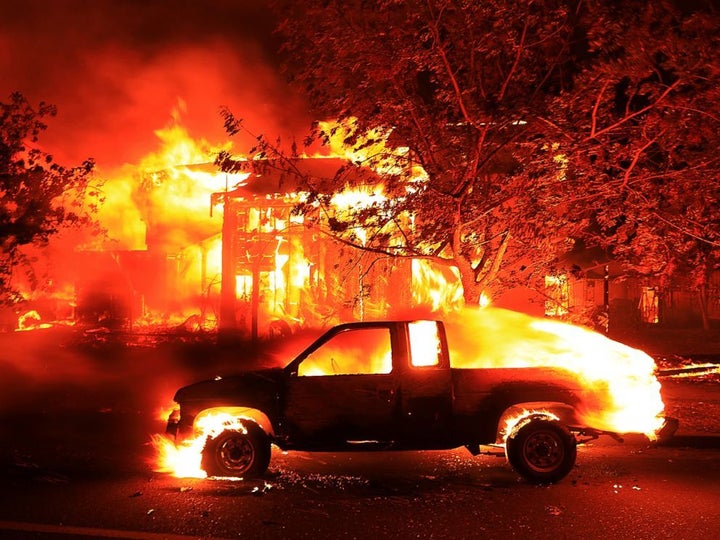 After escaping the fire and warning our neighbors, we had to decide where to go. Our friends Jane and Bill McMillan live 10 miles away in Forestville, so we drove to their house. We all watched news reports together till the word came through at noon the next day that Forestville would be evacuated. We rented rooms at a hotel on the coast, another 30 miles west.
As we left the house, tiny flakes of ash were falling all around us, like a gentle snow. These were all that remained of schools, homes, shops, trees, gardens, and dreams.We stopped at the Forestville market as we drove out of town. It was closing in an hour to evacuate, but in the meantime everything was available, cash only. We wandered the aisles, still in shock, trying to think rationally. Would we be able to store refrigerated food? Where would we cook? We only had about $200 in cash between us, so how to use it wisely?
People were kind and helpful to each other.
Reliable news reports were scarce. One radio station carried 24 hour coverage but it was mostly people calling in with isolated local reports. They told listeners what they could see from their block but a comprehensive view of what was happening wasn't available. I wanted an aerial view like this: https://www.kapwing.com/Sonoma-county-fire-map
The national media hadn't woken up to the scale of disaster. Christine and I had felt the heat on our skin, breathed the smoke, and seen the speeding flames. We knew it was bad, but those who hadn't been there couldn't realize just how bad.
We didn't know how much of our property might have survived. We heard stories of the fire consuming one house and leaving the one next door standing. Then a friend was able to drive past the property and texted us. "How bad is the damage?" I asked. "Everything's gone," she replied. A few hours later we saw the two photos she'd taken. The only feature left standing was the stone fireplace. Even metal objects like the refrigerator had melted in the inferno.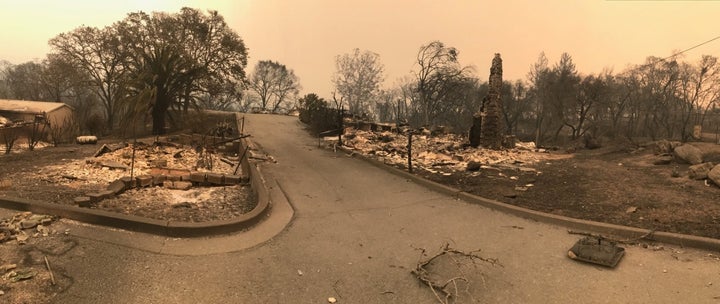 We slept badly at the motel that night. When we woke up, the first thing we did was meditate. That completely shifted our perspective, to one of gratitude and relief. We enjoyed brunch with the group at the hotel, where everything seemed so normal.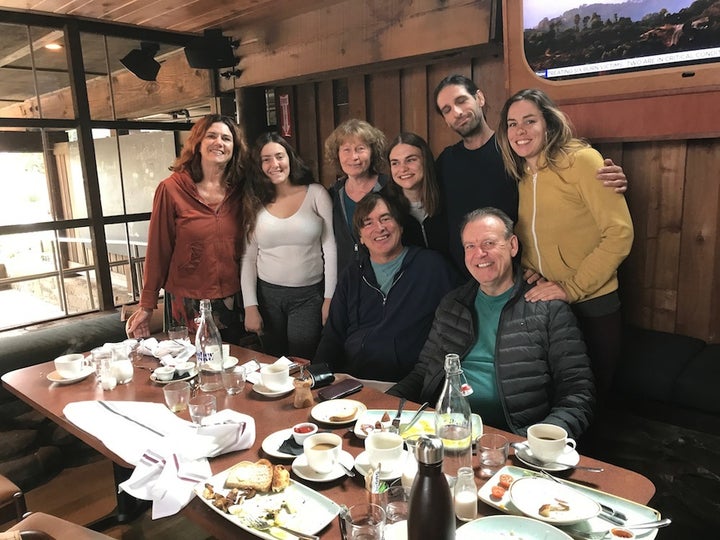 Bill and Jane have a big home, but Christine insisted we spend the next night with her daughter Julia and her son-in-law Tyler. "They need to see us," she said. My son Lionel flew to California from New York the same day he heard about the fires. My daughter Rexana drove up from Berkeley, and we all converged on Julia and Tyler's tiny apartment in Petaluma.
Our four brilliant offspring, all in their late twenties, sprang into action. Long before we arrived they were collaborating on To Do lists. Find out where the local shelter was. See if clothes were available. Contact the insurance company. Cancel the phone and trash services at the property.
Buy chargers for our laptops and cell phones. Find out how we could get emergency passports, so we could travel to Canada where I was due to keynote the annual Energy Psychology conference that weekend. Buy toiletries and underwear. Find suitcases and storage containers.
The staff at the shelter were kind. I didn't want to take much, so that there would be enough for other fire survivors. The shelter director told me that they had so many donations they didn't know where to store them. I kept thinking thoughts like, "I don't need a shaver, I'll just grab my spare one from my RV." Then I'd realize that I'd seen the RV in one of the photos. All that remained was the skeleton.
A fellow giant donated clothes that actually fit me. In a few hours, I found myself with a whole new wardrobe.
Between them and those around them, our four children accomplished miracles that would have taken Christine and I a month to complete.
We went out to eat at the local pub, which was serving free food to fire survivors. I hugged them all and we cried together and laughed together. We celebrated being together. I said, "I want us to be like this with each other every day, not just when there's an emergency."
They put me on the bus to the airport so I could go to Vancouver to teach my EFT workshop and deliver my keynote speech. But for these angels, we would still be lost.
Barnett Bain, producer of the academy award-winning movie "What Dreams May Come," is one of the hundreds of people who've written encouraging emails to me. I wrote back and thanked him, saying, "We are whole in Spirit which is the ultimate reality."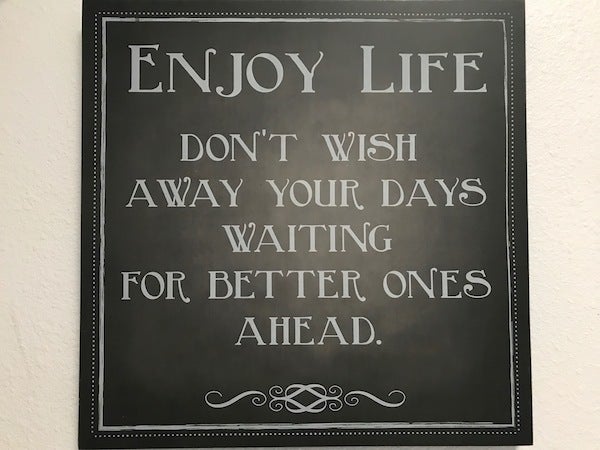 Support HuffPost
The Stakes Have Never Been Higher
Related
Popular in the Community