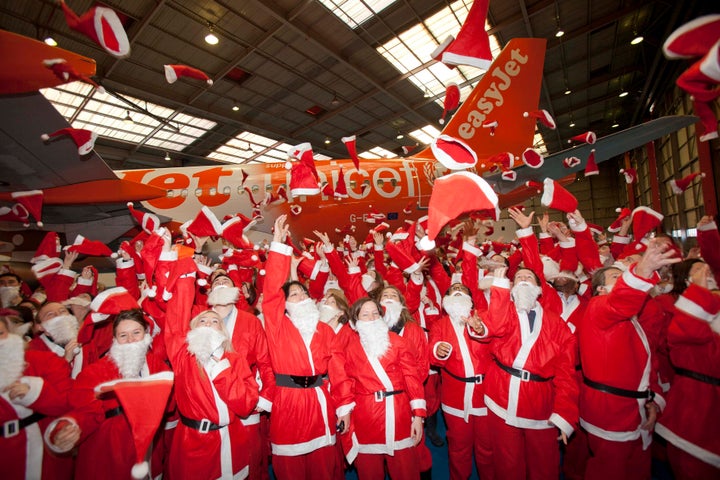 Once you get past the initial embarrassment of walking out of your apartment in a Santa Claus suit for the first time, and you get a "Hi Santa!" from a similarly clad New Yorker, the day gets progressively more magical.
There are only four things needed to participate in the annual, global, spontaneous Santarchy!
1.A Santa Claus suit (elves, rain deer, Chanukah bushes, Christmas trees. Sketchy Santas and gingerbread cookies welcome).
2.Download the Santa Carols Songbook with randy lyrics from the website.
3.Program the Hashtags #Santacon #NYCSantacon on your phone.
4.Leave all embarrassment and self respect at home.
You've probably seen hoards of us on subway platforms, a thousand singing "We Are The Champions" in Grand Central Station, Washington Square and 10,000 in Central Park and asked what was going on. "It's a Santa Convention... SantaCon" as we take over the F Train singing "Feliz Navidad."
It's all very hush, hush and secret meeting locations. Renegade off shoots making up their own routes or... just go out into the city and join anyone else in a Santa suit and see where it takes you! This is not a day for those of us with OCD.
Saturday will be my fourth year... but you never forget your first SantaCon! It's the annual Santa Convention (SantaCon) the derivation nobody knows, but I suspect there was alcohol involved. I have friends who did it when there were 200 and this year, 30,000 have signed up.
From the SantaCon website:
What is Santacon?

Santacon is a non-denominational, non-commercial, non-political and non-sensical Santa Claus convention that occurs once a year for absolutely no reason. It's your chance to spread holiday cheer in the most magical and absurd way possible.

Do I have to dress as Santa?

Santa only gets jolly with those in full, head-to-toe costume.
Just wearing a Santa hat doesn't cut it - you will be jeered off the sleigh.

Can I be an elf or toy soldier or dreidel instead?

Ho-ho-hell yes. Santa loves creativity.

When is Santacon?

Saturday, December 15th, 2012. Starts early, goes late.

What should I bring?

At least two non-perishable food items for Santa's food drive.
Comfortable footwear.
A Metrocard.
Cash for food and drinks. Stops will be too crowded to use a credit card.
(Tip bartenders and waitstaff well for putting up with Santa!)
Gifts, games, props, and performances to entertain Santas and strangers alike.
Your jolly f*#king Christmas spirit.
It is a leap of faith into joy, hard to explain unless you've done it and once you have, you'll know exactly what to do when you hear, "Santa's on the move!"
Gotta say my all time favorite SantaCon memory was two years ago, just left thousands in Bethesda Fountain and I'm on the corner of 59th Street and 5th Avenue in front of the Plaza Hotel. I see three renegade, executive Santas, "What say we make a break for the Oak Room?" "We were thinking the same thing!"... when we got there, a huge line dissuaded us so our tallest 6'4" Santa barged right past the Eloise painting into the swank Palm Court, I'm shooting and laughing the whole time until they kicked us out. "Let's go to Tiffany's" I screamed, these guys were game for anything... something about that suit... we of course were kicked out of Tiffany's AND the St Regis, we were giddy with power. The best time ever! And I have the film to prove it!
And by the end of the day when you're the only person on the subway platform in a red suit and nobody is even looking at you and you don't care anymore and you can't wipe that grin off your face and your sides hurt from laughing all day from your great adventure... you text your friends.. "Where did you wind up" "I lost you at the Seaport see you next year" ...until you abandon yourself to the experience... it's not the destination it's the journey is the operable phrase.
After awhile, it's the people NOT in Santa suits who are starting to look a little out of place.
I'll be the sober redhead with the camera, if you see me... say hi... I'll be the one in the red suit.
SantaCam's SantaCon 2011:
Related
Popular in the Community