Ever since my first visit to New Mexico in the 1970s, I've harbored a fantasy that my life would have a kind of Georgia O'Keeffe final chapter. I'd remain creative and exuberant and, at least part of the year, I'd live alone as she did, in the New Mexican wilderness, nourished by the extreme soulfulness of the landscape: the never-ending vistas, the glowing Aspens in fall, the blood-red sunsets on the Sangre de Cristo mountains.
I return to that part of the country as often as I can and a couple of weeks ago I was in Santa Fe to check out two recently rebranded properties - one in the heart of town, the other in a country setting. The Fairmont Heritage Place El Corazon de Sante Fe is steps from Santa Fe's historic plaza (and the Georgia O'Keefe Museum) and Las Campanas, though a few miles out of town, is right at the edge of those New Mexican wide open spaces.
Fairmont recently put their name on this elegant collection of Southwestern inspired townhomes and offers fractional and sole ownership at prices starting at $130,000 (for a 1/8 deeded ownership with unlimited usage availability). Buying into a Fairmont property comes with many perks including a reciprocal use program with other Fairmont and Registry Collection homes worldwide.
But you don't have to be an owner to stay here. Several of the homes are in a rental pool and a recent search for a random November night found availabilities ranging from $275/night for a one-bedroom residence to $475/night for a three-bedroom townhome with mountain views.
If real estate is all about location, this property, at Santa Fe's pulsing center, is a winner before you even unlock the door. From here, you can walk all over town. We strolled to Canyon Road, a scenic street lined with old adobes that now house restaurants and galleries selling everything from neon coyotes to Navajo textiles priced at thousands of dollars.
We walked to the Inn and Spa at Loretto where we had a mindful massage and later returned there to Luminaria where chef Marc Quinones whipped up an unforgettable tasting menu that featured foie gras, pork belly, duck, among other local ingredients, and a dessert medley that made us thankful we were walking home afterwards.
Las Campanas, on the other hand, is situated in the majestic New Mexican landscape, though only minutes by car from the center of Santa Fe. It is a master-planned collection of luxury, gated communities on 4,700 acres built around a Club that homeowners can join or not. The Club lifestyle, which comes with a hefty price tag, includes use of two Jack Nicklaus golf courses, a state-of-the-art fitness center with spa, two pools, tennis courts, and a world-class Equestrian Center with an indoor ring and box stalls as large as some New York City apartments. The home sites are big -- here they speak in acreage not square footage -- and most have breathtaking views, but with real estate prices still down from the top of the market, you can get a lot of bang for your bucks at Las Campanas.
Larry Baum, a retired New York fashion industry CEO, and his wife, Janice, recently bought a home in Las Campanas and now split their time between New York, Ft. Lauderdale and Santa Fe. They chose Las Campanas because of the location. "We love and cherish the peace and serenity here yet we are ten minutes from downtown Santa Fe and ten minutes from mountain hiking," Baum explained. He calls their sophisticated Santa Fe lifestyle "enchanted." Janice spends her time here painting and drawing, and they both take advantage of the vibrant cultural scene.
It's hard not to be seduced by Santa Fe. Cuisine and culture are taken seriously here, the physical beauty of the place is unparalleled and there's no traffic. There are over 400 restaurants, many boasting award-winning chefs from around the globe. The executive chef at Osteria Assisi used to cook for George Clooney. Quinones is from New York. Arroyo Vino's Mark Connell trained under Thomas Keller at French Laundry. The Saturday Farmer's Market in the Railyard District is legendary and even random roadside quesadilla stands usually have the freshest salsa you've ever eaten.
Recently The Royal Shakespeare Company was in town performing King Lear at the Lensic Performing Arts Center before traveling to Los Angeles. The Santa Fe Opera is an annual summer destination for music lovers from all over the country. And the art scene is thriving. There are high-end galleries which sell native crafts both vintage and contemporary like Michael Smith on Canyon Road or Shiprock on the Plaza. The Georgia O'Keeffe Museum is just one of several history museums. I spent an afternoon at the Georgia O'Keeffe Research Center amongst her paintbrushes, sketches, color chips, palettes and the cookbooks from her kitchen.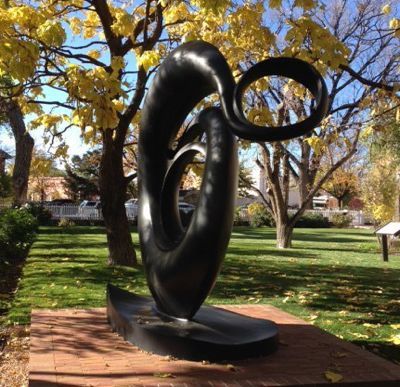 O'Keeffe only made two sculptures. This one, outside the Research Center, commemorated the death of her husband, Alfred Stieglitz.
photo credit: Andrea R. Vaucher
In the Railyard District, a handful of upscale contemporary art galleries has sprung up around SITE, the town's notable modern art museum. SITE has held a biennial since 1995, when there were only a handful of biennials around the world. When biennials became ubiquitous, popping up in every art venue big enough to hold one from Istanbul to Indonesia, SITE shut theirs down for a couple of years and reimagined and reinvented it. What emerged is a commitment to three biennials dedicated to Art of the Americas and this first one, Unsettled Landscapes, featuring the work of 45 artists from Nunavut to Tierra del Fuego, is breathtaking -- humorous, poignant and thought-provoking. The show is up through January 11, 2015. Make sure a visit is at the top of your Santa Fe to do list.
Related