The setting is Santiago, Chile. The year is 1922. President Arturo Alessandri Palma has been invited by his friends to drink at a nearby bar favored by the population of proletariat he's been claiming he represents.
They arrive at the "Restaurant Santiago Antiguo" and after passing through the doors, looking at the general decay of both the interior and the patrons, the president reportedly exclaims, "Y a esta piojera me han traído!?" (roughly translated to "And I have been brought to this fleahouse!?").
"Fleahouse" was the term that resonated with people, and within two years the small bar, frequented by the poorest and most distressed of the city, had changed its name to La Piojera, or "The Fleahouse" in celebration of the president's insult.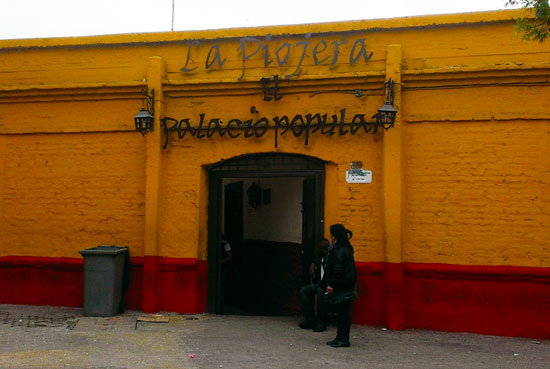 La Piojera still stands today, and was the sole subject of our recent expedition to Chile's capital. The place is notoriously off the beaten track and traditionally a favorite of Chilean poets, musicians and social activists (luckily, it's also a favorite of backpackers, so nobody seemed to mind when we slipped in).
The story of La Piojera actually begins in 1896 when it was first established under the former name in its working-class neighborhood only a stone's throw from the Presidential Palace. Apparently, it's always been a favorite of the poorest of the city or their progressive political and artistic champions. That's one thing that hasn't changed -- they still frequent the place.
And actually, it's hard to imagine much of anything has changed at all since its founding.
Nestled between an open-air market and some strip bars, the flat, long bricked entrance, painted a dull yellow and fronted by a man sitting silently on a stool, at first gives foreign visitors (i.e., us) reason to pause and check maps. The entrance, in short, gives little away about what's beyond the walls (probably why President Palma was so surprised once he got in to the place).
But as we step beyond the entrance and see the crowd of staggering, backpack-wearing nomads assembled in loose groups, we quickly confirmed we were in the right place. Walking past them we hear Australian, Eastern European and British accents, all slurring just a bit.
This is the courtyard, and it's relatively tame compared to what lies just beyond. To the right is a small room with an assortment of tables. The sign above the entrance says, "El Comedor" (the Dining Room), so we press on.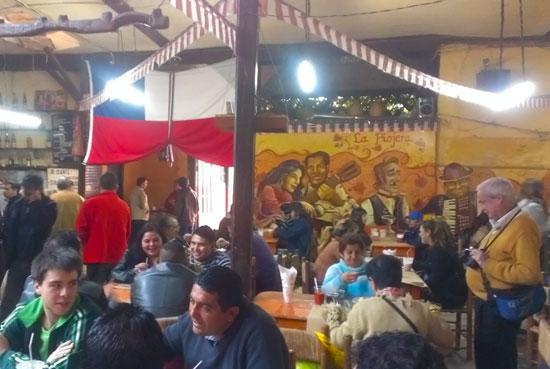 At last we reach our destination. A small, square room, packed with cheerful locals and visitors drinking, eating and enjoying one of the best dive bars South America has to offer.
La Piojera is famous for a drink particular to this part of the world (and reportedly invented here) called "Terremoto" (the Earthquake). A helpful waiter quickly finds us and we order two, watching as they churn them out on the bar, a dozen at a time to keep up with demand.
We're directed to a small, rickety table in the back and test out the drink. It's made with pipeño white wine, Fernet (an herbal spirit about 45 percent alcohol), bitters and grenadine, and then topped by a huge glob of pineapple ice cream.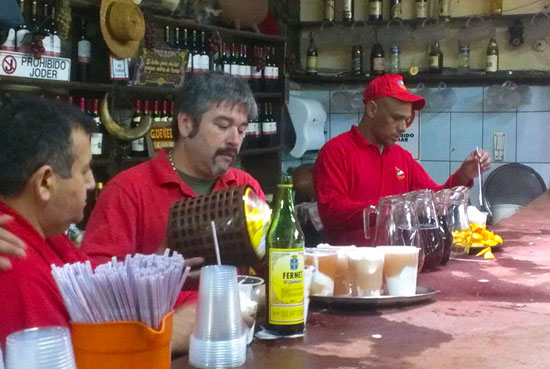 Yes, it sounds sweet and sickening, but it's actually pretty bitter (the Fernet plus bitters) and quite powerful (the Fernet and wine). So powerful in fact they won't let us order another one of the large drinks with Fernet (called a Cataclismo) and instead we order the smaller, weaker version called the Réplica.
We also order a variety of foods we see others eating and settle in for an afternoon of experiencing a side of travel many miss. It's the side that can only be found in a locals' bar: it might be the true soul of a city.
What comes next is a blur. We meet dozens of people, some here for their first time and some here as part of a daily ritual.
We meet a Chilean soldier on leave from training for a potential trip to the Middle East should a conflict between the United States and Syria break out. We meet a young Chilean who is just off of work and who speaks very broken English (he becomes our impromptu interpreter for the remainder). We meet a student from Greece who's come with a friend and still a bit shocked to find herself here.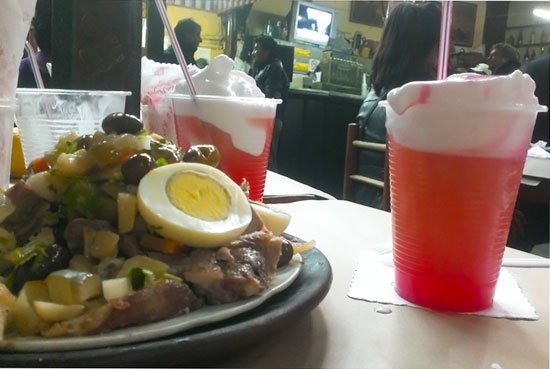 In short, we find a cross-section of the people of the city and the world.
It was an amazing experience. People laughed, they sang, they drank, and then they laughed some more. Nobody yelled, threatened, menaced. Few of us spoke the same language, but all seemed to understand the other.
The place really is as bad as history has let on -- it's easy to see why the president disparaged it so.
Above us is a cloud of flies that occasionally dive bombs our food while we eat or our mouths as we talk. Below us wanders an old cat that looks like he's been walking the same path here for at least a decade. And the bathrooms are... well they wouldn't be considered "code" where we come from.
But the staff is genuine, courteous, helpful and (blessedly) patient.
It looks frightening from the outside. And it actually is a bit frightening to walk there -- to see the streets devolve from museums to the strip clubs that surround La Piojera. But there's really little to fear from the place.

If you go, you'll be glad you did. The take-away for conquering your fear is a better understanding of the people of Santiago, and perhaps the people of the world.
How to Get Here
La Piojera is found on Aillavillu, a small avenue between the streets Puente and Bandera in the Región Metropolitana, Santiago, Chile. It's tough to find -- or at least it was for us -- but roughly it's nested between an open air mercado and a strip club.
When To Go
Santiago is mild year 'round, so there isn't a bad time to go. This place has a very politically-driven history, though, so expect crowds on national days of celebration, during elections and other such events.
What to Try
You have to go through the routine of the Terremoto: first the Cataclismo followed by the Replica. Once you've been cut off (only one of each) try a Chilean beer (most breweries were founded by German immigrants, so expect lagers). The food is simple, Chilean country/rustic, and just about everything is worth trying (in all honesty the best thing to do is point to another table and say you'll have what they're having).
Nearby Distractions
La Piojera is in the downtown region of Santiago. You're literally surrounded by the Presidential Palace, art museums, the Catholic cathedral and other sites. Walk in any direction and you'll run into something to check off the sightseeing list (however, you might want to go sightseeing before going to La Piojera).
Related