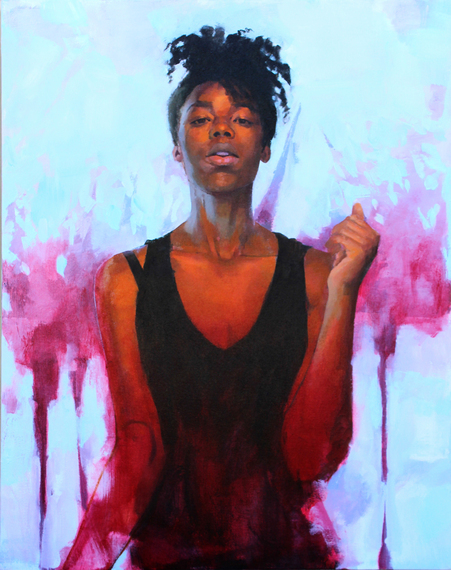 Lo Que Vendra, 2015, Oil on canvas, 30" x 24"
Santiago Galeas, whose work will be on view as part of a two-person show at Rodger LaPelle Galleries in Philadelphia beginning September 4th. is a youthful prodigy whose paintings are mesmerizing and intense. By fusing his academic training with a precocious natural ability to abstract and invent, Galeas creates images that suggest private rituals of confrontation, transformation and redemption.
John Seed Interviews Santiago Galeas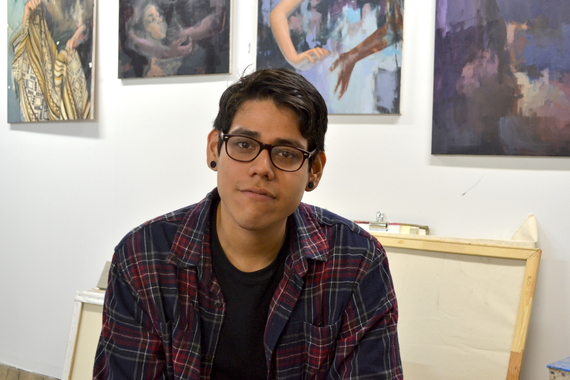 Tell me a bit about your family and background. Were you artistic and creative growing up?
I grew up in Silver Spring, Maryland, born to parents from Peru and El Salvador. My parents are typically Latino and weren't so enthusiastic when I approached them about a career in the arts. A lot of my family members are in the medical field, actually. They eventually came around though and have been an incredible support ever since. I always liked drawing and sketching as a kid and I took that energy into high school and devoted my attention to the arts there.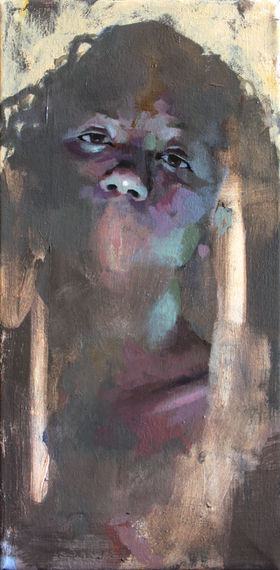 The Verdict, 2015, Oil on canvas, 8" x 16"
When did you get serious about art, and who did you study with?
I would say my serious practice came when I moved to Philadelphia. I went to the Pennsylvania Academy of the Fine Arts and took a few night classes at Studio Incamminati. I had a lot of influential teachers there who are also artists that I admire, including Michael Gallagher, Al Gury, Alex Kanevsky, and Kerry Dunn.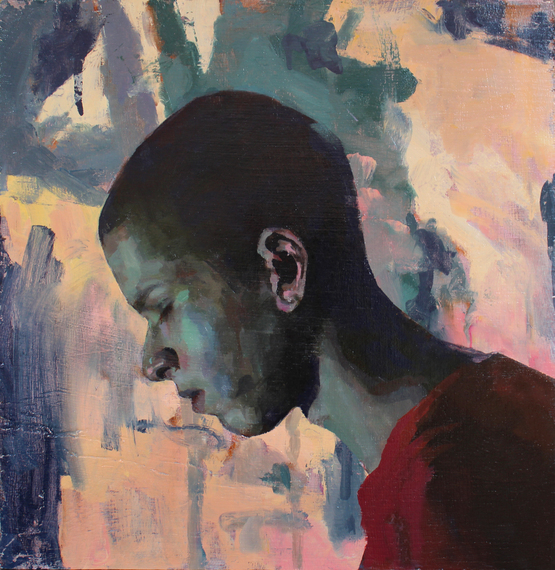 Impasse, 2015, Oil on canvas, 18" x 18"
Your work has elements that come from your atelier training and from your interest in abstract painting. Tell me about how these come together.
I think my main intent in moving to Philly was to really hone in on my training. I wanted to be able to have the classical skills of a painter before I did anything with it. I've only recently felt confident enough in this to really start exploring elements of abstraction. I've always been interested in abstract art and artists but felt like I wasn't ready to let myself go in that direction until I had a firm grip on observational painting. I'm really inspired when I see the work in person.
Looking at, say, a Rothko compared to a Sargent is a completely different experience. You get to see what paint can do at opposite ends of the spectrum. I think that's what my practice really comes down to, just exploring the versatility of oil.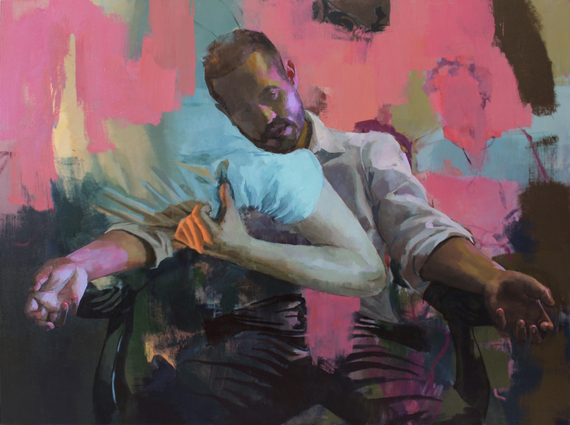 Oración, 2015, Oil on canvas, 40" x 30"
Many of your works have the theme of encounters: with the self or with others. Can you tell me about one of these works and the ideas behind it?
Oración was a big one for me. It took many forms and over a year to complete but the result ended up being a composition I've had in my mind for a long time. There are remnants of buried paintings in that one that are more visible than in other paintings going into the show. I seem to have more freedom when I'm working from a model that I don't know very well. It gives me the ability to make what I want out of them rather than sticking to how I know them. With this painting, I didn't know the model very well but he was happy to pose. I have a hard time putting it in words but I just knew that I wanted to have a figure with their arms spread out in contemplation. I wanted the figure to read as burdened.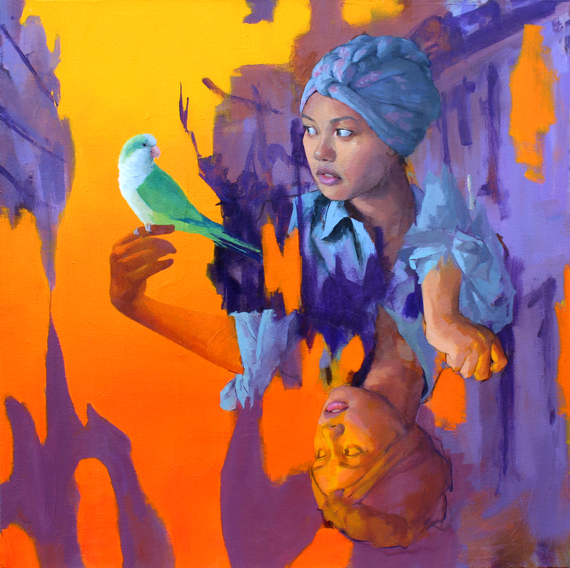 Regreso, 2015, Oil on canvas, 30" x 30"
How do you develop the vivid contrasts and color schemes in your work?
It's a little complicated I think. Lately I've been in the habit of using found photographs that I pick up from thrift stores and flea markets, usually dated from around the early 1900's to the 70's. I take bits of pieces from the ones that I find really interesting and basically apply them to the paintings. Sometimes I'll omit faces or just keep certain colors, things like that, all reinterpreted in the painting. Other times I just go by process of elimination. I'll try a color and if I don't like it I'll just paint over it. It's a lot of trial and error. There are plenty of layers beneath all of them.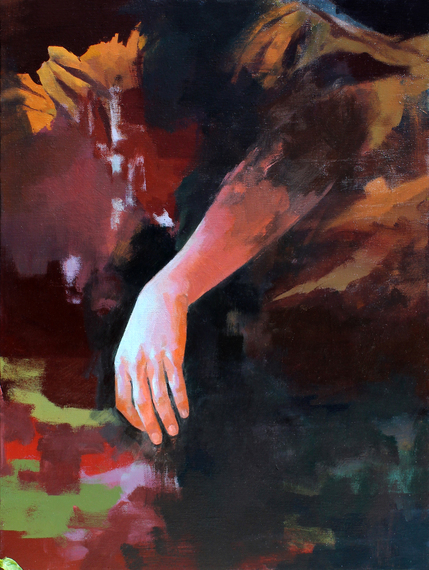 Giver, 2015, Oil on canvas, 24" x 18"
Who are some artists that you admire?
Artists of past generations: Rothko, de Kooning, Giacometti, Ana Mendieta, Kathe Kollwitz, Ilya Repin, Nicolai Fechin.
Contemporary artists: Ann Gale, Ana Vizcarra Rankin, Diarmuid Kelley, Sangram Majumdar, Francoise Nielly.
Santiago Galeas, Sarah Hunter: Subsurface
Opening Reception: Friday, September 4th, 5 to 9PM
Rodger LaPelle Galleries
122 North Third Street
Philadelphia, PA 19106
Exhibition runs through October 31, 2015
Related
Popular in the Community