The New York City Police Department's Internal Affairs division is investigating an incident in which a number of officers were caught on tape apparently beating a Bronx man during an arrest.
Santiago Hernandez, a 23-year-old out on parole after serving six years in prison for a gang assault when he was 14, says police frisked him while investigating a noise complaint on Aug. 18. Surveillance video from the scene aired on ABC-7 in New York shows him and another man cooperating with the search.
After the pat-down ends, Hernandez sits on the stoop. Then an officer handcuffs him and begins to bend his arm behind his back.
Hernandez refuses to place his other arm behind his back.
"I'm like, 'Miss, what you doing? You're hurting my arm,'" Hernandez told ABC-7. "She just was telling me to put my hands behind my back, I'm like, 'I'm trying to understand what you're arresting me for. Can you please tell me?'"
Soon, more officers arrive, and the video shows Hernandez being beaten by several of them.
"They was taking turns on me. One kicks me, he steps back. Another one comes, he punch me and he steps back. And another one comes and grabs my arm and hits me like 10 times with the baton. Another one comes, pepper-sprayed me. They were taking turns on me like a gang," Hernandez told ABC.
An ABC reporter asked Hernandez why he didn't cooperate and put his hands behind his back once he was cuffed.
"Because I'm a person to ask questions. If I didn't do nothing wrong, I'm trying to understand the reason, what they are thinking of me, or what was the reason at all to arrest me," Hernandez told the reporter.
Hernandez and his lawyer plan to file a civilian complaint, ABC reports.
Like Us On Facebook |

Follow Us On Twitter |

Contact The Author
Related
Before You Go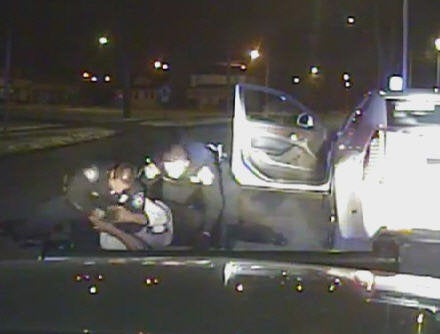 Police Brutality Incidents
Popular in the Community